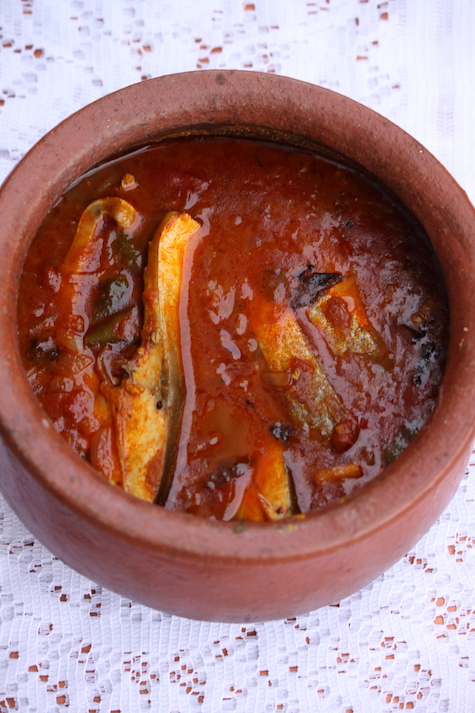 Kerala style fish curry made in the claypot…
Fish curry made in the claypot or manchatti tastes better and in Kerala that's how it's made. A few years ago, I've bought a couple of manchatti or claypot from Kerala and they tagged along with me to Canada. In Summer, whenever I make fish curry I try to cook in the claypot. Claypot has to placed on the gas cooktops, so I use the separate gas burner on my outdoor grill. It's not recommended to place claypot on induction or glass-ceramic stovetops.
This is an easy to make fish curry made with basic ingredients. I've used pomfret fish; king fish, sardines, mackerel  etc can be used as well.
Can be served with rice, appam, idiyappam, chapati, puttu etc.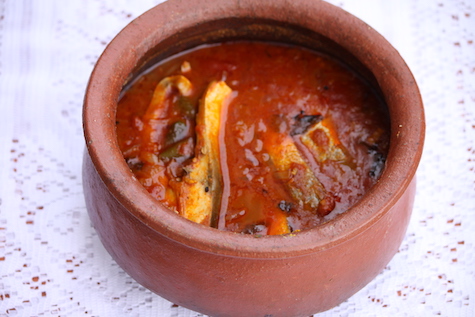 Cooking Video
Kerala Easy Fish Curry- Claypot Easy Fish curry
Ingredients
Coconut oil- 2 tbsp
Mustard seeds- 1 tsp
Curry leaves- 1 sprig
Pearl onions or shallots, sliced thin- 10
Salt- ½ tsp
Garlic, chopped- 2 cloves
Ginger, chopped- 1 inch slice
Green chilies, chopped- 2
Tomatoes, chopped- 2
Chili powder- 1 to 2 tsp (based on your heat level)
Turmeric powder- ¼ tsp
Coriander powder- 2 tsp
Salt- ¾ tsp
Tamarind juice, freshly squeezed- ½ cup (2 inch slice soaked in ½ cup water)
Water- 1 cup
Pomfret or king fish pieces- 6
Fenugreek seeds, crushed- ¼ tsp
Coconut oil- 1 tsp
Instructions
Soak 2 inch tamarind in ½ cup warm water for 5 minutes. Squeeze the tamarind in water to release the juice. Strain the juice and discard the skin.
Place a claypot over medium heat (gas stovetop), let turn hot.
Add coconut oil, let turn hot.
Add mustard seeds, let splutter.
Add curry leaves, sauté for a few seconds.
Add pearl onions, season with ½ tsp salt and saute till onions turn light golden in color.
Add ginger, garlic and green chilies; saute for a few minutes.
Add tomatoes, combine well and let cook till mashed up for 5 minutes.
Add chili powder, turmeric powder, coriander powder and salt. Combine well and cook for 2 minutes.
Add ½ cup tamarind juice, combine well.
Add 1 cup water, combine well.
Let the gravy come to a slight boil.
Add the fish pieces. Cover the claypan with a lid and cook covered for 10 minutes.
Open the lid, add crushed fenugreek seeds. Cook for 2 minutes.
Finally, drizzle 1 tsp coconut oil over the curry.
Take the clay pan off the heat and keep the curry covered for a few minutes before serving.
Serve along with rice, appam, idiyappam, puttu, chapati etc.