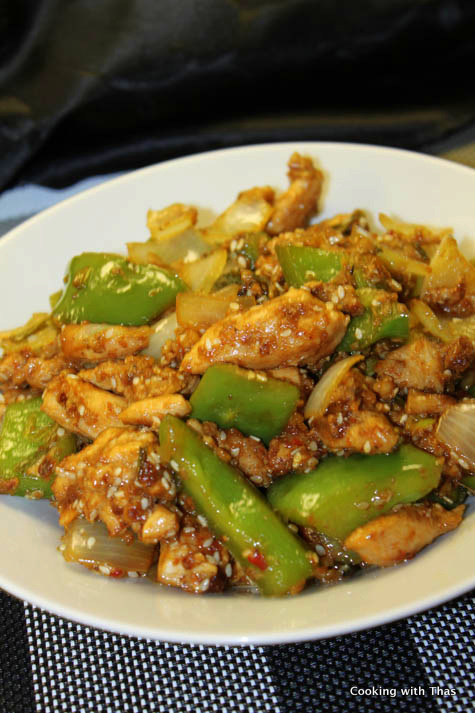 A delicious chicken dish, sesame seeds did enhance the taste…
Indo-Chinese dishes always excite me, it's flavorful and quite delicious too. I have a good collection of Indo-Chinese dishes, from soups to appetizers to main course, making an Indo-Chinese themed meal is not that hard.
I love the flavor of sesame seeds, also I feel chicken and sesame seeds get along so well. I always have a tendency to add sesame seeds or ground sesame seeds to any dish, it just enhances the taste greatly. A couple of days ago I decided to make sesame chicken, this is more of an Indo-Chinese dish. This can be served with rice or roti.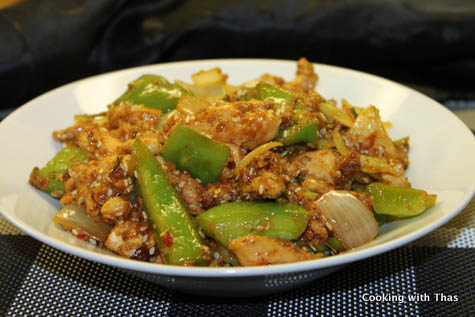 Sesame Chicken- Indo-Chinese Dish
Ingredients
For marinating chicken
Chicken breast or thighs, cut into thin wedges- 3
Soy sauce, low sodium- 1 tbsp
Hoisin sauce- ½ tbsp
Egg, beaten-1
Corn starch- 4 tbsp
Ground pepper- ½ tsp
For cooking
Oil- 3 tbsp, used for frying chicken
Garlic, chopped- 2 cloves
Ginger, chopped- 2 inch slice
Green onions, chopped- 2 stalks
Onions, cubed- 1, large
Green pepper, diced- 1
Soy sauce- 1 tbsp
Hoisin sauce- ½ tbsp
Sambal Oelek or Chili paste- 2 tsp
Sesame seeds, white- 3 tbsp
Lemon juice- ½ tbsp
Sesame oil- 2 tsp
Other ingredients
Instructions
In a bowl, combine all the above mentioned ingredients "for marinating chicken". Keep aside for 15 minutes.
Heat enough oil for frying in a pan and fry the chicken in batches till it turns golden in color. Transfer to a kitchen paper towel.
Place a wok over medium heat, add 3 tbsp of oil used for frying chicken.
Add chopped ginger and garlic, saute and let it turn golden in color.
Add spring onions, saute for a few minutes.
Add onion and green pepper, stir fry over medium high heat till the veggies turn slight tender. Do not over cook it.
Add the fried chicken, combine well.
Add soy sauce, hoisin sauce, sambal oelek or chili paste, combine well and stir fry for a minute.
Drizzle lemon juice, add sesame seeds, stir fry for a couple of minutes.
Add sesame oil, stir fry for a few minutes.
Remove the wok from the heat. serve along with rice or roti.