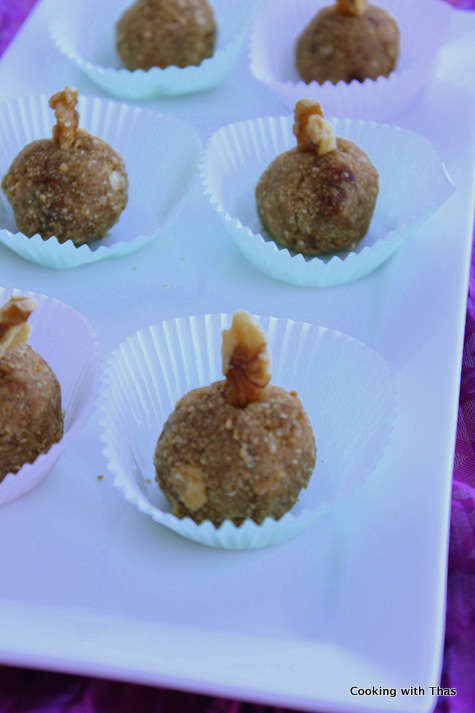 Healthiest oats rolls, get ready  for a guilt free snacking…
I often get hit by intense craving for something sweet, and I do make sure to succumb to it. Last weekend, after seeing all the Diwali sweets shared by my friends, I did get the craving. So many thoughts flashed through my mind and I ended up making this very healthy rolls that has oats, dates and walnuts. The dates imparted the needed sweetness along with brown sugar that's added to it.
If you want to munch on without any guilt, this is for you. This can be served for breakfast or can be eaten as an evening snack.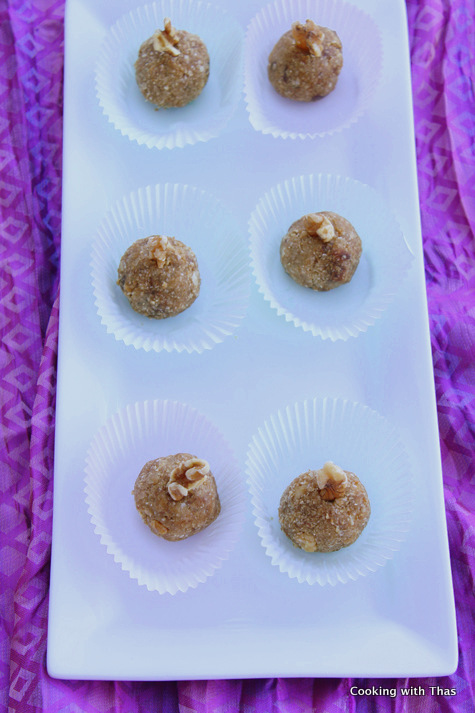 Oats Dates and Walnuts Rolls- Healthy Oats Rolls
Ingredients
Instant Oats, coarsely powdered- 1 cup
Dates, pitted and chopped- 10
Walnuts- ½ cup, coarsely crushed
Brown sugar- ¼ cup
Ghee or butter- 2 tbsp
Milk- 2 tbsp
Instructions
Grind the instant oats to a coarse powder.
Place a non-stick pan over medium heat, add ghee or butter.
Add the ground oats, saute for a couple of minutes.
Add chopped dates, walnuts and brown sugar, combine well and saute for a few minutes.
Drizzle 2 tbsp of milk, just enough to bind the oats mixture so that rolls can be made out if it. Don't add too much milk.
Remove the pan from the heat, let cool down.
Roll the mixture into medium sized balls.
Place a walnut over each rolls and serve on a cupcake liner.