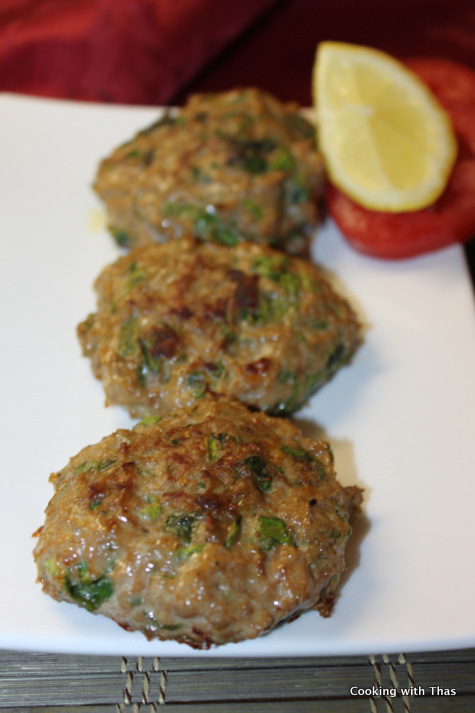 These chicken patties are baked; it's delicious and has spinach in it. These patties can be served with salad or can be made into a sandwich or Panini; these make a great meal on a busy day…
I went on a grocery shopping spree this evening. I like to go for grocery shopping on my way back from work that too on a week day so that I don't have to spend 2 or 3 hours roaming around in a grocery store on a weekend. I could do something exciting on weekends with my Man: annoy him more, right?  Being passionate about cooking doesn't mean that I enjoy grocery shopping; it's just plain boring for me. Ok, don't even come to the conclusion that I make my Man do the shopping.
Nope, no way even if he volunteers! I will say: Honey, you watch TV and I'll do the work. If I send my Man it would cause more headache for me. I have to first make a list of all the things I need and message him (yes, the techie guy doesn't like me writing the list on a piece of paper, but I love the old-fashioned way), after reading the list he would shoot millions of questions which will make me nauseated. For instance, what's the difference between whipped cream and heavy cream, curly parsley and regular parsley, what kind of apple you want: honey crisp, red delicious, empire, green or ambrosia. Goshhhh, these make me pass out! Well, the worst part is, he would come home with a bag full of junk food, snacks and cartons of ice cream. I do scream at first and then accompany him in munching on those snacks.
In a nutshell, making my Man do the grocery shopping is an utter disaster!!! I mean it. Sorry my Man, I had to reveal it to my readers, I feel good now. Alright, I do agree that I exaggerated a bit 😀
I do the shopping all by myself, go to the store, just get what I really need and don't even bother to walk into the snacks, cookie and ice cream isle. Well, I don't like to stack up all the junk food in my pantry and refrigerator as I will be munching on it non-stop until I finish every thing. When I get the craving for any particular snack; I buy that, munch on it, feel happy about it and get over it.
So, yes I got home pretty late after the shopping and I was starving. I did buy tortilla chips and salsa, so I had that first so that I can make dinner without passing out. Now, what's for dinner??? My pantry and refrigerator was full with all the ingredients, and I wasn't sure what to cook. I wanted to make something easy rather than spending a lot of time making something complicated.
My eyes fell on the ground lean chicken; I grabbed that and started making patties with it. Baking the patties made my work much easier. I, first thought of serving the patties with a salad. Then, I felt I should make a sandwich or Panini with it; I had the fresh multigrain bread as well. So the dinner for tonight was Sandwich with Spinach chicken patties. It was Yum!
Spinach Chicken Panini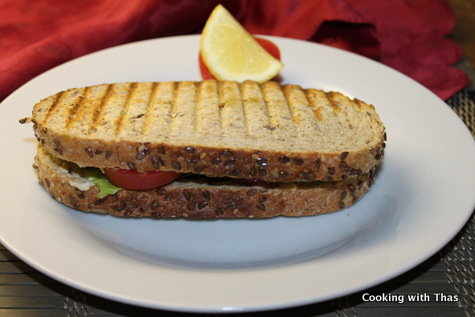 Preparation Picture
Baked Spinach Chicken Patties - Chicken Sandwich
Ingredients
For making chicken patties
Ground lean chicken- 1 lb or ½ Kg
Spring onions, chopped small- 1 stalk
Spinach leaves, chopped very small- 2 handfuls
Mint leaves, chopped- 3 large leaves
Ground cumin ½ tsp
Paprika- ½ tsp
Cayenne pepper or chili powder- ½ tsp
Ground pepper- ⅛ tsp
Worcestershire sauce- 1 tbsp (optional)
Salt- to taste
For making Sandwich or Panini
Bread slices
Tomato, cut round
Lettuce, halved
Jalapeño, pickled- 3 slices/panini
Avocado, sliced (optional)
Hummus or Mayonnaise- to spread on bread
Cheddar cheese
Instructions
Preheat the oven to 375 F.
In a large bowl, combine all the ingredients mentioned above "for making chicken patties".
Make medium sized patties.
Line a baking sheet with aluminum foil, grease with non-stick cooking spray.
Place the patties on the foil without crowding.
Bake for 25 minutes.
After 25 minutes of baking, remove the baking sheet from the oven. Flip the patties over and place the baking sheet in the oven and bake for another 15 more minutes.
You could serve the patties along with your favorite salad or make panini or sandwich with it.
Slather 2 bread slices with either hummus or mayonnaise, on one of the bread slices place the chicken patty top with jalapeño, tomato, lettuce, avocado slices and cheese. Close with the other bread slice.
If you have a panini maker: place the sandwich in it and grill it for 5 minutes till the bread turns golden brown.
Grilling on Stove-top: Place the sandwich on a pan, grease with butter or oil, tightly cover the top of the sandwich with a lid and toast it till the bottom slice turn golden brown, flip it over and let the other side turn golden brown too.
Serve warm.