A vegetarian version of chili chicken…
One of the my favorite Indo Chinese dishes is chili chicken. I've had different versions of chili chicken made my by mom, my aunts, at restaurants and finally made by myself. This is such a delicious dish that I wanted to make a vegetarian version, so that my vegetarian readers can also enjoy it.
While thinking about making vegetarian version, at first I thought of making this with either potato or cauliflower. I had a second thought, as most of the Indo Chinese vegetarian recipes are made with cauliflower or potatoes, I wanted to go with a different vegetable. One vegetable that I adore the most is baby corn, I love how tiny and cute they look. I often add baby corns to my stir fries and so always store canned baby corns in my pantry.
Hence, baby corn was my pick and made chili baby corn. It turned out to be delicious, enjoyed the crunchiness from the baby corn.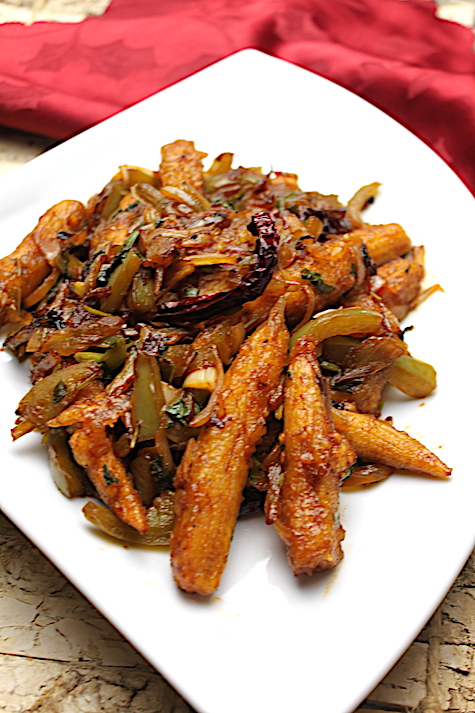 Cooking Video
Chili Baby Corn - Indo Chinese Recipe
Ingredients
Baby corn, canned- 2 cans (I also added bamboo shoots)
Oil- for deep frying
To make batter
Corn starch- ½ cup
Rice flour- 2 tbsp
Water- ½ cup
Ginger-Garlic paste- 2 tsp
Ground pepper- ¼ tsp
Salt- to taste
For making chili baby corn
Oil- 2 tbsp
Ginger, minced- 1 tbsp
Garlic, minced- 1 tbsp
Red whole dry chilies- 2
Onion, sliced thin- 1
Green pepper, diced- 1
Soy sauce- 3 tbsp
Tomato ketchup- 4 tbsp
Rice vinegar- 1 tbsp
Chili sauce- 1 tsp
Spring onions, chopped - 2 stalks
Cilantro, chopped- ¼ cup
Instructions
Rinse the canned baby corns under running water, pat dry and keep aside.
In a large bowl, combine all the above mentioned ingredients 'to make batter'.
Heat a frying pan, add enough oil for frying.
Dip the baby corns in the batter and coat them evenly.
Fry the coated baby corn in oil till they turn golden in color.
Transfer to a paper towel and keep aside.
Place a skillet or wok over medium heat, add 2 tbsp oil used for frying baby corn.
Add chopped ginger and garlic, stir fry till golden in color.
Add red whole dry chilies and stir fry for 3 seconds.
Add onions and cook till translucent.
Add the green peppers, stir fry.
Add the fried baby corns, stir fry for 3 minutes.
Add soy sauce, tomato ketchup, rice vinegar and chili sauce; combine well.
Stir fry over high heat for 2 minutes.
If you want this to be spicy, add more chili sauce.
Garnish with green onions and cilantro, stir fry for a minute.
Serve on a platter and enjoy.
Can be served as an appetizer or with Basmati or Jasmine rice.
Notes
Baby corns can be replaced with cauliflower.