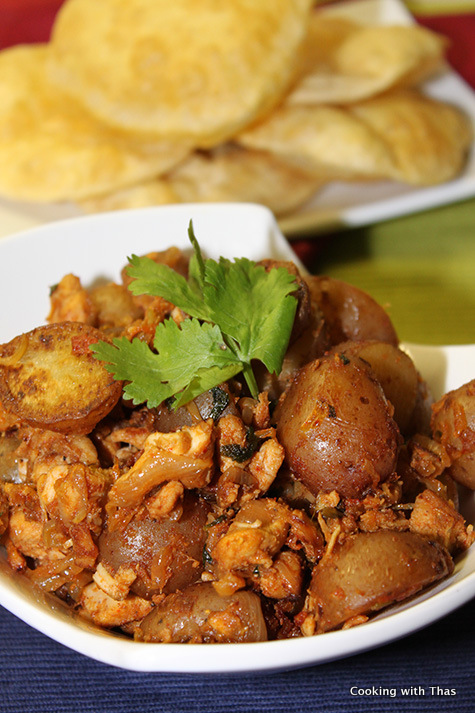 Chicken and potato stir fried together and made into a delicious roast, it's the typical Kerala style roast…
South Indian style roast is entirely different from the American or European style roast. In South India, for making meat roast, the seasoned meat is first cooked (chicken, beef or mutton) till tender and then it's stir fried along with onions, tomato and other spices till everything gets browned. It's a dry and spicy dish, caramelization makes the dish taste delicious.
However, in American and European cuisine, roasting is done in the oven- whole chicken or large cuts of beef/lamb is usually used for roasting, first the meat is browned by brief exposure to high temperature (over stove top) and then allowed to slow roast in the oven.
Not just meat, even sea food ( mussel, crab, shrimp, squid) can be made into roasts. I often make chicken roast and I enjoy it with chapati or poori. The other day, when I made chicken roast, I added small potatoes too. Cooked chicken and potatoes are stir fried together till they turned brown, an incredible roast was served along with poori.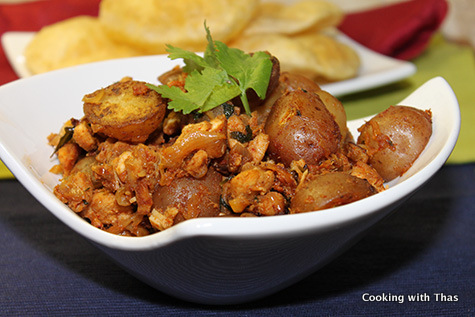 Recipe for making Poori, click here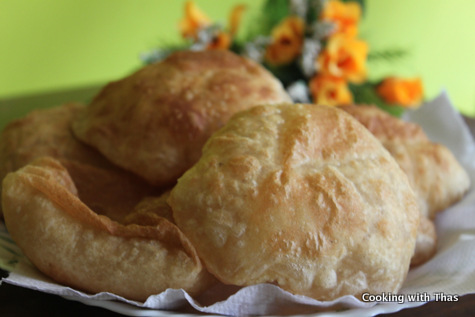 Chicken and Potato Roast- Kerala Style
Ingredients
For cooking chicken
Chicken breasts or thighs, boneless, diced- 2 breasts or thighs (could use 8 bone-in chicken pieces)
Ginger-garlic paste- ½ tbsp
Chili powder- 1 tsp
Fennel powder- 1 tsp
Coriander powder-1 tsp
Garam masala- ¾ tsp
Salt- to taste
Curry leaves- 1 sprig
Oil- 2 tbsp
For making roast
Coconut Oil- 3 tbsp
Onion, sliced thin- 3
Curry leaves- 1 sprig
Green chili, chopped- 2
Tomatoes, chopped- 2
Small Potatoes, halved and cooked- 8 (or use 4 regular potatoes- cubed or cut into thick wedges)
Fennel powder- 1 tsp
Chili powder- 1 tsp
Ground pepper- ¼ tsp
Salt- to taste
Cilantro, chopped- 2 handfuls
Instructions
You could use either boneless chicken or bone-in chicken pieces.
In a saucepan, combine the cut chicken with ginger-garlic paste, curry leaves, chili powder, fennel powder, coriander powder, garam masala and salt.
Place the saucepan over medium heat and cook covered. No need to add water as the water will be oozed out of the chicken while cooking.
Cook till the chicken has cooked well and the water in the pan has dried off.
Add 2 tbsp oil over the chicken and stir fry till the chicken turns light brown.
Remove the saucepan from the heat and keep it covered.
If using small potatoes, half them. If using large potatoes, dice them into large chunks.
Cook the potatoes in boiling water till they are fork tender. Do not over cook them.
Drain the water from the cooked potatoes and keep aside.
Place a large non-stick cooking pan over medium heat, add oil.
Add sliced onion, season with salt and saute till they turn translucent.
Add green chili and curry leaves, saute for a few minutes till onions turn golden brown in color.
Add tomatoes, cook till tomatoes are mashed up and then stir fry for a few minutes.
Add cooked potatoes, season with fennel powder, chili powder, ground pepper and salt.
Stir fry over high heat till potatoes turn almost brown.
Add the cooked chicken, combine well and stir fry over high heat for a few minutes.
Taste, add more salt if needed or chili powder for more spice.
Finally, add chopped cilantro, stir fry for a few seconds.
Remove the pan from the heat and keep covered for a few minutes.
Serve the chicken and potato roast with chapati or poori