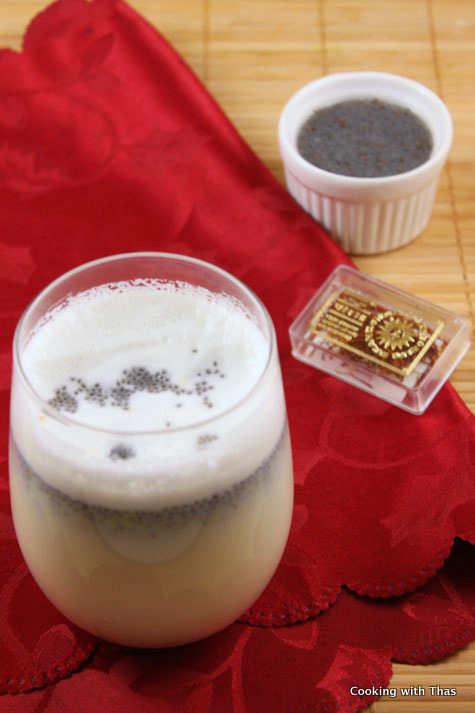 A perfect rejuvenating drink with many health benefits…
A pinch of saffron goes a long way. Saffron is derived from the stigma and styles of the Crocus flower and is the most expensive spice in the world. Gathering the stigmas from the flower is a labour intensive process and several thousands of stigmas are needed to make a few grams of saffron. Besides this, it has many health benefits and is excellent for treating asthma, depression, whooping cough and many other ailments.
Saffron is added in most of the Indian desserts, sweets and for garnishing Biryani's. A pinch of saffron when soaked in warm milk will release its golden color and aroma. It would instantly enhance the aroma and the flavor of any dish especially desserts.
A very common myth about saffron is that when saffron milk is regularly consumed, it would help in skin lightening. It's just saffron helps in improving the circulation of the blood and  heals some skin problems, some people misunderstand that it helps to enhance the skin fairness.
You should be very careful while buying saffron as there are many  adulterated and fake saffron being sold in the market due to its high price. Make sure to get it from genuine stores. Here is one of the easiest ways to confirm whether it's fake or not: genuine saffron when soaked in warm milk or water would release its golden yellow color and arama instantly and fake ones wouldn't give out any color or takes a long time. Also genuine saffron has a metallic or rustic aroma.
My favorite spice is without any doubt saffron, I tend to add it to almost all desserts and sweets. One of my favorite ways of consuming saffron is by adding it to chilled milk. Saffron milk when drank at night would help to relaxe your body and you'll have a sound sleep. The other day when I made saffron milk, I also added basil seeds to it. Basil seeds when soaked in water would plum up and can be added to any drinks. It doesn't have any flavor but it soothes your body and mind and has a lot of medicinal properties.
Saffron and basil seeds when added to milk makes a very healthy and soothing drink.
Saffron Milk with Basil seeds
Saffron Milk with Basil Seeds - Healthy Drink
Ingredients
Skim milk, chilled- 2 glasses
Saffron- 3 pinches, soaked in 1 tbsp milk
Honey- 3 tbsp
Basil seeds- 2 tbsp soaked in ¼ cup water
Instructions
Soak Basil seeds or Takmaria in water and let it plum up.
In a blender, combine skim milk, soaked saffron and honey, blend it for a second.
Pour into glasses.
Strain the plumed up basil seeds and add to saffron milk.
Serve in a glass and enjoy.
Notes
Basil seed is available in Indian store under the name Takmaria.
Saffron is available in most of the gourmet stores and some Indian stores.