Ghee roasted plantains are layered with egg, roasted apples and coconut and then baked; tasted delicious…
I am a huge plantain lover, may be because I grew up in Kerala where plantains are abundantly available. And, we make so many different snacks using plantains. One of the famous evening snacks in Kerala is Pazhampori or plantain fritters. Most of the snacks made with plantains are simple and can be made without much difficulty.
I had bought a couple of plantains during my last grocery shopping and had kept them on the counter top to ripen. Every time I think of making something out of plantains, the first thing that comes to my mind is roasting them in ghee till they turn brown, the simplest yet the most delicious dish. This time, I wanted to make something different and ended up making this.
This dish is somewhat similar to Kaipola or plantain cake in which fried plantains are combined with egg, sugar, nuts and then steam cooked. However, in this one- plantains are roasted in ghee, spread them in an ovenproof dish, pour beaten egg over it, layered with ghee roasted apples and coconut, and then covered with plantains and baked. It was absolutely delicious and I enjoyed the addition of apples in this dish.
Preparation Pictures
Ghee roasted Plantains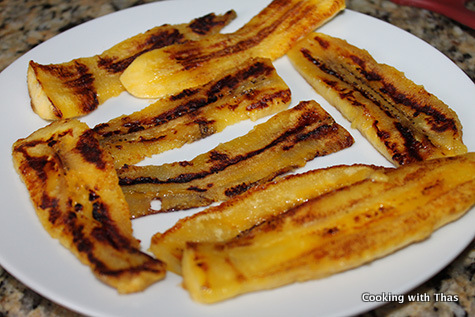 Plantain layered with egg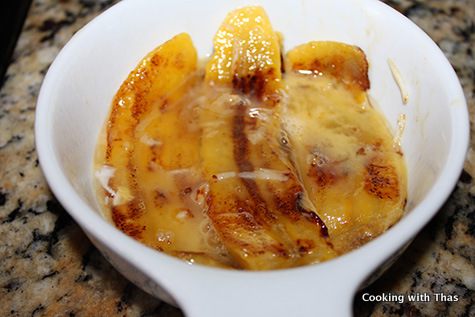 Layered with apples and coconut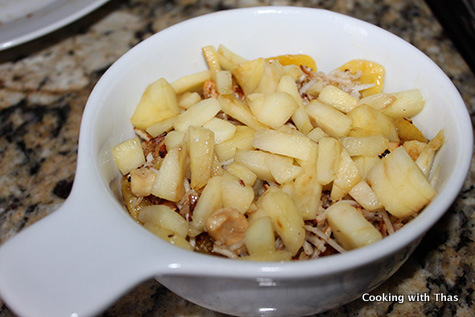 Top layer with ghee roasted plantains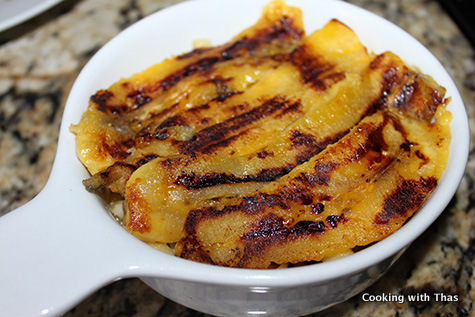 After baking
Roasted Plantain layered with Apples and Coconut- Baked Roasted Plantains
Ingredients
Plantain, ripe- 1
Red delicious Apple, diced small- 1
Grated coconut- ½ cup
Cashew nuts, halved- 6
Egg, beaten- 2
Sugar- 2 tbsp
Ghee- 3 tbsp
Instructions
Preheat oven to 350 F.
Use ripe plantain, first cut the plantain into halves horizontally and then cut each half vertically into 2 halves, again cut each slices vertically into 2 halves, so you will have total 8 slices, please refer picture.
Heat a non-stick pan over medium heat, add 2 tbsp ghee and place the plantain slices, roast them till both sides turn golden brown in color. Keep aside.
In the same pan, add ½ tbsp more ghee, add diced apples and roast for couple of minutes till they turn slightly tender. Keep aside.
In the same pan, add 1 tbsp ghee, add coconut, 1 tbsp sugar and cashew nuts, roast till coconut turns light golden in color. Keep aside.
In a small bowl, beat 2 eggs with 1 tbsp sugar. Keep aside.
Use an oven proof bowl, grease with non-stick cooking spray.
Layer 4 ghee roasted plantain slices as the bottom layer.
Pour half of the beaten eggs over the plantains and spread over them.
Spread apples, coconut and cashew nuts.
Layer the remaining ghee roasted plantain slices as the top layer.
Pour the remaining eggs over the plantain slices and spread over it.
Place the bowl in the oven and bake for 30 minutes till the egg has cooked well.
Remove the bowl from the oven, let cool down for a few minutes.
Run a knife through the sides inside the bowl.
Cover the bowl with a plate and flip it over, the baked plantain will fall onto the plate and will resemble a cake.
Enjoy this delicious plantain dish.
Notes
To make more increase the amount of ingredients accordingly.

If using more plantains, bake in a large oven proof dish.