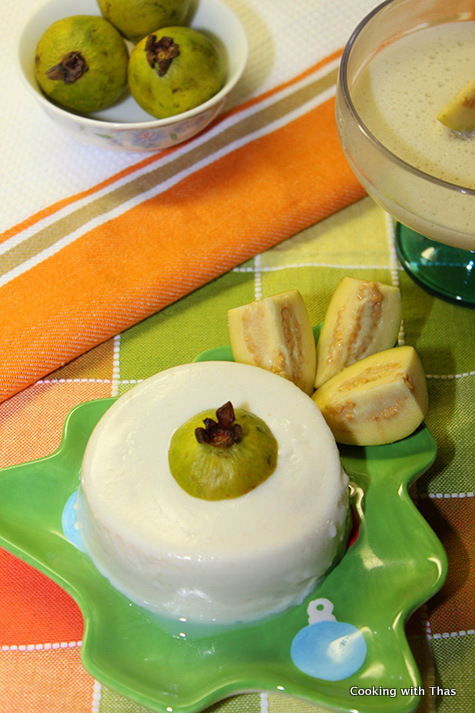 The best tasting Guava pudding and it's easy to make…
I've been trying to finish up Guavas that I'd bought last week. We ate some, made milkshakes out of it and was thinking what should I make next, that's when the idea of making pudding hit me hard. I'm so glad that I made this pudding, tasted absolutely delicious and loved the flavor of guava in the pudding.
Guavas are quite popular in tropical countries and so it's abundantly found in Kerala. Guava trees are grown in the front or back yard of most houses there and they grow so well. The health benefits of guavas are just amazing, they have zero fat and so they are great for weight loss.
One of the characteristics of ripe guava is that they emit intense aroma, and when kept on the counter top the whole house will smell like guava.
In North America, guavas are sold at most Asian stores, these days I see them being sold at most American and Canadian stores as well. So, next time you see guava, do grab a box and make this pudding. It's delicious and you are going to love it.
Recipe for making Guava Milkshake, click here.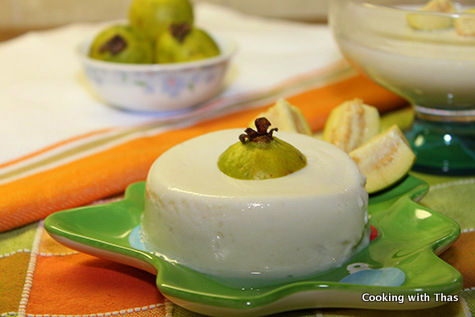 Preparation Pictures
Guava pudding mixture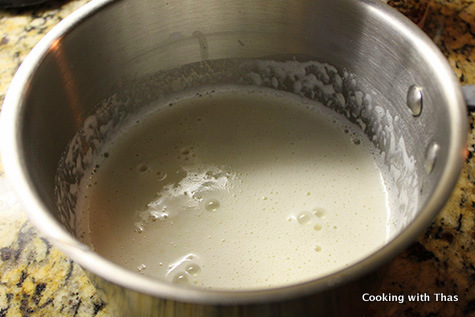 Poured into ramekins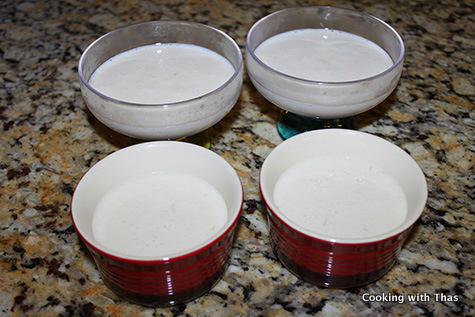 Easy Guava Pudding - Perakka Pudding
Ingredients
For making guava puree
Ripe guavas- 4 (I used small sized guavas, see the picture)
Milk- 1 cup
For making pudding
Milk- 3/ 4 cup
Sweetened condensed milk- 6 tbsp
Agar-agar strands, 1 inch cut- 1/ 2 cup dissolved in 1/ 2 cup water
Instructions
Use ripe guavas.
I used 4 small sized guavas, if using large sized guavas use 2 of them.
Peel off the skin and roughly dice them.
Into a blender, add the diced guavas along with 1 cup milk, puree at high speed. The seeds won't blend well so you need to strain the pureed guava.
Pour the pureed guava through a strainer, keep aside the pureed guava and discard the seeds.
If the pureed guava is too thick and not flowing through the strainer, add some more milk, puree for a second and then strain it.
Place a saucepan over medium heat, add milk and condensed milk, let the mixture come to a slight boil.
In the meantime, in another small saucepan, combine ½ cup agar- agar (cut into 1 inch long) and water. Place the pan over medium heat, let the agar agar completely dissolve in water.
When the milk-condensed milk comes to a slight boil, add the pureed guava and combine well.
Cook the mixture for a minute (don't boil or over cook after adding pureed guava).
Add the melted agar-agar, combine well and remove from the heat.
Let the mixture cool down a bit.
Grease the ramekins or dessert bowls with non-stick cooking spray so that the pudding after it has set would fall nicely onto the dessert plate.
Divide the pudding mixture into the bowls.
Refrigerate for an hour or until set.
While serving, run a knife along the sides of the pudding. Cover the ramekin with a dessert plate and flip it over, tap on the bottom of the ramekin, the pudding will fall nicely onto the plate.
Garnish with sliced guavas and enjoy.