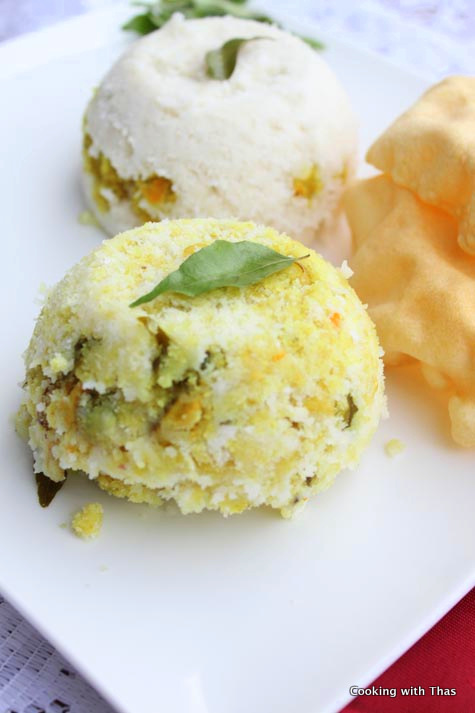 Puttu gets delicious when stuffed with mussel and squid…
Puttu or steamed rice flour is a popular breakfast dish in Kerala. Making puttu is really easy: wet the rice flour and add to the puttu maker along with grated coconut and is steamed for a few minutes. It can be served with literally anything: my absolute favorites are puttu with chicken curry or fish curry. Usually the curry is poured over the cooked puttu and eaten.
The concept of stuffing puttu with chicken, beef or fish is nit that new. There are so many variations: you could stuff with chicken roast, beef roast, fish roast, shrimp roast or even veggie roast. I'd tried tuna stuffed maniputtu or noodles puttu. So, this time I made mussel and squid peera or roast and stuffed that into the puttu layers.
It was incredibly delicious!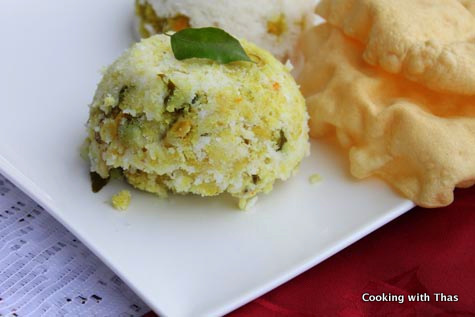 Preparation Pictures
Prepared Mussel and Squid Peera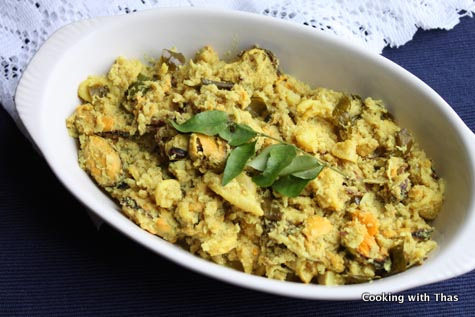 Rice flour at the bottom and peera over it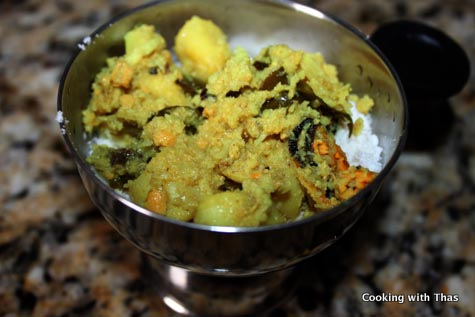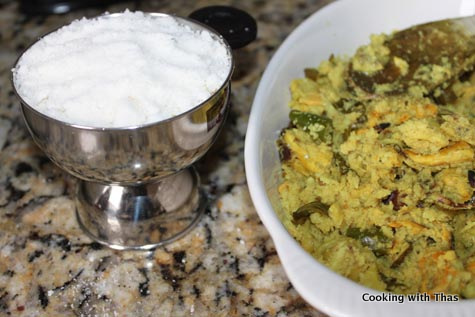 Mussel and Squid Peera Puttu - Chippi Puttu or Meen Puttu
Ingredients
For making Mussel and Squid Peera
Squid, cut into small pieces- 7 squids
Mussels- 15, large
Coconut, grated- 1½ cups
Turmeric powder- ½ tsp
Cumin seeds- ½ tsp
Garlic, chopped- 3, cloves
Ginger, chopped- 1 inch
Curry leaves- 2 sprigs
Green chilies, chopped- 3
Tamarind- 2 inch slice
Coconut Oil- 2 tbsp
Salt- to taste
For making Puttu or Steamed rice flour
Roasted Rice flour- 2 cups
Water- ½ cup+ 2 tbsp
Grated coconut fresh or frozen-1 cup
Salt- two pinches
Instructions
Making Mussel and Squid Peera
In a clay pot or non-stick pan, combine the squid & mussels along with grated coconut, turmeric powder, cumin seeds, garlic, ginger, green chilies, curry leaves, tamarind, coconut oil and salt.
This dish is traditionally made with Anchovies (netholi) & Sardines (mathi).
Cover the pan with a lid and cook over medium heat for 20 minutes until the squid and mussels have cooked well.
Open the lid and cook till the liquid dries off.
Increase the heat to high & stir fry till coconut turns light golden brown in color.
This is a dry dish. Keep aside covered.
Puttu Preparation
In a large bowl, combine the rice flour and salt.
Add the water little by little to the rice flour. Using your hand, mix the water into the rice flour breaking any lumps that forms.
You should be really careful while wetting the rice flour, flour shouldn't turn into dough constituency.
The flour after wetting should still be in powdered form and damp enough so that it will steam well.
After wetting the rice flour, let stand for 5 minutes.
In the mean time, have the grated coconut, puttu maker and the pressure cooker ready.
Layering rice flour and Mussel squid peera
First, layer 1 tbsp of grated coconut on the bottom of the puttu maker, then add a handful of wet rice flour.
Over the rice flour spread a spoonful of prepared mussel and squid peera.
Top with rice flour over the peera and sprinkle grated coconut as the top layer.
Close the puttu maker with its lid.
Or you could mix the rice flour and mussel-squid peera together in a bowl and add that to the puttu maker layered with grated coconut.
Fill ½ of the pressure cooker with water, close with its lid (don't keep the whistle) and place on medium high heat.
When the steam starts to vent through the whistle hole, place the puttu maker onto the whistle hole of the pressure cooker and steam or 5 minutes or until steam starts to vent through the holes on the puttu maker.
Remove the puttu maker from the pressure cooker, open the lid of the puttu maker and flip it over onto a platter.
If you have any mussel and squid peera left, serve that as a side dish along with the puttu. Or serve with pappadam or wafers.
Notes
I used puttu maker than can be placed on pressure cooker.

If using funnel shaped large puttu maker, layer with rice flour, mussel-squid peera and coconut till top; rice flour should be on bottom and top.