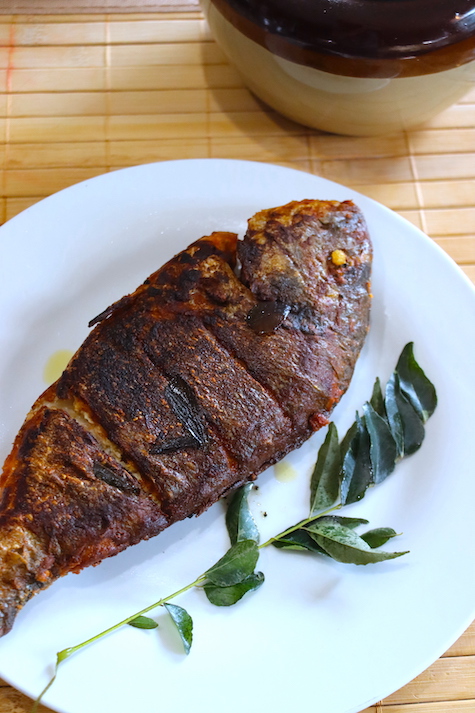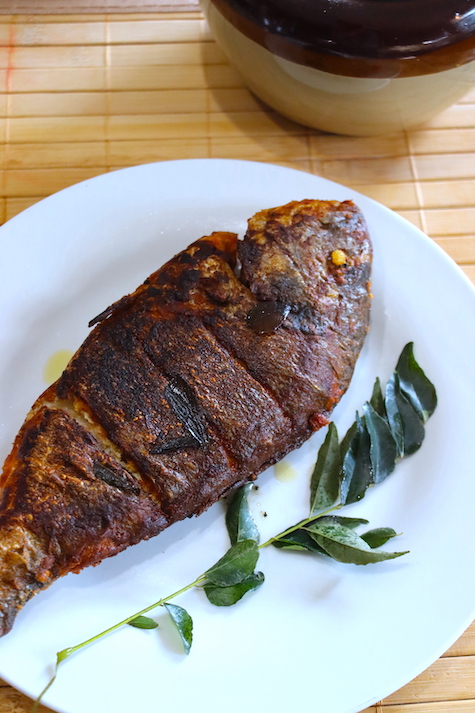 Whole sea bream marinated & pan-fried, absolutely delish…
Hailing from Kerala I love seafood & shellfish. In fact, in Kerala, non-vegetarians enjoy seafood on a daily basis & over there, fishmongers bring catch of the day fish right to the doorstep.
In Canada, I cook seafood mostly in Summer, the reason being I can cook the fish in my backyard on my outdoor grill burner. I shy away from cooking fish indoors in my kitchen as I can't stand the fish odor lingering in my kitchen. Hope the Summer lasts forever over here 🙂
One of the fish I've been devouring a lot has been Sea bream, it is one of the tastiest fish so meaty & doesn't have the fishy smell. However, I haven't seen this fish being sold while in Kerala.
In Kerala, with fish, we make fish curries & fried fish. I like fried fish more than the fish in the curries. When I buy whole fish, my first thought is to fry the fish. The other day when I got fresh whole sea bream fish, I just went ahead & pan-fried it after marinating it with a nice homemade marinade.
If you haven't tried sea bream fish, do give it a try, very tasty fish that can be used for making curries, frying, grilling, or making Kerala specialty meen pollichathu.
Whole Sea Bream Fish Fry - Indian Seafood Recipe
Ingredients
Whole sea bream fish or any kind of whole fish
Coconut oil- ¼ cup
Curry leaves- 2 sprigs
For making marinade
Kashmiri chili powder- 2 tsp
Regular hot chili powder- ½ tsp
Turmeric powder- ⅛ tsp
Ground black pepper- ½ tsp
Gram flour or besan- 1 tbsp
Rice flour- 1 tbsp
Salt- 1½ tsp
Lemon juice- ½ tbsp
Water- 3 to 4 tbsp
Instructions
I used whole sea bream fish, it's a very tasty & meaty fish.
It was already cleaned so I just had to rinse it in running water.
If the fish is uncleaned, you have to remove the scales from the skin, using a knife scrape off the scales. Don't cook the fish with the scales, it doesn't taste good.
Remove the internal organs & the gills on the head.
If you prefer remove the fins. The tail can be kept on the fish.
Clean the fish thoroughly in running water, you can also add some salt while cleaning the fish.
Using a knife, add a few lines or gashes on the flesh. This will ensure the marinade gets into the fish.
In a bowl, add all the ingredients for making the marinade, add just enough water to make a smooth thick paste.
Gram flour & rice flour will make the outside of the fish crispy.
If you don't want to add the flours, you can totally skip them.
Just add the spices & make it into a paste.
Spread the marinade all over the fish & give it a nice Kerala massage 😛
Let the fish rest for 30 minutes to an hour.
Place a frying pan or cast iron skillet over medium heat.
Add coconut oil & add curry leaves.
Curry leaves will impart a nice aroma to the fried fish.
Place the marinated fish in the oil & pan fry till both sides have cooked well & turn crispy & brown.
If using whole fish, it'll take a few minutes to cook.
Transfer to a plate, garnish with curry leaves.
Enjoy with rice.