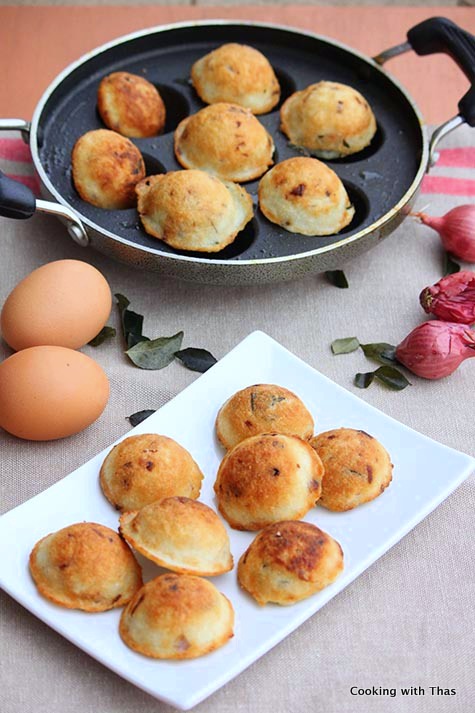 Mutta Surka- Fried savoury rice and egg snacks…
In Spring and in Fall, most days can be gloomy and rainy. On rainy days, I get the craving to have fried snacks, especially Kerala snacks. In Kerala, it's quite a normal routine to serve some kind of snacks along with tea in the evening.
Yesterday, it had been drizzling the whole day. I worked from home and I sat with my laptop working away facing my backyard. I had hung the bird feeders with seeds in it and in no time my backyard got busy with cute little birds enjoying their food and being happy. Birds and drizzle, I kept staring at the backyard, a peaceful vibe I felt. Towards the evening, I had the urge to have some kind of Kerala snacks. So many Kerala evening snacks lined up in front of me: pazhampori, medu vada, unnakaya, ullivada, parippu vada, mulagu bhaji, the list just goes on…
When I get the craving, I cannot help but succumb to it. I wanted to try a new snack that I haven't tried in my kitchen and not blogged about. I was reminded of Mutta Surka which my mom used to make, a very simple savory snack made with rice flour and egg. Last Summer, my mom brought a pan with several cavities in it (also called Unniappam pan or Paniyaram pan) from India. It had been sitting idle in my kitchen cabinet since then. Mutta surka is made in that pan, I then decided to make this snack. It was quite easy to make and when I try something for the first time, I feel the greatest joy. Mutta Surka turned out great, they resemble mini edible hats and you can enjoy many in just one sitting. It gets too difficult to stop eating these mini snacks…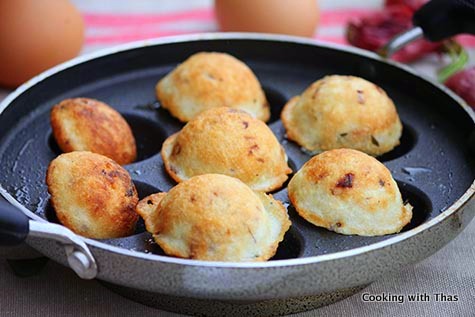 Mutta Surka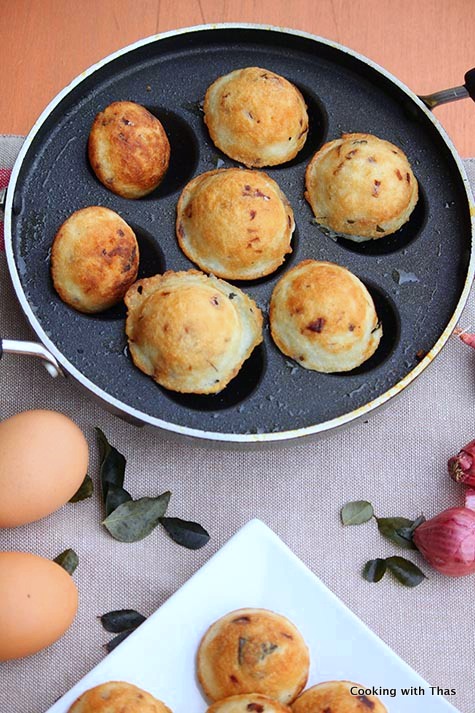 Mutta Surka- Pan Fried Rice and Egg Snack
Ingredients
Rice flour, roasted- 1 cup
Grated Coconut- ¾ cup
Small onions, chopped small- 5
Ginger, minced- 1-inch slice
Green chilies, chopped- 2
Curry leaves- 1 sprig
Egg- 1
Salt- ½ tsp
Water- close to 1 cup
Oil- for frying
Instructions
To a large bowl, add rice flour, grated coconut, small onions, ginger, green chilies, curry leaves, egg and salt. Combine well.
Add water little by little and combine well using a fork till a slightly thick batter has formed. Don't make it too thick nor too watery. I had to add almost 1 cup water to get the right consistency.
Place the non-stick pan with cavities (also called paniyaram pan) over medium heat. Let turn hot.
Add 1 tsp oil to each cavity, let turn hot.
Pour 1 tbsp of batter onto each cavity.
Cook for a few minutes.
Using a fork or skewer flip it over to the other side and cook till golden in color.
Note: to get the round shape: you should flip it over when the center is slightly watery, if the center has cooked well the base will be flat.
Transfer to a plate lined with paper towel.
Enjoy these savoury mutta surka while it's warm, you can also enjoy this with chicken, mutton or beef curries.
Mutta surka and cardamom tea is a match made in heaven. Delish!
Notes
You can roast the rice flour taken in a non-stick pan over stove top till the flour turns aromatic and starts to turn light golden in color.
Or spread the flour on a baking sheet and place it into an oven pre heated to lowest temperature and bake for 15 minutes.