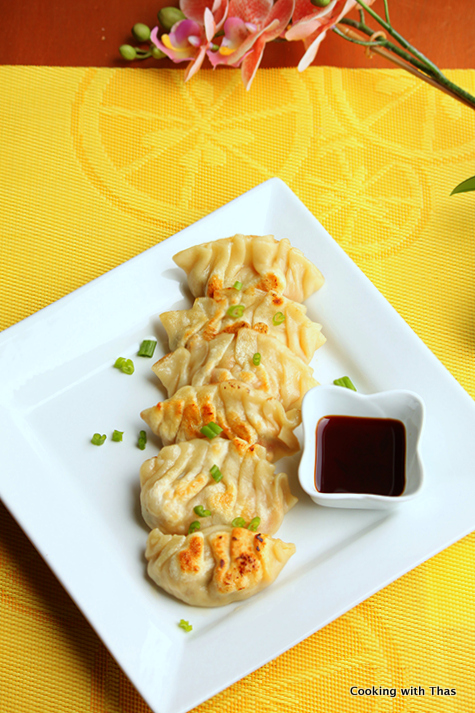 Potstickers with chicken filling, wrappers made from scratch…
Potstickers are a type of dumpling that originated in China and are now enjoyed in many parts of the world. They are typically made with a thin dough wrapper that is filled with a savory mixture of meat, vegetables, and seasonings. The dumplings are then pan-fried until the bottom is crispy and golden brown, while the top remains soft and steamed.
Potstickers are commonly served as an appetizer or part of a meal. They are often accompanied by a dipping sauce, such as a combination of soy sauce, rice vinegar, and chili oil. The sauce complements the flavors of the dumplings and adds an additional layer of taste.
In addition to being pan-fried, potstickers can also be steamed or boiled. Steamed potstickers have a softer texture overall, while boiled ones are often referred to as "jiaozi" and have a chewier consistency.
If you are looking for a non-fried appetizer, this is a good one to make. You can either make the wrapper from scratch or use store-bought wrappers. I would say making wrappers from scratch is not that hard; just follow the recipe, and you will make some delicious wrappers.
Any kind of filling can be used. I used a chicken filling with simple seasoning, but you could add any kind of seasoning to the filling.
Potstickers can be enjoyed as a snack, appetizer, or as part of a main course, making them a versatile and satisfying culinary treat. Enjoy!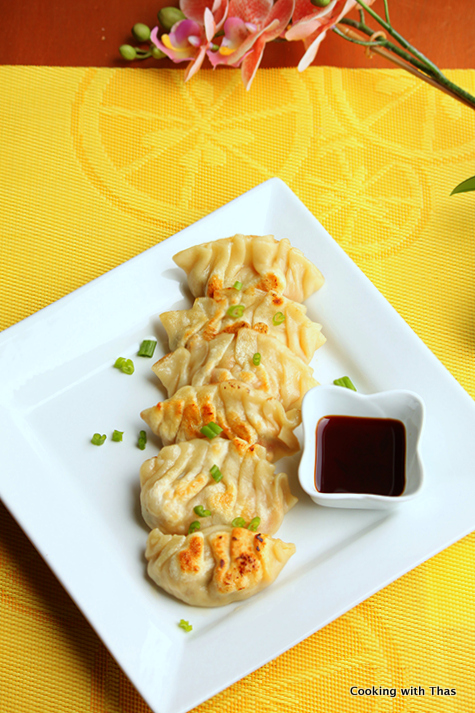 Potstickers with Chicken filling
Ingredients
For making wrappers
All-purpose flour- 1 cup + 1 tbsp
Warm water- ½ cup
Salt- ½ tsp
For making filling
Boneless chicken cooked and shredded- 1 chicken breast
Red pepper, diced small- ½ of a red pepper
Green onions, minced- 1 stalk
Bean sprouts chopped- ¼ cup (Optional)
Cilantro, chopped- 2 tbsp
Soy sauce, low-sodium- 2 tbsp
Chili paste or hot sauce or Sambal Oelek- ½ tsp
Ground pepper- ¼ tsp
Instructions
Making the chicken filling
Firstly, have the chicken filling ready.
Season 1 boneless chicken breast or thighs with ½ tsp salt and ⅛ tsp ground black pepper.
Place the seasoned chicken breast in a saucepan along with 1 cup water, cook covered till the chicken has turned fork tender.
Cook the chicken in the Instant Pot: Add 1 cup water and seasoned chicken breast to the stainless steel pot. Close with the lid. Select pressure cook setting, set time to 10 minutes. After 10 minutes of pressure cooking, do a quick pressure release. Chicken will be fork tender.
Shred the cooked chicken.
To a bowl add the shredded chicken and all other ingredients for making the filling.
You could add any kind of seasonings or any kind of veggies of your choice.
Making the wrapper
Add the flour & salt to a large bowl.
Use warm water, pour the water little by little and combine with the flour.
Knead the dough well for 5 minutes till soft; when we touch the dough with our finger it should bounce back- this ensures the dough is well kneaded.
Keep aside the dough for 5 minutes.
Make small balls out of the dough, will be able to make 12 to 14 balls.
Use a clean cutting board or countertop, dust the surface with flour.
Place the ball and roll it into thin round shape using a rolling pin.
Make sure the edges of the dough or wrapper is thin.
Repeat with other balls, while placing the rolled dough or wrapper on top of each other make sure it's dusted well with flour else they will stick together.
Take one of the rolled dough, pat to remove any excess flour.
Place 1 tbsp chicken filling on the center of the wrapper.
Close the wrapper to form a semi circle.
Make pleats on one of the sides and stick it to the other side. Seal the edges well.
Place a large non-stick pan over medium heat, add 2 tbsp oil.
Place the stuffed wrappers, pan fry & let the bottom side turn golden brown.
Important: Close the pan partially with its lid and add 1 cup water into the pan.
Water will splutter, so make sure to partially close the pan with its lid and then add water.
Close with the lid and cook for 5 minutes.
After 5 minutes, open the lid and cook till the water dries off.
By adding water, the wrapper will be cooked well. Just by pan frying the wrapper will be raw.
Flip the potstickers over and let the other side turn light golden in color.
Transfer to a platter. Let cook down for a few minutes.
Enjoy with soy sauce dipping or any of your favorite dipping sauce.