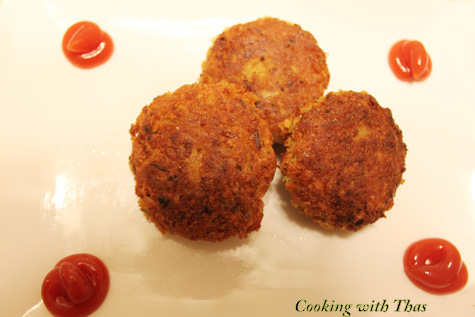 Being a hard-core non-veg, my freezer is always stacked with meat and other meat products. Surprisingly, today I found my refrigerator to be empty; there was neither any meat nor any veggies. And I really wanted to make something fried. Finally, my eyes caught on a can of chickpeas sitting at the corner on the counter top. First thing that flashed through my mind is Falafel, a very popular Middle Eastern appetizer. I always order Falafel whenever I go to Middle Eastern restaurant. Since I was looking for fried snack, Falafel was the right one to make. The best thing about making Falafel is that, it only calls for easily available ingredients and it could be made in no time. 

Falafel - Ground chick peas cutlet
Ingredients
To grind into a coarse paste
Chick peas( cooked)- 15 ounce can or 2 cups
Onion, chopped-1
Garlic- 2 cloves
Parsley chopped- ¼ cup
Cilantro, chopped- ¼ cup
Ground Cumin-1 tsp
Coriander powder-1 tsp
Ground pepper-1 tsp
All purpose flour-3 tbsp
Salt- to taste
Olive oil- 3 tbsp
Other ingredients
Instructions
Rinse the canned chick peas under running water, pat dry using kitchen paper towel.
If you don't have canned chick peas, cook dried chick peas with enough water in a pressure-cooker.
In a food processor, grind the chick peas with all the above mentioned ingredients to a coarse paste.
Make the mixture into small round balls and flatten each balls in between the palm of your hands.
Heat oil in a frying pan.
Deep fry the flattened falafel until golden brown.
Transfer to a plate lined with kitchen paper towel.
Serve hot with Hummus or Tahini sauce. If you don't have any of these, serve with Tomato ketchup.