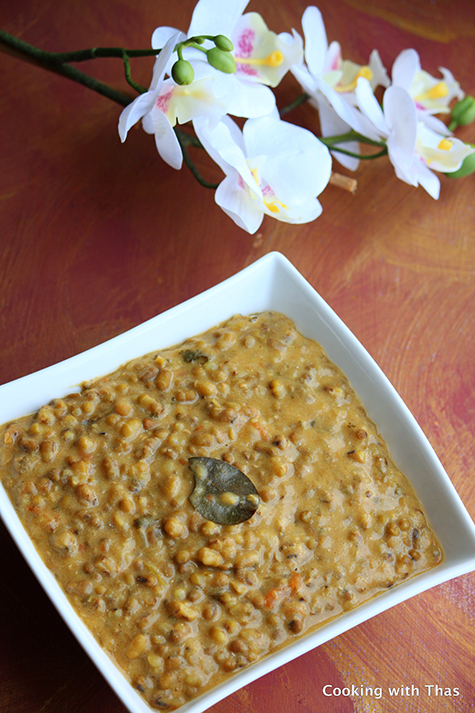 Healthy and protein rich Mung bean curry made in the Instant Pot…
I had been terribly down with my sinusitis for the past few weeks. Weather and temperature changes trigger my sinus and makes me feel really sick. I have to deal with brain fog and it's the worst feeling ever. When I get the sinus attack, I lose interest in literally everything. Steam inhaling, antihistamine medication and nasal spray are my companions on those days.
I'm reminded of this quote: "Everybody is fighting some kind of battle that we are not aware of, so let's be kind to each other."- I couldn't agree more.
Back to this recipe- this is one of my favorite vegetarian dishes that I make at least biweekly. It's a healthy protein rich and fiber rich dish. It can be served with rice, rotis etc.
I made this in the Instant Pot and all I had to do was throw all the ingredients into the pot, set to pressure cooking and just walk away. After mung bean has cooked well, added beaten yogurt.
Instead of yogurt, you could add coconut milk to make it creamy. Or just add water to thin down the gravy. You can tweak the recipe according to your needs.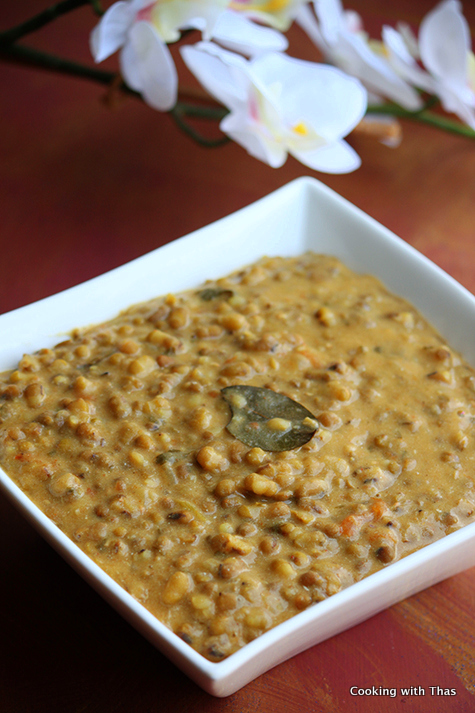 Instant Pot Mung bean in Yogurt gravy
Ingredients
Mung bean or Moong bean- 2 cups
Oil- 1 tbsp
Dried bay leaves- 2
Cumin seeds- ½ tsp
Onion, chopped- 1
Tomatoes, chopped- 2
Turmeric powder- ⅛ tsp
Chili powder- 1½ tsp (based on your spice level)
Cumin powder- ½ tsp
Coriander powder- 2 tsp
Salt- 1½ tsp
Water- 3 cups + ½ cup
Beaten Yogurt- 1 cup
Cilantro, chopped- ¼ cup
Instructions
Soak the mung beans in 3 cups water for 30 minutes. After 30 minutes, discard the water and rinse the mung beans taken in a sieve under running water.
Turn on the Instant pot- I used Ultra model IP.
Turn on Saute button and let the display show HOT.
Add oil, let oil turn hot.
Add bay leaves and cumin seeds, saute for 30 seconds.
Add onion, season with ½ tsp salt, saute till onions turn light golden in color.
Add tomatoes, combine well & cook for a minute.
Add turmeric powder, chili powder, cumin powder, coriander powder and ½ tsp salt, combine well.
Add rinsed and soaked mung beans.
Add 3 cups water.
Close the pot with the lid.
Cancel saute setting.
Select Pressure setting, at high pressure and set the time to 25 minutes.
After 25 minutes of pressure cooking, let the pressure release naturally for 5 minutes & then do a quick pressure release.
Open the lid, combine everything well.
Take the yogurt in a bowl & beat it well using a whisk.
Add the beaten yogurt, ½ cup water, ½ tsp more salt and chopped cilantro.
Combine well and let the stainless steel pot rest in the main pot for 2 minutes.
Don't cook the curry after adding yogurt, it will curdle.
Take the pot from the main pot & keep it covered for sometime.
Enjoy with rice or chapati.
Notes
Instead of yogurt, you can also add coconut milk.

Or just skip yogurt and coconut milk, just add water to thin down the gravy and enjoy.