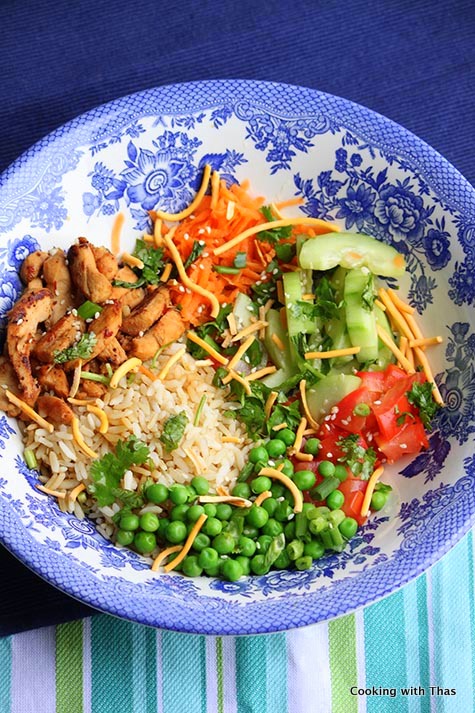 Asian rice bowl with soy chicken- my healthy week day lunch…
Week days are all about easy breezy and healthy meals. When I pack lunch to work I want to keep it simple and healthy. This Asian rice bowl fits my week day lunch criteria. I make this quite often with different veggies, sauces and chicken seasoned with different seasoning, it's never boring!!!
Asian Rice Bowl
Ingredients
For cooking Chicken
Chicken breasts, cut into wedges- 2
Soy sauce- 2 tbsp
Hoisin sauce- 2 tbsp
Rice Vinegar- ½ tbsp
Sambal Oelek or chili paste- 1 tsp
Other ingredients
Cooked Brown Rice- 1 cup/bowl
Shredded Carrot- 2
Cucumber, diced- 1
Boiled green peas- 1 cup (or use Edamame)
Tomato, diced- 1
Green onions, chopped- 1 stalk
Cilantro, chopped- 1 handful/bowl
Fried crispy noodles (optional)- 1 handful/bowl
Sesame seeds- ½ tbsp/bowl
Lemon juice- 1 tsp/bowl
Soy sauce or any other Asian sauce- 1 to 2 tbsp to drizzle over the rice bowl
Instructions
In a saucepan, combine chicken along with soy sauce, hoisin sauce, rice vinegar and sambal oelek. Cook covered till chicken has cooked well and the water that oozed out of the chicken has dried off. Stir fry till chicken turns light brown. Keep aside the chicken.
Have all the other veggies and brown rice ready.
In a bowl, place some cooked chicken, rice, all the veggies.
Drizzle lemon juice and pour soy sauce or any other asian sauce over the chicken, rice and veggies.
Garnish with fried crispy noodles, green onions, cilantro and sesame seeds.
Serve and enjoy this healthy Asian rice bowl for lunch.
If you are packing this for lunch, pack the chicken, rice and veggies separately so that you can microwave the chicken and rice before having this.
Notes
Other veggies you could use- Avocado, Edamame, Broccoli, Red/Green peppers etc