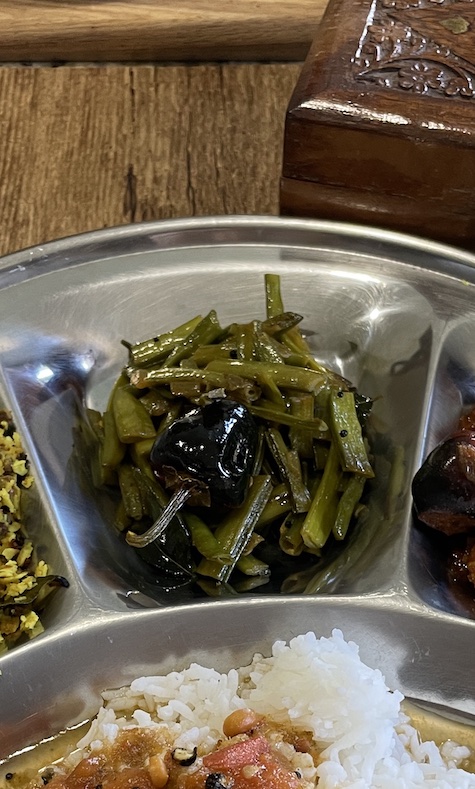 Mezhupuratti is a traditional Kerala dish. The term "mezhukkupuratti" roughly translates to "stir-fry" or "sautéed" in Malayalam.
The dish is known for its simplicity and emphasis on natural flavors. Mezhupuratti is typically made using a variety of vegetables such as beans (often long beans, French beans, or cluster beans), carrots, raw bananas, yams, or even plantains. These vegetables are chopped into bite-sized pieces and then stir-fried in coocnut oil along with mustard seeds, curry leaves, green chilies, and turmeric.
For making mezhukkupuratti coconut is not usually added. In Kerala lunch, a couple of vegetarian dishes will be included, even if it's a non-vegetarian lunch. One of the side dishes that's served is thoran or mezhukkupuratti, vegetable stir fry.
Cluster beans are popular beans in India, it has a slightly sweet & soft texture compared to long or French beans. In North America, frozen cluster beans are available in most Indian stores, sometimes fresh cluster beans will also be sold in Indian stores.
Cluster beans mezhukkupuratti is one of my favorite vegetarian side dishes in Kerala lunch & is super easy to make it.

Cluster Beans Mezhukkupuratti - Stir Fry | Kerala Vegetarian Side Dish
Ingredients
Coconut oil- 2 tbsp
Mustard seeds- 1 tsp
Dried red chilies, halved- 2
Curry leaves- 10 leaves
Garlic, chopped- 2 cloves
Shallots, chopped- 3 large shallots or 6 small/pearl onions
Cluster beans, cut into 2 or 3-inch slices- 3 cups
Water- ¼ cup
Turmeric powder- ¼ tsp
Salt- 1½ tsp
Instructions
I've used frozen cluster beans, available in Indian stores. Rinse the frozen beans in water.
Cut the cluster beans into either 2 or 3-inch slices.
Place a clay pan or saucepan over medium heat.
Add coconut oil, let turn hot.
Add mustard seeds, let splutter.
Add dried red chilies & curry leaves.
Add chopped garlic, saute for a minute.
Add shallots or pearl/small onions, season with ½ tsp salt; saute till golden in color.
Add the cluster beans, saute for a couple of minutes.
Add ¼ cup water & cook covered till beans have turned soft, don't overcook the beans.
Open the lid, add turmeric powder & 1 tsp salt.
Stir fry over high heat till the beans turn slightly browned.
Take the pan off the heat & keep it covered for a few minutes.
Enjoy as a side dish along with rice.