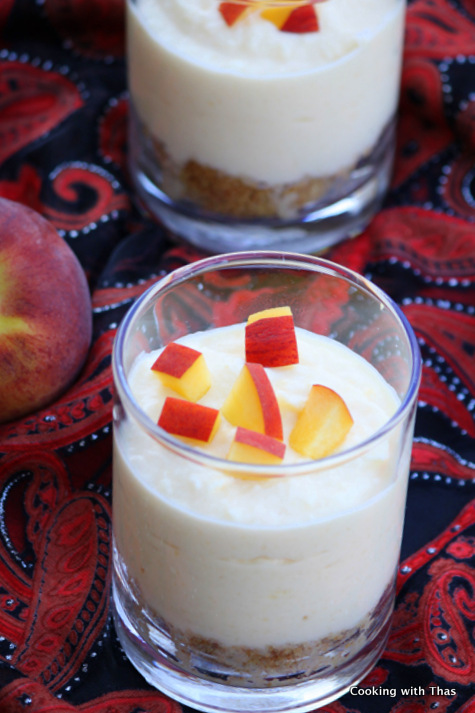 Easy to make eggless and no-bake cheesecake in a glass, I added peach pulp and it tasted delicious…
Making desserts can be a bit time consuming, here is a delicious dessert that can be made without any effort and in just a matter of minutes. Traditional Cheesecake recipes call for egg and the batter has to be baked. This is a healthier version without the addition of egg and milk. This recipe only calls for a very few ingredients and the best part is that any kind of fruit pulp can be added to the cheese mix.
I usually fall for Mango puree/pulp or strawberry, so this time for a change I went with peach. Since, I love peach flavor, I really enjoyed the taste of peach while having this cheesecake.
Next time, when you get the craving for sweet or when you host a party you could make this easy and yummy cheesecake. You can serve this in different kinds of fancy short glasses, bowls, petite cups etc.
Other cheesecake recipes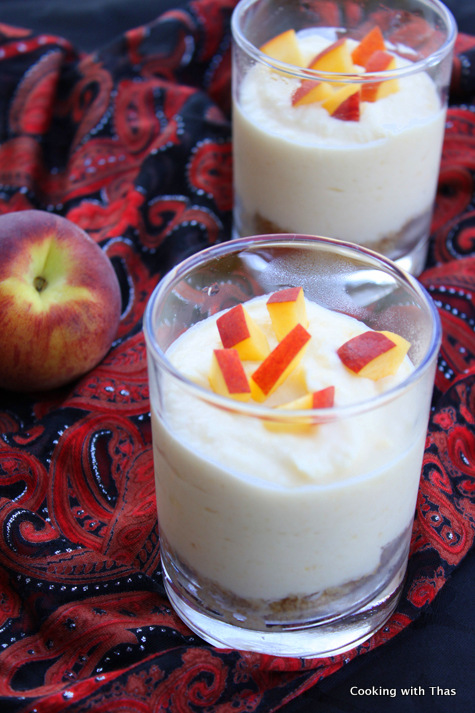 Preparation Pictures
No-Bake Eggless Peach Cheesecake - Easy to make Cheesecake in a Mug
Ingredients
For making peach pulp
Peaches, ripe- 3
Water- ⅛ to ¼ cup
For making the crumbs
Digestive biscuits- 12
Melted butter, unsalted- 3 tbsp
For making cheese mix
Mascarpone cheese- 400 gms or 1½ cups
Condensed milk- ¼ cup
Instructions
In a blender, puree the ripe peaches along with water to a smooth pulp constituency without any lumps. Make sure the peaches are ripe.
If using digestive biscuits, coarsely grind it in a food processor. You will have 1 cup of crumbs.
In a bowl, combine the ground biscuit crumbs and butter using a fork.
In a stand mixer or using an electric hand mixer, beat the mascarpone cheese and condensed milk till smooth.
Don't over beat the cheese as it will curdle. When the cheese turns smooth and soft, stop beating.
Add the peach pulp and beat again for a couple of minutes till well incorporated.
In a short glass, spread the ground biscuit crumbs as the bottom layer, use around 3 to 4 tbsp.
On top of that add the cheese mix.
If you want you could repeat the layers, add one more layer of ground biscuits and again top with cheese mix.
Top the cheese mix with chopped peaches.
Cover the glasses using a plastic wrap and refrigerate for 3 to 4 hours or overnight.
The cheese mixture will be more like a thick pudding, since we didn't add gelatin or agar-agar it won't set like the traditional cheesecake.
You could add mango pulp, strawberry pulp or a combination of fruit pulps.