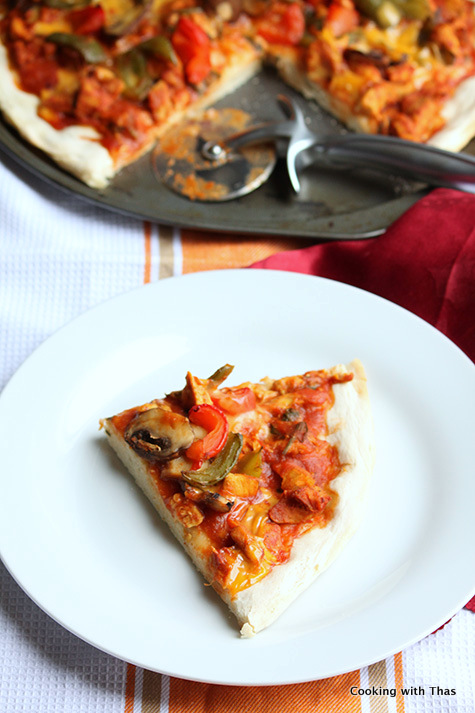 Homemade pizza base topped with dragon chicken…
I have to agree that homemade pizzas are healthy and less greasy. It can be made just like restaurant style and can be topped with any kinds of ingredients. Every time, I make pizza I try different kinds of topping. So far, my favorites are ground beef pizza, pesto chicken pizza and butter chicken pizza.
I took a couple of days off from work and enjoying some relaxed time at home. Of late. I've not been trying different dishes in my kitchen. Hence, I don't have much to blog as well. On week days, after I get back from work, I cook mostly one pot dishes so that I can have for dinner and can take the same for next day's lunch. I have to get active all over again and cook different dishes so that I can share with you all. Hopefully, soon.
My man had a craving for pizza and he was about to place an order. I assured him that I'll make a delicious pizza for him. I like to make my pizza dough from scratch as I dislike the ready made store bought pizza base or the frozen ones. Making pizza dough from scratch is so easy, you just need to knead the dough and let it stand for an hour to rise. I've already shared the recipe for making the pizza dough, that's the recipe I use for making all my pizzas. Honestly, I haven't come across a better recipe than this. I change the topping though and try spreading different ingredients on the pizza dough. So, this time it was dragon chicken topping. My man loved this pizza and he was glad that he didn't order the pizza from other pizza place or restaurants.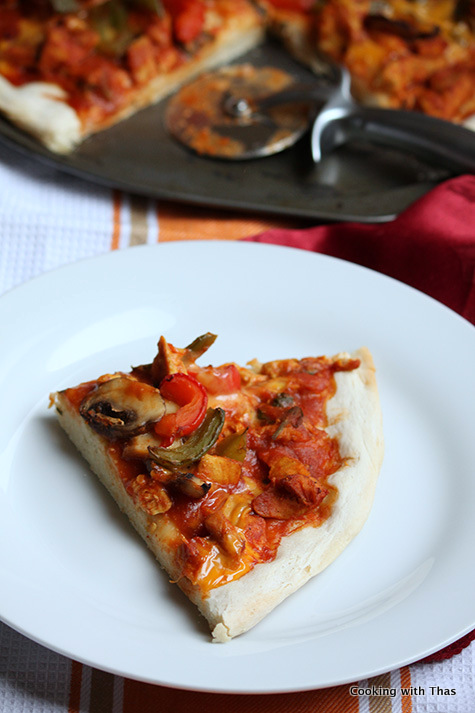 Dragon Chicken Pizza
Ingredients
For making 1 large pizza crust
All purpose flour- 2 cups + ⅙ cup
Dry active yeast- 1⅛ tsp
Brown sugar or white sugar- ¼ tsp
Warm water- ¾ cup
Salt- ½ tsp
Olive oil- 1 tbsp
For making Dragon Chicken
For marination
Ginger-Garlic paste- 1 tbsp
Ground Pepper- ½ tsp
Egg white- of 1 egg
Corn starch- ¼ cup
Soy sauce- ½ tbsp
Chicken breast or thighs, boneless cubed – 2 breasts
Vegetable oil for shallow frying marinated chicken
While cooking
Ginger, finely chopped – ½ tbsp
Garlic, finely chopped – 1 tbsp
Red chili flakes – 1½ tsp
Tomato sauce, canned, low-sodium – 1½ cups
Soy sauce, low sodium – 1 tbsp
Cilantro chopped- 1 handful
Green onions, chopped- 1 stalk
Other ingredients
Green pepper, cubed- 1
Red pepper, cubed- 1
Mushroom, sliced- ½ pack
Cheddar cheese or any other cheese- to top pizza
Instructions
Preheat the oven to 425 F or 220 C.
Making Pizza Dough
In a small bowl, combine yeast, warm water and sugar, let stand for 10 minutes.
After 10 minutes, add the salt and oil to the yeast/water.
In a large bowl, pour the yeast solution and slowly add the flour and knead.
It will be sticky in the beginning, after you add the entire flour you'll find it easy to knead.
Knead the dough well, it should be soft and smooth, don't add too much flour and make it a hard dough.
Place the dough on a bowl greased with oil and cover the dough with a damp towel keep aside for 1 hour.
Do not cover the dough with wet kitchen paper towels, after an hour it will be stuck to the dough and will be very hard to peel it off.
In the meantime you could start making the topping.
After an hour, the dough would have doubled in size.
Combine the dough once again and let it sit for a minute.
Grease the pizza pan with little olive oil.
Place the dough over it and using your hands you could stretch the dough to a round shape or use a rolling pin to roll it.
After rolling it, let it stand for 15 minutes on the pan.
Making Dragon chicken
Marinate the cubed chicken with the above mentioned 'marination ingredients' except oil and set aside for 10 to 15 minutes.
Shallow fry the marinated chicken in enough oil until golden brown and crispy. Transfer the chicken on a kitchen paper towel.
Heat a non-stick pan over medium heat, pour 1½ tbsp of oil used for frying.
Add the finely chopped ginger and garlic, saute till light golden.
Add red chili flakes, saute for a few seconds.
Add tomato sauce, combine well.
Add soy sauce, let the sauce come to a slight boil.
Add the fried chicken pieces, combine well.
Let cook for some more time until everything has well incorporated.
Garnish with spring onions and chopped cilantro.
Remove the pan from the heat, transfer the dragon chicken into another bowl, keep aside.
In the same pan used for making dragon chicken, add green pepper, red pepper and mushrooms.
Place the pan over medium heat, saute till veggies turn slightly tender, do not over cook them.
Topping the pizza
Spread the dragon chicken over the rolled dough evenly, top with the veggies and generously sprinkle cheese over it.
Bake for 20 minutes, keeping the pan on the lower rack in the oven until the cheese has melted and the curst has cooked well.
Remove the pan from the oven, let stand for a couple of minutes.
Slice the pizza and enjoy when it's warm.