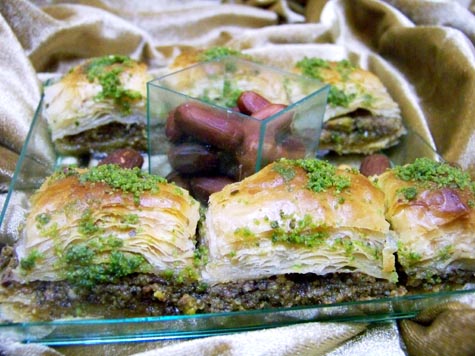 Pistachio Baklava
Ingredients
Pistachio- 50 gm
Walnuts- 50 gm
Almonds- 50 gm
Honey- as needed
Bread crumbs- 3 tbsp
Butter, unsalted- as needed
Pastry sheets- as many sheets as you want (preferably 16 sheets in total)
Instructions
Select a baking pan which is fairly rectangular in shape, or simply a tray.
Grease the baking pan with butter, yet avoid over buttering.
Leave the baking pan in the refrigerator before you start the preparation of the filling.
Grate Pistachios, Walnuts and Almonds so that they make up 65% of the required filling quantity.
For the remaining 35% of the solid content: combine bread crumbs , pistachios and Almonds and blend to a fine powder.
In a bowl , empty the grated contents and mix with enough honey to a loose consistency then add the prepared powder until it becomes a thick paste.
Take the baking pan from the refrigerator and spread pastry sheets (6 to 8 sheets).
Spread the filling evenly on the sheets, preferably 4 mm thick.
Cover the filling with pastry sheet again (6 to 8 sheets)
Spread butter generously on the top of the pastry sheets.
Preheat oven to 375 F or 190 C.
Place the baking pan in a preheated oven and bake for about 30 to 40 minutes or till the top turns golden brown.
Remove the pan from the oven and allow to cool.
Using a Sharp knife, cut into even sized pieces.
Sprinkle Coarsely powdered pistachios on top.
Eat some to reward yourself before you Serve!