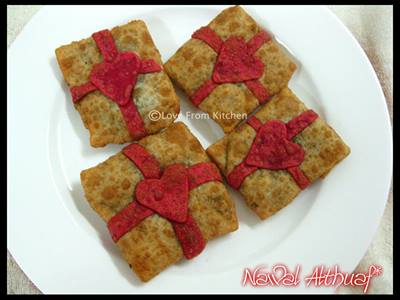 Meat Box Recipe
Ingredients
For cooking beef
Beef-1/2 kg
Salt- to taste
Chili powder-1/2 tsp
Turmeric powder -1/4 tsp
For making filling
Onion, chopped- 7
Green chili -7[crushed]
Ginger-garlic paste-3tbsp
Garam masala-1/2 tsp
For making Dough
All purpose flour-1cup
Salt-needed
Water-for kneading
Food color-a pinch(Optional)
Oil -for frying
Instructions
Cook the beef with all the above mentioned ingredients "for cooking beef", and mince the cooked beef.
For making filling
In a pan with oil sauté the onion till it's soft.
Add the rest of the ingredients one by one except garam masala and finally the minced beef, mix it well.
Now sprinkle garam masala and curry leaves & coriander leaves.
For making dough:
Mix all the above mentioned ingredients and knead it well like chapathi dough.
Divide plain dough to small balls and roll it to small rounds.
Place the beef filling on the centre.
Fold sides like a gift box, (refer the picture) and keep it aside.
In one bowl add food color to the dough and knead it well. Roll the colored dough and cut it to long strips.
Arrange these strips on top of the prepared box, gently press it with your hand.
Using a cookie cutter cut colored dough into different shapes and stick it to the box
Then fry it in oil till golden brown in color.