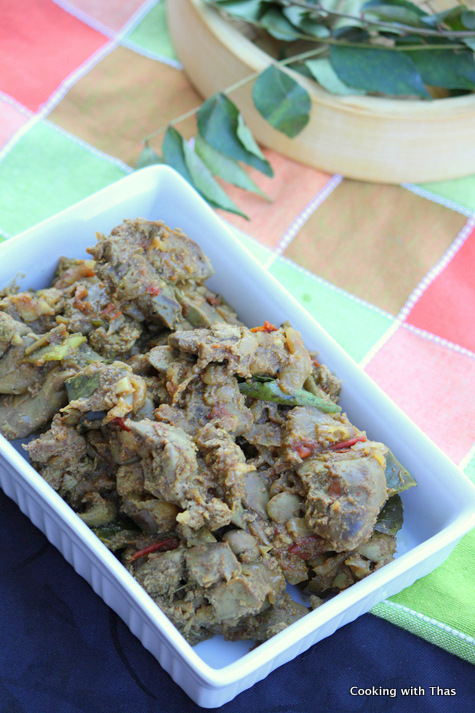 Chicken liver stir fried with onions, tomatoes and Indian spices, tasted exquisite…
I'd never thought that I would make a dish out of chicken liver as I was not a fan of liver while growing up and even now. Chicken liver is not liked by many people who devours chicken. However, those who love the taste of liver embraces it wholeheartedly. Well, it's all personal choices to like it or not.
I'd tasted chicken liver as a kid (I think) but never used to eat the whole thing and yes I used to say "Eww" when I saw chicken liver in front of me. While in Kerala, back in the day, chicken was not pre-packaged and sold at any of the grocery stores. We had to go to the stores that sold only meat and the butcher would slaughter the live chicken right away and would cut into pieces in front of us. We always used to buy cut whole chicken and most of the internal organs would come with it.
My mom never used to discard the giblets, she used to marinate them along with the other chicken pieces and would deep fry it. My dad, my sis and I never ate that. Mostly, my mom had to eat it or she would discard it after frying it (so weird). So, cooking chicken liver was out of question at my parent's house and now even in my house.
On the other hand, my aunt used to make all sort of dishes with chicken liver as her husband and sons devoured it. That's how I became familiar about some of the dishes made with liver.
In North America, chicken or beef liver can be seen at any grocery stores. I never used to look at section. The other day, when I went for meat shopping, I'd seen many people taking chicken/beef liver. I kept looking at them. Finally, a pack of chicken liver did get into my shopping cart. I had the feeling of cooking it at least once in my kitchen. Since, it was on a Saturday, I went home and started cooking chicken liver right away. I made Kerala style chicken roast or stir fry and served with Appam.
Chicken liver doesn't taste like chicken, it has an intense and a very distinct taste. I don't know how to put into words, you gotta taste it to know it. The taste is not that bad either. Honestly, I only ate a little and the rest was devoured by my Man who has a neutral attitude towards liver.
Chicken liver has remarkable health benefits:
High in Vitamin A- Good for eyes
High in Vitamin B12- helps prevent Anemia
Protein rich- good for skin, hair and other tissues
Helps to regulate thyroid hormones
However, it is said that pregnant women should avoid eating liver or liver products. Since, the liver is rich in Vitamin A, it can build up in your body and can be harmful to the unborn baby.
Note: Ground liver paste is a delicacy in French cuisine, the dish is called pate.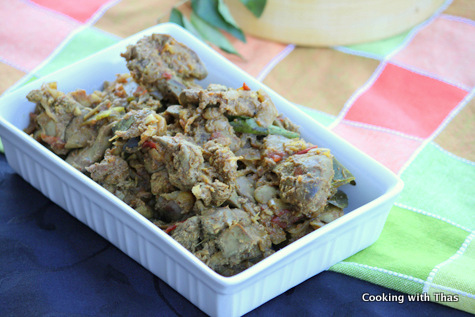 Preparation Pictures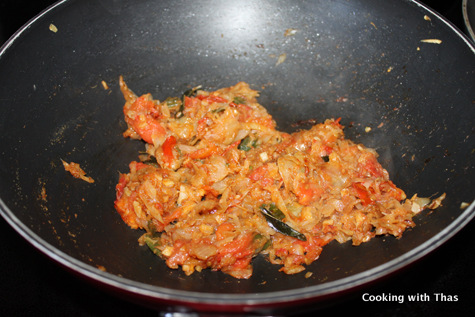 Chicken Liver Roast- Kerala Style Chicken Liver Stir Fry
Ingredients
Chicken liver- 1 lb or ½ kg
Turmeric powder- ½ tsp
For Cooking liver
Chili powder- ¾ tsp
Ground pepper- ¼ tsp
Salt- 1 tsp
To grind coarsely
Ginger, minced- 2 inch slice
Garlic, minced- 2 cloves
Green chili, chopped- 2
For making liver roast or stir fry
Coconut oil or vegetable oil- 1½ tbsp
Curry leaves- 1 sprig + 1 sprig
Onion, cut thin and long- 2
Tomato, chopped- 1
Chili powder- ½ tsp
Fennel powder- ½ tsp
Coriander powder- 1½ tsp
Ground cumin- ½ tsp
Ground pepper- ½ tsp
Salt- 1 tsp
Instructions
Wash the liver under running water.
Add turmeric powder to the cleaned liver, combine well and let rest for 20 minutes, by this any blood present in it will ooze out.
After 20 minutes, again rinse under running water and drain the water.
In a saucepan, combine liver, chili powder, ground pepper and salt.
Cook covered over medium heat for 3 to 4 minutes, just so the dark brown color changes and starts to turn gray. There will be some liquid in it let it be there. Do not over cook it.
Remove the pan from the heat and keep aside.
Grind coarsely the ginger/garlic and chilies in a blender.
Place a pan or wok over medium heat, add oil.
Add the ground ginger/garlic/chilies, and the curry leaves, saute for a few minutes till they turn light golden in color.
Add onions, season with ½ tsp salt and stir fry till onions turn golden brown.
Add tomato, stir fry till it has mashed up.
Add chili powder, fennel powder, coriander powder, ground cumin & ½ tsp salt. Saute for a minute.
Add the slightly cooked chicken liver along with the liquid in the pan. Combine well.
Cook covered for 6 to 7 minutes. It doesn't take too long to cook chicken liver. If you over cook, it will turn rubbery and tough.
Open the lid, stir fry the liver over high heat till all the water dries off.
Have a taste and add more salt if needed.
Add ground pepper and curry leaves, stir fry for a minute.
Remove the pan from the heat and keep it covered for 5 minutes.
Serve chicken liver roast with appam, chapati, rice etc