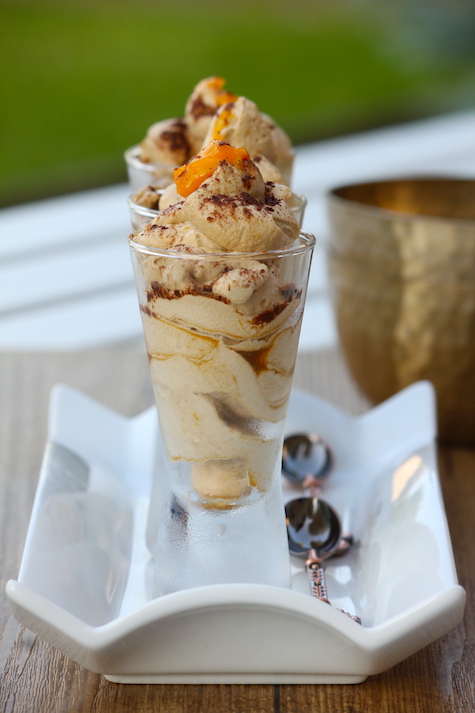 Mango and coffee in harmony and made into a light, fluffy & feathery mousse…
I got thrilled when I found all the ingredients in my refrigerator for making one of the easiest yet delicious dessert: mousse. The next thought I had was what kind of mousse should I make. One of the classic mousse combos is coffee & chocolate aka mocha. I was up for trying something different and started whipping up mango & coffee mousse. I was curious about the taste, it did sound weird to me. That didn't stop me from trying though. Whipped up cream cheese, instant coffee, whipping cream & mango puree; allowed it to chill in the refrigerator for an hour. After an hour, I literally rushed to have a taste of this unique mousse combination.
I'm a coffee freak, hence I loved the flavor of coffee in this mousse. The coffee flavor stood out in this mousse. As I enjoyed the mousse, the bite of mango felt refreshing to my taste buds. Trust me, it wasn't weird at all. I made sure to not overpower this mousse with mango flavor. The subtle taste of mango along with the mesmerizing coffee, this mousse has turned into my favorite.
Mousse Making Video
Mango Coffee Mousse- Easy Mousse Recipe
Ingredients
Cream Cheese- 1 cup, at room temperature
Instant coffee- 1 tbsp, mixed with 2 tbsp water
Sugar- 3 tbsp
Heavy whipping cream, cold- 1 cup
Pureed mango- 1 ripe mango or ½ cup
Cocoa powder- to sprinkle over the mousse
Instructions
If using fresh ripe mango, puree the diced mango in a blender without adding water. I've added 1 mango.
Into a stand mixer bowl using paddle attachment or use an electric hand mixer, cream the cream cheese.
Add sugar and beat well.
Combine 1 tbsp instant coffee with 2 tbsp water.
Add the instant coffee to the creamed cream cheese.
Add heavy whipping cream. Use cold whipping cream.
Change the attachment on the stand mixer to whisk attachment.
Whisk at high speed till soft peaks have formed.
Add the pureed mango, using a spatula mix into the mousse. Do not over mix the pureed mango.
Add the mousse to dessert bowls or shot glasses.
Sprinkle cocoa powder over the mousse and top with mango puree or diced mango.
Chill in the refrigerator for an hour.
After an hour, the mousse will be set well.
Enjoy this light, fluffy and feathery mousse.