Cauliflower fritter stir fry, a delicious Indo Chinese dish tastes exactly like restaurant-style…
When it comes to cauliflower I love it cooked Indo-Chinese way. Some of my favorite dishes are Gobi Manchurian, Chili Gobi, and cauliflower fritter stir fry. The sauces added while cooking this stir fry makes this dish delicious. In fact, for making most of the Asian dishes, I tend to add these sauces: soy sauce, dark soy sauce, hoisin sauce, oyster sauce & chili paste or sambal oelek. Dark soy sauce, when added, will impart the intense dark color. I would highly recommend you guys add all the sauces while making this dish, that's when this stir fry will taste like restaurant-style.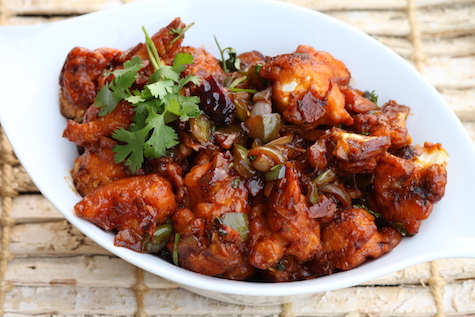 Cauliflower Fritter Stir Fry- Indo-Chinese Cauliflower Stir Fry
Ingredients
Cauliflower florets- florets separated from 1 medium cauliflower
Oil- enough for frying fritters
For making Batter
All purpose flour- 1 cup
Corn starch- ¼ cup
Chili powder- 1 tsp
Salt- 1 tsp
Water- 1 cup
For making Stir fry
Oil- 2 tbsp
Garlic, chopped- 2 cloves
Ginger, chopped- 1 tbsp
Dried red chilies- 2
Onion, sliced thin- 1
Green pepper, diced- 1
Light Soy sauce- 2 tbsp, low-sodium
Dark Soy sauce- 1 tbsp
Oyster sauce- 1 tbsp
Hoisin sauce- 1 tbsp
Tomato Ketchup- 3 tbsp
Chili Paste- 1 tsp (or sambal oelek)
Water- 2 tbsp
Green onions, chopped- ¼ cup
Cilantro, chopped- ¼ cup
Sesame oil- 1 tsp
Instructions
Separate the florets from cauliflwer, soak the florets in warm water for 15 minutes, drain the water and keep aside.
In a bowl, combine all the ingredients for making the batter into a smooth batter.
Heat a non-stick pan over medium heat.
Add enough oil for frying.
Dip the florets in the batter and drop into the oil.
Fry till florets have turned golden and cripsy.
Transfer to a plate lined with kitchen paper towel.
Place a non-stick saucepan over medium heat.
Add 2 tbsp oil used for frying the fritters.
Add ginger & garlic, saute for a minite till golden.
Add dried red chilies, saute for a few seconds.
Add onion sliced, stir fry for 2 minutes.
Add greeen pepper, stir fry for 2 minutes.
Add soy sauce, dark soy sauce, hoisin sauce, oyster sauce, tomato ketchup & chili paste.
Combine well and cook for a minute.
Add 2 tbsp water & cook well.
Add the cauliflower fritters, combine well and evenly coat the fritters in the sauce.
Cook for 2 minutes.
Add chopped green onions & cilantro; stir fry for a minute.
Finally, add sesame oil and stir fry for a minute.
Remove the pan from the heat & keep covered.
Serve in a bowl and enjoy with fried rice, basmati rice, noodles, etc.