Carrot pola or pureed carrot and eggs slowly cooked in a saucepan that resembles to a cake, a Malabar Speciality dessert…
I was starting to worry if the creative cooking part of my brain has gone into slumber mode. For the past couple of months, I had not been that enthusiastic about cooking. I did cook easy one-pot meals or to be specific "lazy meals" but nothing creative or interesting. If I don't cook different kinds of food I wouldn't be able to update my blog. And I absolutely don't want to see my blog dead.
However, this evening after I came back from work, I noticed the cooking in me waking up. Before I knew, I was seen in the kitchen making something interesting. A huge sigh of relief!!!
I made carrot pola or it can also be called as carrot kums, this is a Malabar speciality dessert. This is basically carrot-egg cake cooked in a saucepan over stove top. That means, you don't need an oven to make this. Cooked carrots, eggs, sugar and flour pureed together, poured into a saucepan and cooked over very low heat till it sets well. Easy to make and taste yummy. This is great for weekend brunch or as an evening snack.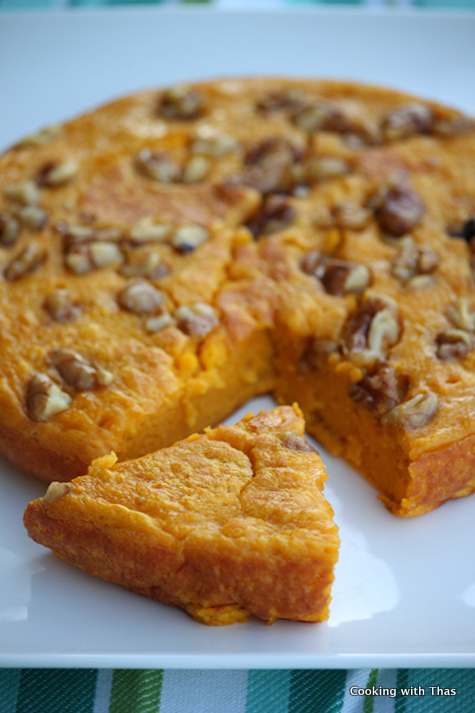 Cooking Video
Preparation Pictures
Pour the pureed carrot and egg mixture into the pan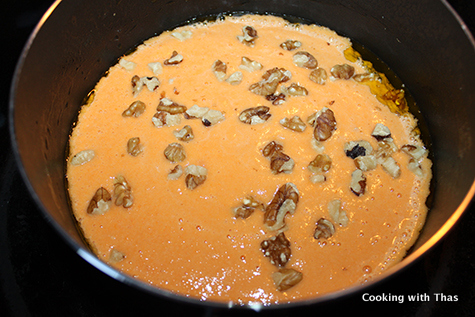 Cook over low heat till the top has set well
Flip onto a plate- bottom side has a nice golden brown color
Slide into the pan, bottom browned part is now on the top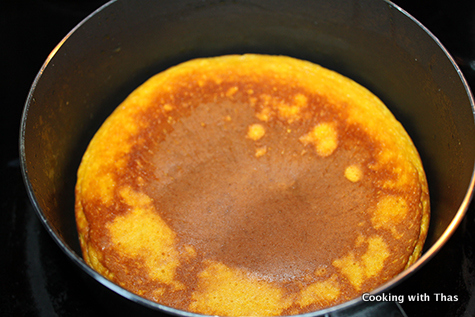 Carrot Pola or Carrot Egg Cake- Malabar Dessert
Ingredients
Carrot, medium sized- 2, cut into rounds
Eggs, large- 3
All purpose flour- 4 tbsp
Sugar- 4 to 5 tbsp
Vanilla extract- 1 tsp
Ghee- 2 tbsp
Cashew nuts or pecans or almonds- 2 tbsp
Instructions
Peel the carrots and cut them into 1 inch rounds. Place the carrots in a saucepan cover with 1 cup water and cook covered till carrots are fork tender. Drain the water and rinse the cooked carrots under cold water.
Into a blender, add cooked carrots, eggs, flour, sugar and vanilla extract.
Puree till a smooth paste has formed.
Place a small round non-stick sauce pan over LOW heat. Add 2 tbsp ghee and swirl the pan to evenly coat the sides and bottom of the pan.
Pour the pureed carrot-egg mixture into the pan.
Evenly spread nuts of your choice over the mixture.
Cover the pan with its lid and cook over very LOW heat for a few minutes.
Cook till the top of the carrot pola has set well and a fork inserted into the center of the carrot-egg pola comes out clean.
Make sure you cook over very low heat, else the bottom of the pola will get browned or burnt.
Uncover the lid of the pan, cover the pan with a plate and flip the plate over so that the bottom side of the carrot pola will now be the top part on the plate. The bottom side of the pola will have a nice golden brown color.
Using a spatula, gently slide the carrot pola (without breaking it) into the pan so that the other side should be at the bottom of the pan. Cover and cook over low heat for a few minutes.
Again, cover the pan with a plate and flip it over. The carrot pola will nicely fall onto the plate.
Let cool down. Using a knife cut into wedges and serve immediately.
You could even chill the carrot pola in the refrigerator and serve for brunch or as an evening snack.
Notes
Use a small non-stick pan, you will get a small cake shape and it won't stick to the pan.
I repeat: Cook over very low heat else the carrot pola will get browned fast without cooking well.
Make sure the center of the pola has set well (a fork inserted should come out clean) before flipping it over.