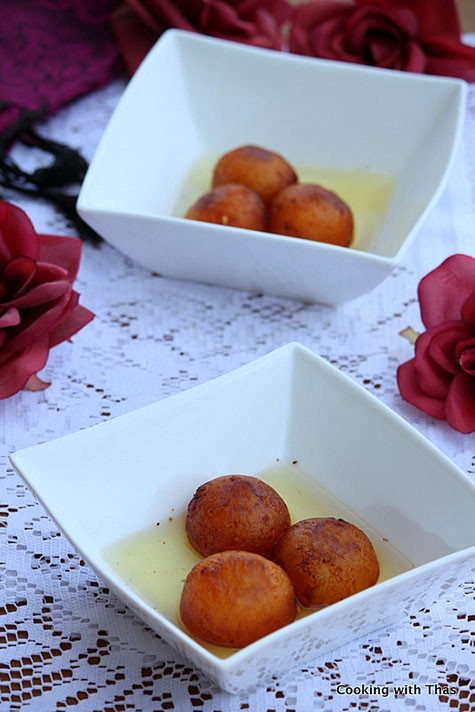 The most delicious Gulab jamuns made with khoya/mawa or solidified milk…
Hope everyone had a wonderful Eid al-Adha celebration with family and friends. For me Eid is all about connecting and reconnecting with people. On Eid day, I make sure to call most of my family members and chat with them. Being a huge chatter box I can just go on and on till the phone battery is dead.
For this Eid, I prepared Makloubeh or upside down rice- it's a traditional dish of the Arab Levant, Persia and Iraq. I really enjoyed making this dish, there were 3 layers- cooked chicken was topped with fried eggplant and cauliflower, which was then topped with basmati rice, chicken stock was poured over it and cooked over low heat till the rice has cooked well. The dish was then allowed to rest for 30 minutes and was inverted on a large plate- the entire dish was set well so it resembled a cake. The seasonings used were very mild so it was totally different from Biryani. It was quite unique and we enjoyed it.
I was not planning to make any dessert. After having the makloubeh, my Man did crave for some delicious dessert and he suggested we should go out and have something yummy. That's when I thought about the khoya/mawa or solidified milk that was sitting in my freezer. I couldn't think of anything but delicious homemade Gulab jamuns. I'd made Gulab jamuns before using milk powder and flour. Making gulab jamuns with khoya is so easy, you just need a few ingredients to make it and it turned out just perfect. The sight of gulab jamuns dipped in sugar syrup itself is a delight, it was so soft and just melted into the mouth. I shared it with my non-Indian neighbours as well and they all loved it.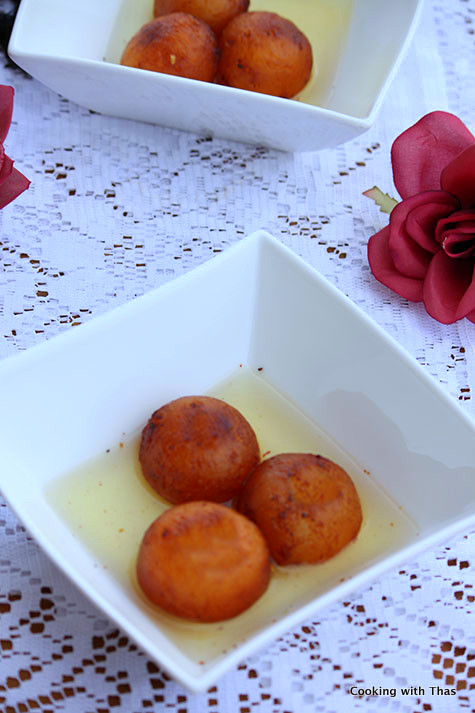 Preparation Pictures Dough balls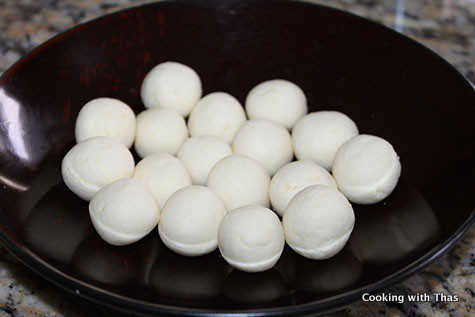 Frying in oil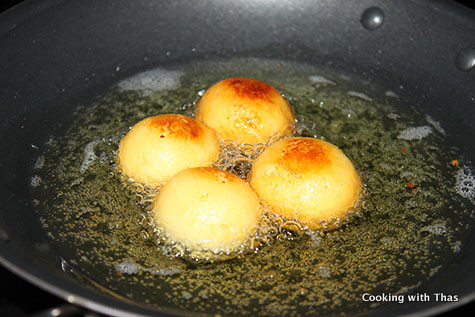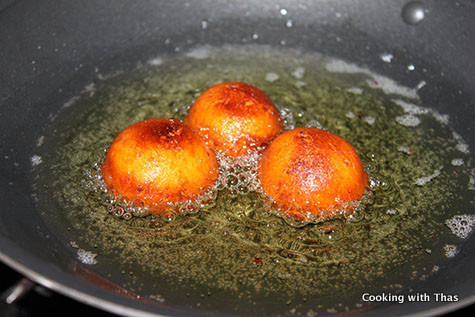 Gulab jamuns soaked in sugar syrup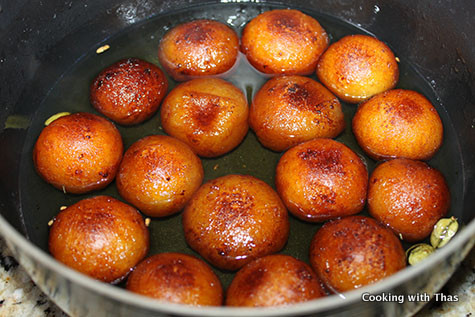 Gulab Jamun Recipe- Made with Khoya/Mawa
Ingredients
For making dough
Khoya/Mawa or Solidified milk, grated- 1 cup
All purpose flour- 3 tbsp
Baking soda- ¼ tsp
Milk- 3 tbsp
Oil- for deep frying (or use oil+ghee)
For making sugar syrup
Water- 1½ cups
Sugar- 1½ cups
Saffron- 2 pinches
Whole Cardamom, smashed- 2
Rose water or essence- ¼ tsp
Instructions
First prepare the sugar syrup: In a saucepan, combine all the ingredients for making the sugar syrup. Stir to dissolve the sugar, let come to a boil. Lower the heat and heat the syrup for 10 minutes.
If using frozen khoya/mawa, keep it at room temperature for an hour till it has turned soft.
Grate the khoya to a bowl.
Combine the khoya with all purpose flour and baking soda.
Add milk little by little and make into a soft dough without any lumps. I added only 3 tbsp of milk.
Grease the palm of your hands with ghee and make small balls out of the dough, make sure there are no cracks on it. Keep aside for 5 minutes.
Heat the oil in a frying pan over medium heat, you could either add just oil or add oil+ghee for more flavor.
The oil shouldn't be too hot as the dough will brown fast and won't be cooked inside.
Fry the dough balls in oil till they turn golden brown in color, using a slotted spoon gently rotate the balls as they fry so that they will cook evenly. If it's turning brown very fast, lower the heat.
Do not crowd the dough balls, fry them in batches.
Transfer the fried balls to a paper towel, let cool down.
Add the fried dough balls to the prepared sugar syrup.
Let the gulab jamuns soak in sugar syrup for 2 to 3 hours.
When chilled gulab jamuns taste even more delicious.
Enjoy these delicious gulab jamuns.