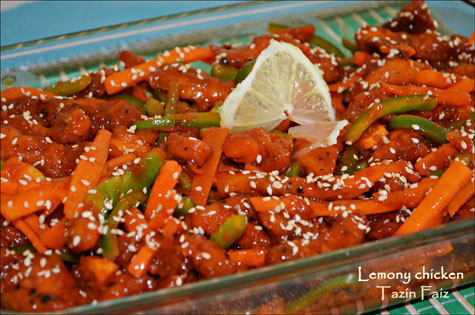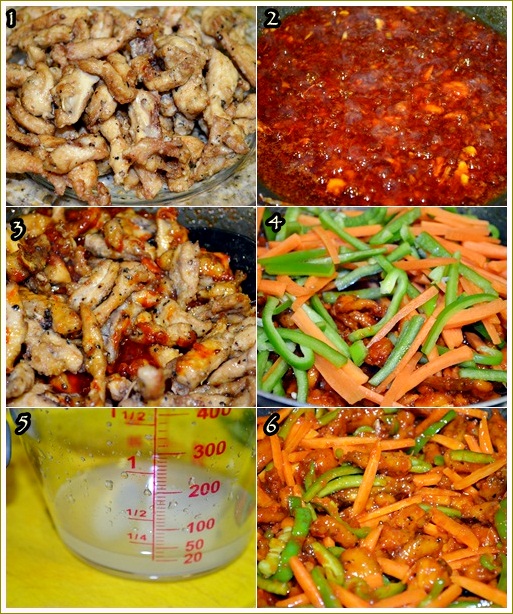 Lemony Chicken
Ingredients
To marinate
Chicken strips- 400gm
Cornflour- 2 tbsp
All purpose flour- 4 tbsp
Crushed pepper corns- 2tbsp
Paprika- 1tsp
Juice of 1 lime
Salt
For sauce
Crushed garlic- 3 to 5
Carrot cut into strips- ½ cup
Bell pepper cut into strips- ½ cup
Juice of 1 lime
Zest from 2 lime
Sweet chili sauce- ½ cup
Soy sauce- 2 tbsp
Chili sauce-3tbsp
Lemon cut into cubes- 1
Oil-1/4 cup
Instructions
Marinate the chicken with the above mentioned ingredients 'to marinade"and keep it for half an hour.
Deep fry the chicken strips and keep aside.
In a heavy bottomed pan, fry crushed garlic in oil, add sweet chili sauce, chili sauce,and saute for 7-10 min. Let it boil.
Then add the fried strips, and give it a mix.
Now add in the veggies and the lemon juice.
Veggies should not turn mushy.
Mix well and add the cut lime pieces.
Saute for 2 to 3 mins .
Finally add soy sauce and switch off the flame.
Decorate and serve!
This can be served with fried rice, parotta, naan etc.