Delicious & guilt-free chicken snacks that are air-fried…
Who can resist snacks??? When we think about snacks all those greasy & deep-fried snacks come to our mind. If you are health conscious & still want to enjoy your favorite snacks without any guilt, you can absolutely enjoy them, all you have to do is air-fry the snacks without adding any oil.
I've made a chicken filling & made 4 crispy & delicious snacks out of it. These are my favorite snacks that I make quite often.
The chicken filling can be made ahead of time & stored in the refrigerator or in the freezer. When you are in the mood for snacks, just have to assemble everything & air fry the snacks. Couldn't get any better!
Cooking Video
How to Make Chicken Filling

Snack 1 Chicken Cutlets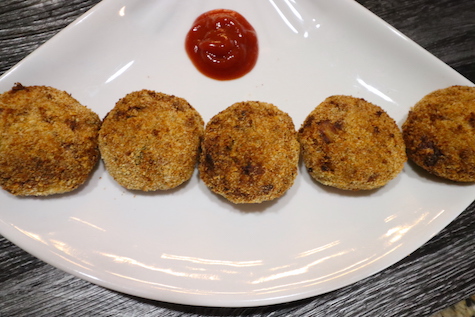 Snack 2- Chicken Spring Rolls
Snack 3- Chicken Bread Rolls
Snack 4- Chicken Egg Bread Rolls