Kerala-style chicken curry cooked in the clay pot…
Cooking in clay pots is very common in South India, it's the traditional & the most healthy cooking style. Literally, any kind of dish can be cooked in a clay pot & the dishes will have a better taste & flavor.
Sharing the recipe for making a delicious chicken curry in the clay pot. Every time, I visit Kerala (my home state), I buy a few clay pots. In Canada, clay pots are not available, haven't seen them in any stores not even in Indian stores. So the only way to get clay pots for me is from Kerala.
I cook fish curries & some of the Kerala dishes in the clay pot. I usually place the clay pots over a flame burner on my outdoor grill. For making this chicken curry, I placed the clay pot over the ceramic glass cooktop & the clay pot didn't crack. I was a bit worried if it will crack when cooked over glass cooktops.
If you have a clay pot, try cooking this chicken curry recipe in it & enjoy it with ghee rice, basmati rice, chapati, parotta, appam, idiyappam, puttu, etc.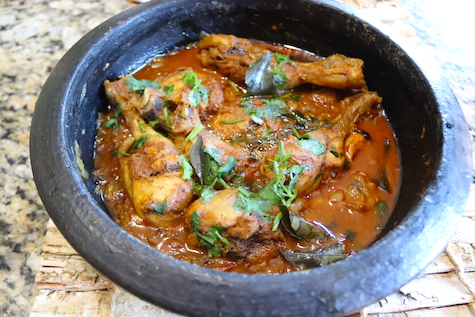 Kerala Style Claypot Chicken Curry | Easy & Delicious Recipe
Ingredients
For marination
Chicken, bone-in pieces- 8
Kashmiri chili powder- 2 tsp (for more spice add regular chili powder)
Turmeric powder- ⅛ tsp
Coriander powder- 2 tsp
Fennel powder- 1 tsp
Garam masala- 1 tsp
Salt- 1 tsp
For cooking
Coconut oil- 2 tbsp
Dried bay leaves- 2
Whole cardamom- 3
Shallots, chopped small- 5 large shallots or add 2 yellow onions or 10 small/pearl onions
Ginger-garlic paste- 1 tbsp
Curry leaves- 10 leaves
Salt- ½ tsp
Green chilies- 2 to 3
Tomatoes, chopped- 2
Water- ¼ cup
Cilantro, chopped- ¼ cup
Instructions
I've taken chicken legs, any kind of bone-in pieces can be used. Put a few lines on the chicken or score the chicken.
To a bowl, add all the spices mentioned 'for marination' to the chicken, combine well. Let marinate for 30 minutes.
Place the claypot over medium heat. (I've placed it over ceramic glass cooktop).
Add oil, let turn hot.
Add dried bay leaves & whole cardamom, sauté for a few seconds.
Add shallots, saute for 2 minutes.
If you don't have shallots, add 2 yellow onions chopped small.
Add ginger-garlic paste, curry leaves, saute for 2 minutes.
Add salt & green chilies, let shallots turn light golden in color.
Add tomatoes, cook till mashed up.
Add the marinated chicken, combine well.
Rinse the bowl with ¼ cup water (there will be some marinade stuck in the bowl), add that to the chicken. Combine well.
Cover the claypot with a banana leaf & close with the lid.
Banana leaf will impart a nice aroma to the curry, if you don't have banana leaf you skip it & just close the pot with a lid.
Cook over medium heat for 30 to 35 minutes till the chicken has cooked well.
Halfway through, combine everything well to ensure nothing is stuck to the bottom of the pot.
If the gravy is thick, you can add ¼ cup warm water & cook for 2 minutes.
Finally, garnish with chopped cilantro.
Take the pot off the heat.
Cover with the banana leaf & keep the curry covered for some time.
Enjoy with ghee rice, basmati rice, appam, idiyappam, palaada, chapati, poori, etc.
Finger licking delish with mesmerizing aroma. Enjoy!