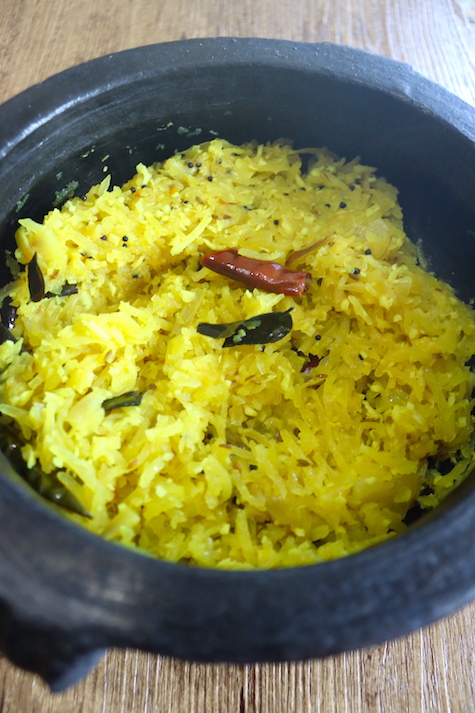 Raw papaya turned into a delicious vegan stir fry…
In Kerala non-vegetarian lunch, there will be at least one vegetarian side dish, mostly thoran or stir fry with coconut. Any kind of veggies can be used for making thoran. Papaya is common in Kerala, most houses have papaya trees in the backyard. Not just ripe papayas even raw ones can be used in cooking. Raw papaya can be turned into a healthy & delicious thoran.
This can be served with rice or chapati.
Kerala Raw Pappaya Thoran- Stir Fry With Coconut
Ingredients
Raw Papaya, grated- 1 small papaya
Shallots, chopped- 1 large or 3 small/pearl onions
Garlic, chopped- 1 large clove
Green chilies, halved- 3
Cumin seeds- 1 tsp
Turmeric powder- ¼ tsp
Salt- 1 tsp
Grated coconut- 1 cup
Curry leaves- 10 leaves
For cooking
Coconut oil- 1 tbsp
Mustard seeds- 1 tsp
Dried red chilies, halved- 2
Instructions
Use raw papaya, peel off the skin, half it & scoop off the seeds.
In a food processor or using a grater, grate or slice the papaya.
Add to a bowl & add all the other ingredients, combine well.
Place a claypan or saucepan over medium heat.
Add oil, let turn hot.
Add mustard seeds, let splutter.
Add dried red chilies, saute for a few seconds.
Add the papaya, combine well.
Add ½ cup water & cook covered for 20 to 30 minutes till the papaya turns soft.
Halfway through, mix everything well & cook.
If it's getting dry, add some water & cook.
Taste & add salt accordingly to your needs.
Perfect vegan side dish, enjoy with rice or chapati.