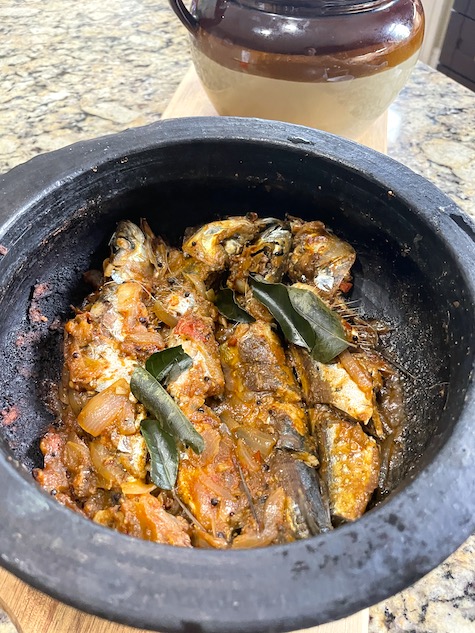 Sardine fish roast cooked in a clay pan…
Seafood is a staple food for most non-vegetarian Keralites. Most people have fish on a daily basis & fresh catch of the day is available in fish markets or fishmongers will home deliver the fish. In Kerala, there are many kinds of fish curries & fish dishes. In fact, every district in Kerala has its own special way of making fish curry.
This is a rather dry dish with sardines or chala. Easy recipe & can be enjoyed with rice or chapati.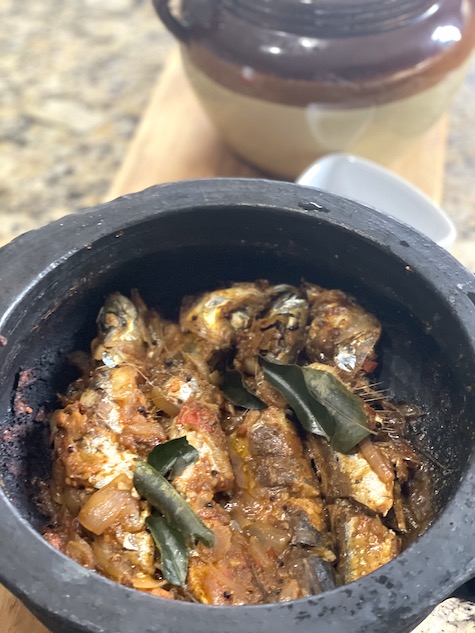 Kerala Style Sardine Fish Roast- Claypot Cooking
Ingredients
For making spice mix
Whole peppercorns- 1 tsp
Dried red chilies- 3
Fennel seeds- 1 tsp
Fenugreek seeds- ½ tsp
For cooking
Coconut oil- 2 tbsp
Mustard seeds- 1 tsp
Curry leaves- 10 leaves
Ginger, grated- ½ tbsp
Garlic, grated- ½ tbsp
Onions or shallots sliced- 1 onion or 3 large shallots
Salt- 1½ tsp
Tomatoes, chopped- 2
Coriander powder- ½ tbsp
Tamarind extract- ½ cup
Instructions
Use whole sardines or any kind of fish- cut into pieces.
Clean the sardines well, put a few lines on the fish.
In a blender jar, add the spices & coarsely grind them.
Soak 2 inch slice fresh tamarind in ½ cup warm water for 5 minutes, squeeze the tamarind in water to extract the juice. Strain the extract & discard the skin.
Place a claypan or a saucepan over medium heat.
Add oil, let turn hot.
Add mustard seeds, let splutter.
Add curry leaves, ginger-garlic, saute for 2 minutes.
Add onions, season with salt.
Cook till onions turn light golden in color.
Add tomatoes, cook covered till tomatoes are mashed up.
Add the ground spice mix, combine well.
Add coriander powder, combine well.
Add the fish, gently combine well.
Cook for 3 minutes.
Add the tamarind extract, gently combine everything.
Cook covered till the fish has cooked through.
Cook over high heat, let the gravy thicken & the fish turns slightly brown. This is a dry roast.
Tastes better when the fish turns brown, will have a fried taste.
Garnish with curry leaves.
Enjoy with rice or with chapati.