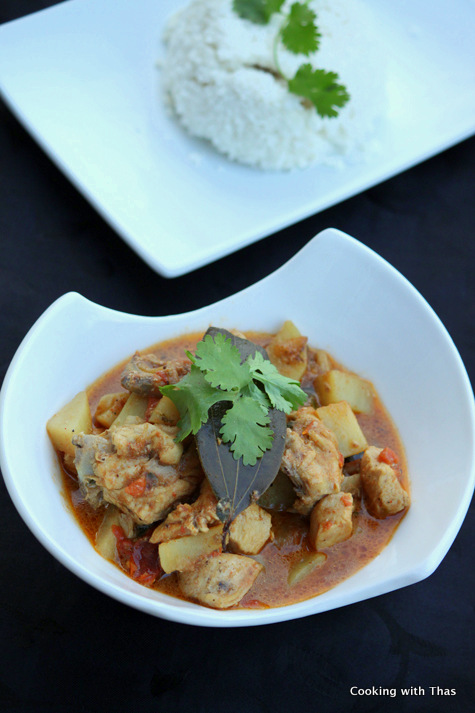 Chicken and Potato cooked along with fried onion in a yogurt gravy; flavorful, aromatic and finger licking delicious..
Chicken curries are one of the popular non-vegetarian curry dishes served in India. The kind of preparation varies from state to state, in fact each family might have their own way of making chicken curries. In my family, we do make chicken curries in many different ways: with coconut milk, with just the spices, with ground onion/tomato etc etc. However, adding yogurt or curd to the chicken curry is not common in my family. On the other hand, chicken curries in yogurt gravy is popular in North Indian and Pakistani cuisine.
These days, when I make chicken curries I try to make it differently each time by adding different ingredients, spices, herbs etc. The other day, when I'd made chicken curry, I made a few modifications to the regular preparation method.
Instead of cooking the onion first and then adding the chicken, I fried the onion separately till it has browned and then added to the cooked chicken. Browned onion gave a nice caramelized flavor and taste to this curry. After adding the masalas or spices, I added yogurt to make the gravy and allowed it to thicken. I even added mint leaves at the end, which instantly elevated the aroma and the taste of this curry. I was so happy with the outcome and my Man loved it too.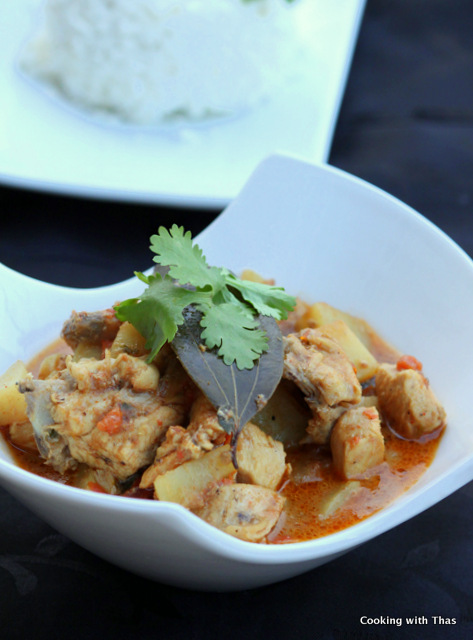 Preparation Pictures
Chicken and Potato Curry in Yogurt Gravy - Chicken Potato Curry
Ingredients
To fry onion
Oil- 3 tbsp
Onion, chopped thin and long- 1 large sized onion
While making curry
Oil- 1½ tbsp
Whole cardamom- 3
Whole cloves- 2
Bay leaves- 2
Whole dry red chilies- 2
Chicken, bone-in pieces- 1 Lb or ½ Kg
Potato, cubed- 2 (small sized potatoes)
Tomato, diced- 2
Kashmiri red Chili powder- 1 tsp (or more based on your needs)
Coriander powder- 1½ tsp
Fennel powder- 1 tsp
Garam Masala- 1 tsp
Ground pepper- ½ tsp
Salt- to taste
Yogurt or curd- 4 tbsp (not sour)
Water- ¼ to ½ cup to thin down gravy
Cilantro, chopped- 2 handfuls
Mint leaves, chopped- 8 leaves
Instructions
Place a frying pan over medium heat, add 3 tbsp oil and let it turn hot.
Add sliced onion and fry till it turns brown. Don't have to make it very crispy.
Transfer the fried onions onto a paper towel and let absorb excess oil. Keep aside.
Place a wok or large pan over medium heat, add 1½ tbsp oil.
Add whole cardamom, cloves, bay leaves, whole dry red chilies, saute for a few seconds.
Add chicken pieces, season with ground pepper and salt.
Cook covered till chicken has partially cooked. Don't completely cook the chicken.There should be some water left that has oozed out of the chicken.
Add potatoes and tomatoes, combine well and cook covered till potatoes are almost cooked. Do not over cook the potatoes.
Add the fried onion, combine well.
Add chili powder, coriander powder, fennel powder, garam masala and salt.
Combine well and cook for a minute.
Add yogurt, combine well and cook covered for a few minutes till potatoes are fork tender.
Taste and add more salt or chili powder for spice.
Add water to thin down the gravy and cook covered for a minute.
Add cilantro and mint leaves, cook for a couple of minutes.
Remove the pan from the heat and keep it covered for 5 minutes.
Serve along with naan, roti, chapati, rice etc.