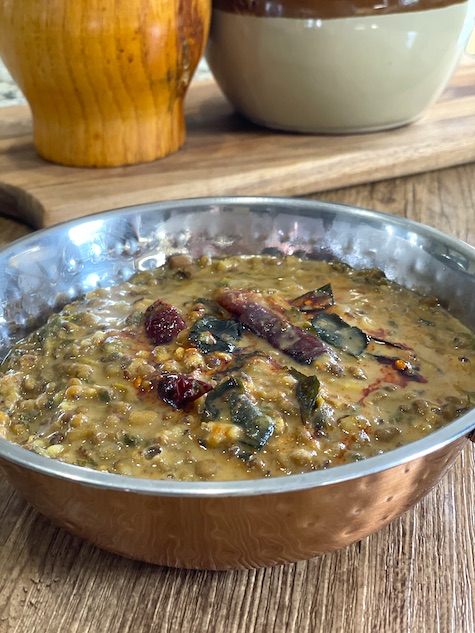 Flavorful & nutritious moong bean & kale curry…
After harvesting kale from my veggie garden, the first thought was to make a stir fry or Kerala-style thoran with it. Then I made this delicious curry, kale leaves cooked with mung beans.
Kale & Swiss Chard Harvest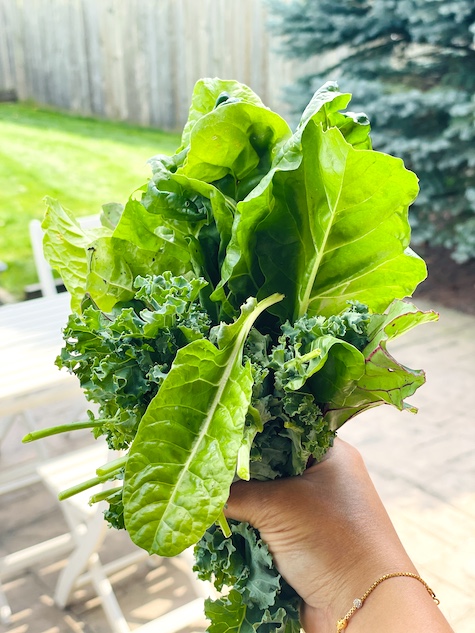 I love moong beans, taste rich, creamy & are highly nutritious.
After pressure cooking moong bean & kale along with a few simple spices, added coconut milk & the tempering. I was literally seen drinking this curry.
This curry can be enjoyed with rice, chapati, idiyappam, Kerala puttu, appam, etc.
Moong Bean Kale Curry With Coconut Milk | Healthy & Delicious Recipe
Ingredients
Moong bean, whole- 1 cup, rinsed
Kale leaves, roughly chopped- 3 cups
Onion, chopped- 1
Kashmiri chili powder- 1 tsp (for more spice add regular hot chili powder)
Turmeric powder- ⅛ tsp
Coriander powder- 2 tsp
Salt- 1½ tsp
Water- 2 cups (to cook in Instant Pot)
Coconut milk- 1 cup
Water to thin down- ½ to 1 cup
For making tempering
Coconut oil- 1 tbsp
Cumin seeds- 1 tsp
Dried red chilies, halved- 2
Curry leaves- 10 leaves
Kashmiri chili powder- ½ tsp (optional)
Instructions
Use whole moong beans for making this curry. I just rinsed the beans, didn't soak them. If you prefer you can soak the beans in water for an hour.
I pressure-cooked the moong beans in my Instant Pot. If you don't have an IP, use a regular pressure cooker.
Instead of kale, Swiss chard, beet leaves, moringa leaves or spinach can also be added.
To the stainless steel pot, add the rinsed moong bean, kale leaves, onion & spices.
I added a few simple spices, don't really need a whole lot of spices; tastes delish with simple spices.
I've added 2 cups water, combine well.
Close the pot with the lid.
Select the pressure cook setting, set the time to 25 minutes at high pressure.
If cooking in the regular pressure cooker, cook for 3 whistles till the moong bean has cooked well.
After pressure cooking, let the pressure release naturally for 10 minutes & then open the lid.
There will be some liquid left in the pot & the moong bean will be perfectly cooked.
Select saute setting at medium temperature.
I've added 1 cup coconut milk, combine well.
To thin down the gravy, added ½ cup warm water.
Cook for 3 minutes.
Taste & add salt if needed.
Take the pot out of the main pot & keep it covered.
For making tempering, place a small frying pan over medium heat, add coconut oil. Let turn hot.
Add cumin seeds, saute for a few seconds & add dried red chilies, curry leaves.
Don't burn the cumin seeds.
Take the pan off the heat & add Kashmiri chili powder. This is optional.
Combine well.
Immediately, pour the tempering over the curry & keep it covered for a few minutes, let all the aroma infuse into the curry.
This curry can be enjoyed with rice, chapati & Kerala puttu.
I find this curry goes well with Kerala puttu along with pappadam, yum!