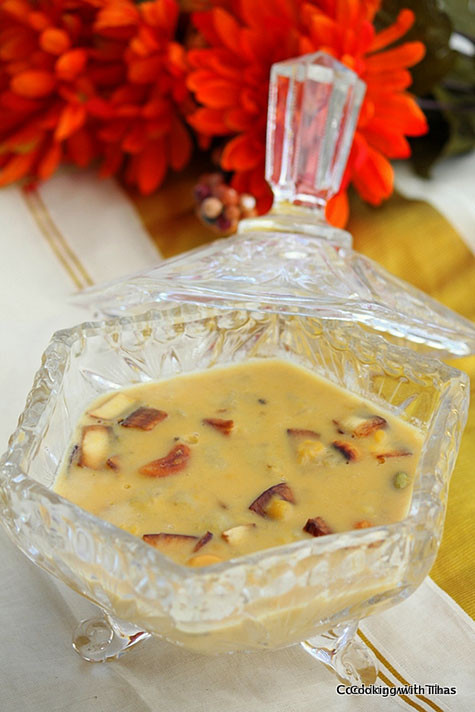 Chana dal and banana mashed together, combined with coconut milk and sweetened with jaggery, one of the desserts served in Sadya…
Wishing all Keralites a Happy and Prosperous Onam. Onam is a harvest festival and is the biggest celebration of my beautiful home state Kerala. It's actually a 10 day celebration, so while in school/college we had 10 days holidays. That itself was a celebration for us. While in high school, I used to celebrate Onam at my friend's house, one of the attractions of Onam is Sadya. Sadya is a banquet of vegetarian dishes served with rice, while enjoying Sadya you will get to taste all flavors and your taste buds will dance with joy. Sadya is undoubtedly one of my favorites.
Sadya is finished with a sweet dish, there are mostly 2 kinds of desserts served with Sadya, it could be payasam or pradhaman. Both can be made with different kinds of ingredients. Payasam is usually made with vermicelli or rice or rice flakes and is cooked with milk and sweetened with white sugar. Pradhaman is yet another dessert, usually made with rice ada (rice pasta), kadala parippu (chana dal), cracked wheat etc, cooked in coconut milk and jaggery is added to sweeten the dish, hence pradhaman will have a brown color.
While growing up, I liked payasam more than pradhaman. But now, every Onam I try to make different kinds of pradhaman or payasam, that way I will know how each one tastes like and can share the recipe with you all too.
So, this Onam I made Kadala parippu pradhaman or Chana dal pradhaman. I also added one banana to it, which did make the pradhaman taste delicious.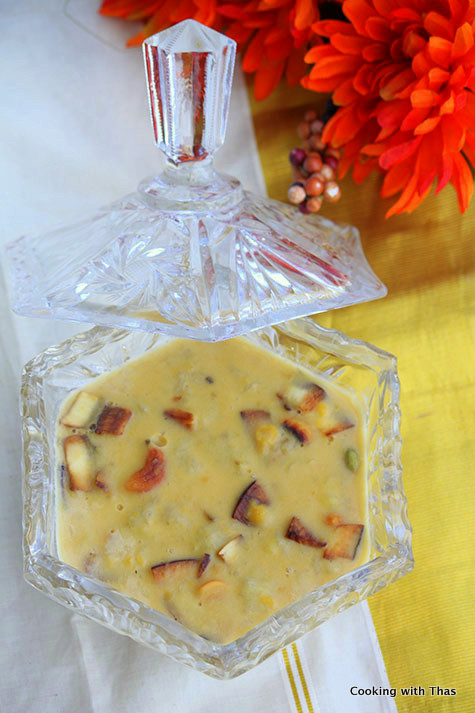 Kadala Parippu Pradhaman - Chana Dal and Banana Pradhaman
Ingredients
Chana dal or Kadala parippu- 1 cup
Water, to cook chana dal- 2 cups
Jaggery- 250 gm or depending on your sweet level (dissolved in ¾ cup water)
Banana- 1 (optional)
Thin Coconut milk- 2½ cups
Thick coconut milk- 1 cup
Whole Cardamom, crushed- 2
Cashew nuts, roasted in 2 tsp ghee- ¼ cup
Coconut slices, roasted in 2 tsp ghee- ¼ cup
Ghee- 3 to 4 tbsp
Instructions
In a pressure cooker, cook 1 cup chana dal along with 2 cups water till 2 to 3 whistles or till chana dal has cooked well.
Place a saucepan over medium low heat, combine jaggery with water and let the jaggery dissolve in water completely. Keep aside the melted jaggery.
Open the cooker lid after the pressure has subsided.
Mash the chana dal with the back of a wooden spoon. Do not mash it to a very smooth paste.
Place a large non-stick pan over medium heat.
Add 3 tbsp ghee, add the mashed chana dal to the ghee and saute for a few minutes till all the water dries off.
Add the melted jaggery little by little and keep stirring till jaggery has combined well into the chana dal. Saute for a few minutes.
Add the crushed whole cardamoms.
If you are adding banana, you could add the mashed banana at this point. Combine well.
Add the thin coconut milk, keep stirring, lower the heat to low and cook till the mixture has slightly thickened.
Have a taste, if you need more sugar add more of the melted jaggery according to your needs.
In the meantime, you could have the roasted cashew nuts and coconut slices ready.
Add, the thick coconut milk, combine well and cook for a couple of minutes, do not boil it.
Finally, add the roasted cashew nuts and coconut slices, combine well.
Drizzle 1 tbsp ghee over the mixture.
Remove the pan from the heat and keep it covered for sometime.
Serve in a dessert bowl.
Notes
Adding banana is just optional.

Adjust the jaggery and coconut milk according to your preference.