Turn canned tuna into delicious tuna cutlets…
If you are wondering what can be made out of canned tuna, you should make tuna cutlets. These are the best-tasting tuna cutlets that will make a perfect appetizer or can be turned into a full meal by wrapping the tuna cutlets in pita bread or make into burgers or sandwiches.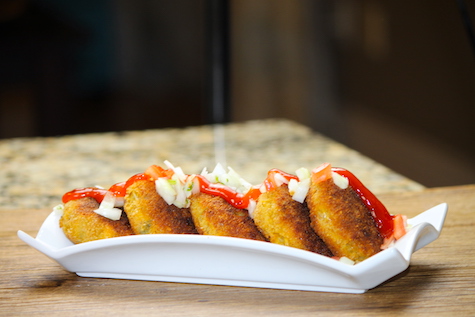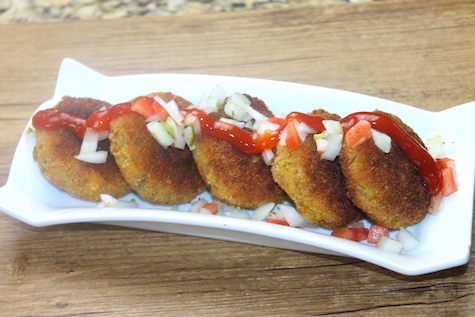 Tuna Cutlets With Canned Tuna | Perfect Delicious Appetizer
Ingredients
For making Tuna cutlet mixture
Oil- 2 tbsp
Onion, chopped- 3
Ginger-Garlic paste- 1 tbsp
Canned tuna- 1 can, drain the liquid in it
Chili powder- ½ to 1 tsp
Turmeric powder- ¼ tsp
Coriander powder- 2 tsp
Garam masala- ½ tsp
Salt- 1 tsp
Potatoes- 2, cooked & mashed
Cilantro, chopped- ¼ cup
For coating
Eggs- 2, beaten (eggs can be replaced with cornstarch slurry)
Breadcrumbs- 2 cups (can be replaced with ground oats)
Oil- enough for frying tuna cutlets
Simple Cutlet Salad
Red Onion, chopped small- 1
Tomato, chopped small- ½ of a tomato
Green chili, chopped- 1 or 2
Cilantro, chopped- 2 tbsp
Salt- ½ tsp
White vinegar- 1 tbsp
Instructions
I've taken canned tuna for making the cutlets. Canned tuna in water, drain the water & just use the tuna.
Place a wide saucepan over medium heat.
Add oil & onions, season onions with ½ tsp salt.
Saute for 3 minutes.
Add ginger-garlic paste, combine well.
Cook till onions turn golden in color, don't brown the onions.
Add the tuna, break any lumps & combine to the onions.
Cook for 3 minutes.
Add all the spices & ½ tsp salt, combine well.
Add cilantro, combine well.
Remove the pan from the heat, let the tuna mixture cool down.
Cook the potatoes either in the microwave or in boiling water till they have turned fork-tender.
Peel off the skin, gently mash the potatoes using your hand & add to the tuna mixture.
Combine well, and let the potatoes bind well with the tuna-onion mixture.
This tuna mixture can be made ahead of time & can be stored in the refrigerator for a few days or in the freezer for a few weeks.
Make medium-sized patties out of the tuna mixture, keep them aside.
In a bowl, whisk the egg.
Have breadcrumbs ready on a plate.
Dip the patties in the egg & then coat with the breadcrumbs.
Patties coated with breadcrumbs can be kept in the freezer for a few weeks.
Place a frying pan over medium heat, add enough oil for deep frying.
Add the patties & deep fry till they turn golden brown on both sides.
Can be also pan-fried in less oil.
Transfer to a plate lined with paper towel.
Enjoy with tomato ketchup or your favorite dipping sauce.
I always make a simple salad that goes really well with these cutlets.
In a bowl, combine all the ingredients mentioned for making the salad, don't skip adding white vinegar.
Serve the salad along with the cutlets.
Replacement for eggs & breadcrumbs
Instead of eggs, you can use cornstarch slurry- combine 2 tbsp cornstarch with ¼ cup cold water.
Dip the patties in the cornstarch slurry.
Instead of breadcrumbs, ground oats can be used.
Coat the patties with ground oats & deep fry or shallow fry in oil.
Notes
You can also wrap the tuna cutlets in pita bread or make into a sandwich or burger.