Rice & Coconut Kanji or Porridge made in the Instant Pot…
During Ramadan, one of the dishes that I look forward to while breaking the fast is this Creamy Rice porridge or kanji. This is a very comforting and nutritious Kanji. Coconut milk added will make this kanji creamy and delicious.
Creamy Rice Soup or Ramadan Kanji or Nombu Kanji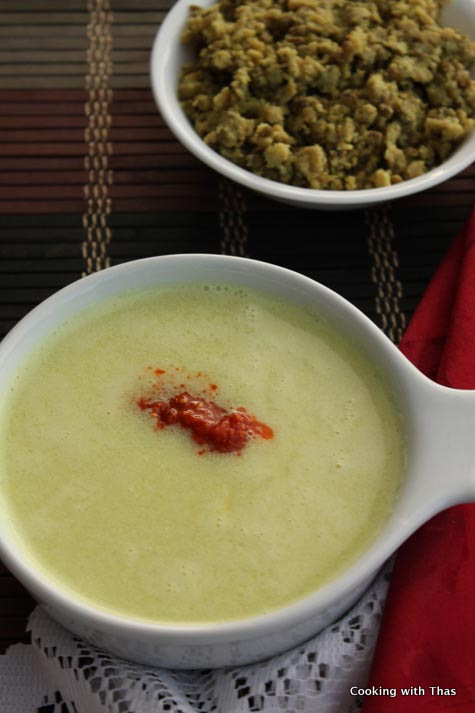 Ramadan Kanji or Nombu Kanji Cooking Video
Instant Pot Kerala Nombu Kanji or Ramadan Kanji- Rice Porridge in Coconut Milk
Ingredients
To cook Rice
Rice, rinsed- 1½ cups (Ponni or Sona Massori or Raw White Rice)
Fenugreek seeds- 1 tsp
Garlic, chopped- 2 cloves or 1 tbsp
Salt- 1 tsp
Water- 3 cups
To grind
Coconut, grated ( fresh or frozen)- 1½ cups
Cumin seeds-1 tsp
Turmeric powder-1/2 tsp
Water- 2½ cups
Other Ingredients
Coconut milk-1 cup (I used canned thin consistency)
Water- ½ cup
Salt- 1½ to 2 tsp
Instructions
Turn on the Instant Pot.
Into the stainless steel pot, add the above-mentioned ingredients "to cook rice".
Close with the lid.
Select Pressure cook setting, set time to 15 minutes at high pressure.
Into a blender, add the grated coconut with cumin seeds and turmeric powder along with 1 cup of water, grind or pulse for 2 minutes. Don't grind into a smooth paste, this is to extract the coconut milk out of the grated coconut.
Pour the ground mixture into a strainer and strain the coconut milk into a bowl.
Grind the strained grated coconut one more time with 1 cup water and strain the coconut milk to the bowl.
Add ½ cup water, squeeze the grated coconut and strain the coconut milk.
Total water added is 2½ cups to extract the coconut milk.
After 15 minutes of pressure cooking the rice, do a quick pressure release.
Combine the cooked rice, it will be cooked well.
Add the extracted coconut milk, 2½ cups. Combine well with the rice.
Select Saute Setting, at Normal or Medium temperature.
Add salt, combine well.
We will have to add ½ more water to thin down the kanji, combine well.
Finally, add 1 cup coconut milk. I used canned thin consistency coconut milk.
Combine well.
Taste and add more salt to taste.
Let the coconut milk come to a slight boil. Do not overcook or overboil.
Take the stainless steel pot out of the Instant Pot. Keep covered for some time.
Serve in soup bowls and enjoy with pickle.