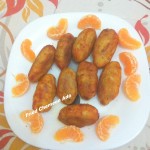 This is the recipe of my SIL. I prepared this recipe for Iftar. My hubby and BIL love this dish very much. It's like how u prepare normal ada, but slight difference. I steamed this ada with spicy coating, then shallow fried I. It tastes delicious when served warm. Do try this recipe. Hope everyone will love it!!!

Fried Prawns Ada
Author:
Faheema Abdulkader
Ingredients
For the dough:
Par boiled rice (puzhagalari)- 1 cup
Rice powder - 4 to 5 tbsp or enough for binding the dough
Salt - to taste
Boiled water - to soak the rice
To Grind:
Grated Coconut - ¼ cup
Fenugreek seed - 1 tsp
For Marination:
Prawns/button shrimps(cleaned and deveined) - 500 gm
Red chili or Kashmiri chili powder- 11/2 tsp
Turmeric powder - ¼ tsp
Salt - to taste
For the Masala:
Onions chopped - 2 medium sized
Ginger-Garlic paste - 2 tsp
Green chili, chopped - l or 2
Turmeric powder - ¼ tsp
Red chili/ kashmiri chili powder - ½ tsp
Garam masala powder - ¼ tsp
Coriander leaves, chopped - 1 tbsp
Curry leaves, chopped - a few
Coconut grated - 2 tbsp
Salt - to taste
For Coating the Dough:
Red chili/Kashmiri powder - 2 to 3 tbsp.
Turmeric powder - ¼ tsp
Salt - required
Instructions
Making Shrimp/Prawn Masala
Marinate the prawns with the above mentioned ingredients "for marination" and keep aside for 10 minutes.
Heat a pan and pour some oil, shallow fry the prawns in batches at medium flame for about 4 to 5 minutes turning each side till light brown.Drain and transfer to a kitchen paper towel.
When cooled down,cut the prawns into small slices.If using button shrimps, ignore the slicing part.
I used prawns, as button shrimps are not available in UAE and some other countries.Button shrimp tastes better.
In the same pan ( used for frying shrimps), add chopped onions and salt, saute till translucent.
Add ginger- garlic paste,chopped green chilies, turmeric powder, chili powder and garam masala, saute till the raw smell goes away.
Add chopped coriander and saute again.
Then add prawns and saute well.Finally add grated coconut and chopped curry leaves and saute again.
Taste it, adjust the salt and spices according to your needs.
Cover and let it cook for 3 or 4 minutes over low flame.
Turn off the flame and keep aside.
Making the rice dough
Soak the par-boiled rice in boiled water for 2 to 3 hrs. Boiled water is a must other wise it is difficult to grind.
After that, grind the par-boiled rice with 1½ cups of water in a mixer. Pour this ground rice mixture to the bowl, add salt. Then add the ground ingredients and rice powder, make it into a soft dough. Divide the dough into small balls.
Take a plastic cover or sheet and apply oil on it. Place a small rice ball on the sheet and flatten it thinly with your palm.
Add 1 tbsp of prawns masala and shape it into either moon shape or cylindrical shape. Repeat the steps till done.
Make a semi-thick paste with the ingredients mentioned in "for coating of dough" with water. Dip the Adas or shrimp stuffed rice dough in this paste.
Place the shrimp stuffed rice dough or Adas in the steamer and steam it for about 10 to 15 mins till done.
Heat the pan, pour some oil and shallow fry the adas at medium heat till light brown. Place it on a plate lined with kitchen paper towel.
Serve warm.