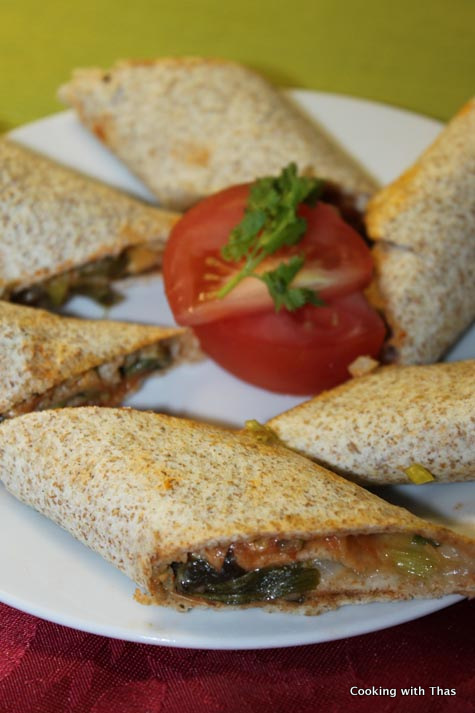 My man's comment:  "This tasted just like restaurant style antojitos", and I settled on cloud nine…
Wrapping up a beautiful weekend and gearing up for a wonderful week. Today, I had been busy with reading and replying to all the messages I got from my dear readers. I am truly overwhelmed! When my readers who are total strangers express their affection and support to me, I feel out of the world. I appreciate the enthusiasm and participation by all of you for the Eid contest. It's definitely a fun contest where others can share their creativity with everyone out there, and we all get a chance to appreciate their effort. I am loving all the entires and looking forward to reading more recipes. It's absolutely fun!
Lately, my man is behind Antojitos. I am so glad that it's not the name of a lady 😛 Well, it's one of the popular Mexican street foods. This is served as an appetizer at most Mexican and some American restaurants. A few weeks ago, my man came home and started praising about antojitos that he had for lunch. After that he had that a few times too, and I had to listen to all the praises. That made  me wish if I were antojitos. I hadn't tasted antojitos before, so I decided to have a taste of it. We dined at an American restaurant that served antojitos, I couldn't agree more with my husband, it tasted so delicious: a melt into the mouth experience it was. Since then, making antojitos was on my top to do list. Yesterday, I couldn't make up my mind on what to make for dinner, so I asked my hubby's suggestion. Guess what he suggested? Exacltly, antojitosssss!!! I had to take up that challenge and I went into the kitchen with a mind all set to make the delicious antojitos. I totally followed my way and made my own version of antojitos and served my man. He was impressed even by looking at the plate, then he took a bit of it. I was anxious enough to get his feedback. He slowly chewed it, looked at me and said "Great job, you nailed it!" He said this tasted exactly like the restaurant style antojitos. I grabbed a few of them and I settled on cloud nine 🙂
I made a vegetarian version of antojitos, you could make it with chicken or beef as well. This is a very easy to make recipe as I used store bought ingredients like tortilla, salsa and spinach cheese dip. A perfect finger food or appetizer that will just melt in to your mouth…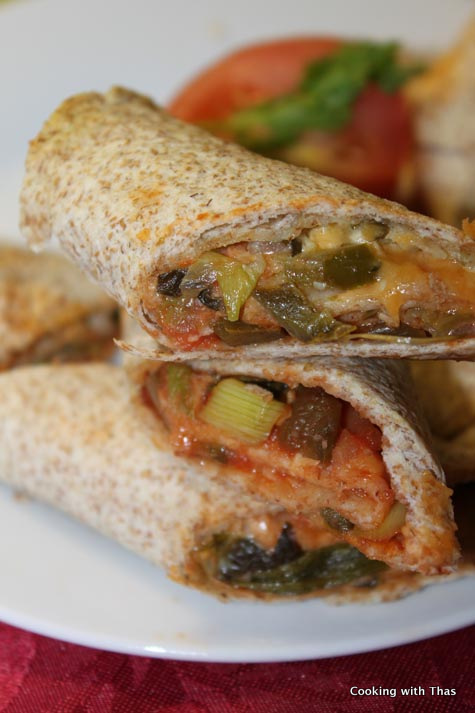 Preparation pictures
Whole Wheat Tortilla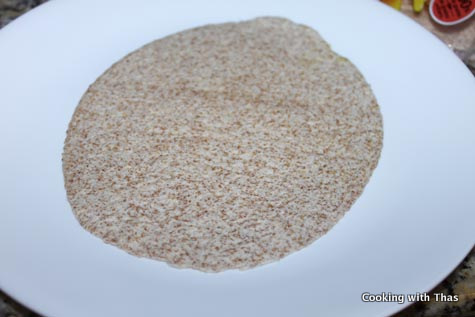 Tortilla topped with spinach cheese, cheddar cheese etc ( I didn't add salsa to this one)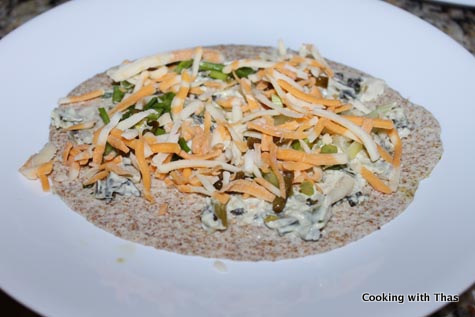 Rolled up tortilla place on baking sheet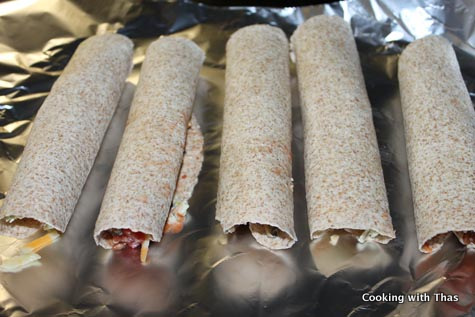 Baked Antojitos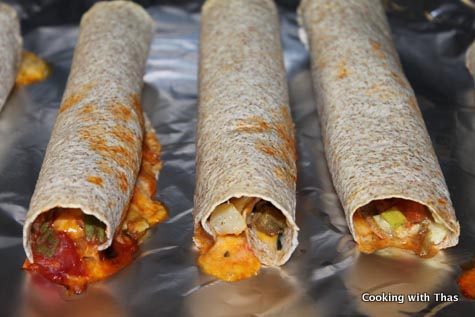 Antojitos - Mexican Street Food Delicacy
Ingredients
Tortilla, (whole wheat or white)- 6
Spinach cheese dip, store-bought ( or use sour cream)- 1½ tbsp/tortilla
Salsa- 1 tbsp/tortilla
Pickled Jalapeños, minced- 1 tsp/ tortilla
Green onions, minced- 1 tsp/tortilla
Cheddar cheese- 2 tbsp/tortilla
Cilantro, chopped- 1 tsp/tortilla (optional)
Instructions
Preheat oven to 350 F.
Use store bought tortilla, you could either use whole wheat or white tortillas.
Place one tortilla on a clean and dry cutting board.
Evenly spread 11/2 of tbsp of spinach cheese dip over it. I used store bought spinach cheese dip, you could use sour cream instead.
On top of the spinach cheese dip, evenly spread 1 tbsp of salsa.
Sprinkle minced jalapeños on it, 1 tsp or more if you want it to be spicy.
Sprinkle 1 tsp of green onions on the tortilla.
Sprinkle cilantro over it.
Finally, spread 2 tbsp of cheddar cheese as the top layer.
Roll the tortilla very tightly and place the seam side down on a baking sheet lined with aluminum foil.
Repeat with other tortillas, make as many as you want.
Place all the rolled tortillas on the baking sheet.
Bake for 20 minutes.
Remove from the oven, let cool down a bit.
Using a sharp knife, cut the rolls diagonally into 4 to 5 slices.
Serve warm along with sour cream, salsa etc.