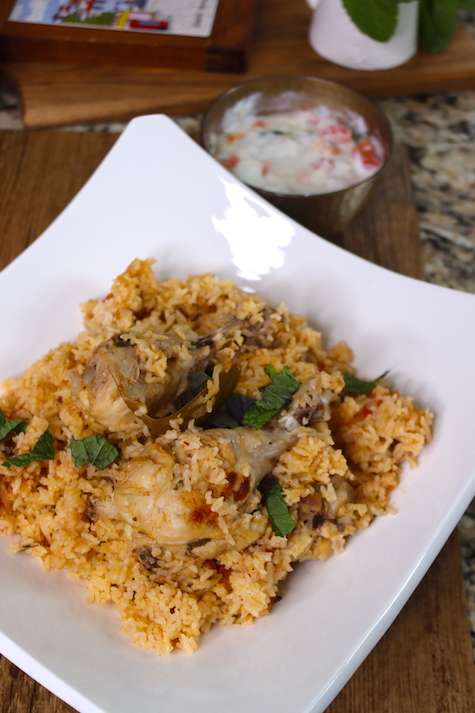 Ambur Biryani is a popular and flavorful meat & rice dish that originated in the town of Ambur in the Tirupattur district of Tamil Nadu, India. It's a spicy biryani, red chili paste is added to impart the heat.
Ambur Biryani is primarily a meat-based dish, made with either chicken or mutton. The rice used in this biryani is typically the short-grained and fragrant variety known as Seeraga Samba rice (or Jeerakasala rice), which adds a distinct aroma and texture to the dish.
This was the first time I made Ambur biryani in my kitchen. I would say this is the easiest biryani I've made so far. Interestingly, no ground spices like chili powder, turmeric powder, garam masala, chili powder & fennel powder are added while making this biryani.
In this biryani, red chili paste (ground dried red chilies) is added which will impart the heat. Absolutely no green chilies & chili powders are added. The only spices added are whole aromatic spices like whole cardamom, cloves & cinnamon sauteed in the oil. Also, basmati rice is not added for making this biryani, jeerakasala or seeraga samba rice is added which will make this biryani aromatic & flavorful.
The key to Ambur Biryani's rich flavor lies in its preparation. To the cooked onions, tomatoes along with red chili paste, chicken is added. Chicken is only half-cooked before being layered with partially-50% cooked rice. The biryani is cooked on a low flame allowing the flavors to meld together and the rice to absorb the aromatic essence. This slow-cooking process ensures that the meat becomes tender and the flavors intensify.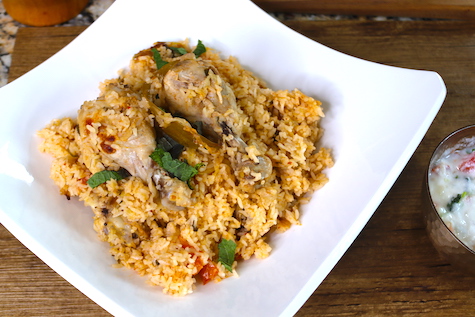 Ambur Chicken Biryani | Easy & Delicious Recipe
Ingredients
Oil- 4 tbsp (or add 2 tbsp ghee + 2 tbsp oil)
Whole cardamom- 4
Whole cloves- 4
Whole cinnamon- 3 inch slice
Dried bay leaves- 2
Onions, sliced thin- 4, large sized
Garlic paste- ½ tbsp
Ginger paste- ½ tbsp
Red chili paste- 3 to 4 tbsp (dried red chili ground to paste)
Tomatoes, chopped- 2 large sized
Chicken, bone-in pieces- 8 chicken legs or bone-in pieces
Lemon juice- juice from ½ of a lemon
Yogurt- 1 cup
Warm water- 2½ cups
Mint leaves, chopped- ¼ cup
Cilantro chopped- ¼ cup
Jeerakasala or seeraga samba rice, soaked- 2 cups
Salt- 3 tsp
Instructions
For making this biryani seeraga samba rice is used in Ambur. If you don't have this rice, use jeerakasala or kaima rice.
Soak the rice in 4 cups of water for 20 minutes. After 20 minutes pour the rice to a strainer & strain the water & rinse the rice under running water till the water turns clear, Keep it aside.
For making red chili paste- I've taken 6 dried red chilies. If you want the biryani to be very spicy you can increase the amount of dried chilies.
If you want the biryani to have a nice vibrant red color, use kashmiri dried red chilies, they are mild so use 12 dried chilies & make into a paste.
Roast the chilies in a pan over medium heat for 4 minutes. Grind the dried red chilies along with 2 tbsp water to a paste. Keep it aside.
Place a large & wide pan over medium heat, add oil.
Add the whole aromatic spices- whole cardamom, cloves, cinnamon & bay leaves, saute for a minute.
Add the sliced onions, season with 1 tsp salt.
Saute till onions turn golden brown in color.
Add ginger & garlic paste, saute for 2 minutes.
Add 3 to 4 tbsp red chili paste (based on your spice level), saute for a few minutes.
Add the chopped tomatoes, saute for a few minutes & cook till the tomatoes have mashed up.
Add the chicken, I've added 8 chicken legs, any bone- in pieces can be added. Combine well.
Add 1 tsp salt, combine well.
Add freshly squeezed lemon juice, combine well.
Take yogurt in a bowl & combine well using a whisk, add to the chicken & combine well.
Add 2½ cups hot water, combine well. (There will be some liquid already in the pot from the yogurt & the liquid that oozed out of the chicken).
Add chopped mint leaves & cilantro. Don't skip adding mint leaves.
Cook covered for 15 minutes till the chicken has half cooked, don't fully cook the chicken.
While the chicken is getting cooked, let's cook the rice.
Place a large saucepan over medium heat, add 4 cups water. Season with 1 tsp salt.
Let the water come to a boil.
Add the soaked & rinsed rice, cook the rice for 5 minutes till it has 50% cooked. Jeerakasala rice will cook very fast. Don't completely cook the rice as we'll be further cooking the rice along with the chicken & gravy.
After 15 minutes, chicken will be half-cooked.
Drain the water from the 50% cooked rice, and immediately add the rice into the chicken & gravy.
Immerse the rice in the liquid.
Tightly cover the pot with aluminum foil & then close with the lid.
Cook cover medium heat for 5 minutes. After that lower the heat & cook for another 5 more minutes.
After 10 minutes of cooking, open the lid & check if the rice has cooked.
Rice will be perfectly cooked, avoid overcooking the rice.
Cover the pot with aluminum foil & then close with the lid.
Take the pot out of the heat & keep it covered for at least 30 minutes. The rice will be perfectly set & will turn aromatic.
While serving, gently combine the biryani; serve on a plate.
Enjoy along with raita, pappad & pickle.
Leftover biryani can be refrigerated, and tastes better the next day.