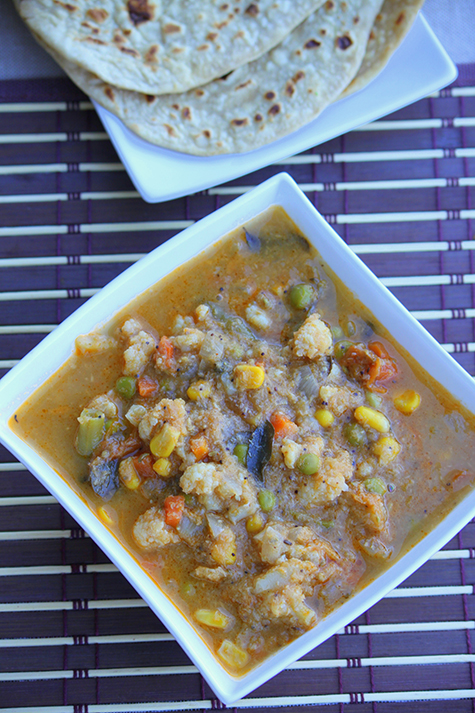 Aromatic and delicious vegetable stew or salna that can be served with parotta, poori or rotis…
One of the dishes I love to order at South Indian vegetarian restaurant besides my most favorite paper dosa is Poori and vegetable stew or salna. The vegetable stew tastes so delicious that I will be seen drinking it. Yes, I do express my love for food in weird ways. I'd been in search for that recipe for so long and finally here it is, just like restaurant style. I was truly blown away by the taste of this veg stew, even my hard core hubby loved it so much.
I know, poori and this veg stew is one of the favorites of most South Indians, if you are still searching for the recipe and want to try it in your kitchen that tastes exactly like restaurant style, you gotta try this recipe.
This can be served with parotta, chapati or poori.
Recipe adapted from here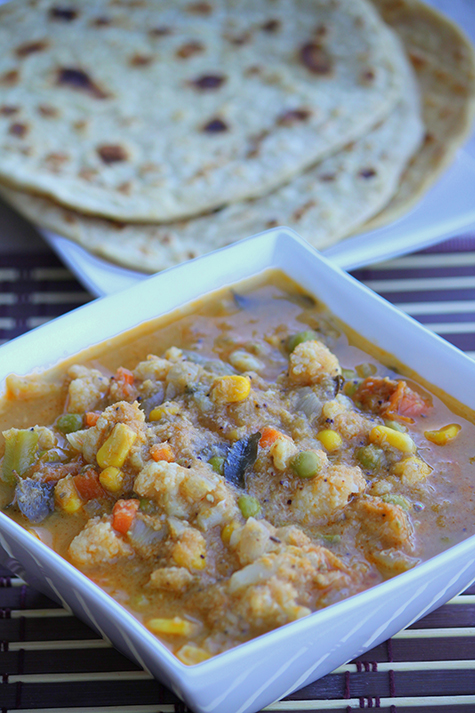 Vegetable Stew or Vegetable Salna Recipe
Ingredients
For roasting and making the paste
Oil- ½ tbsp
Onion, chopped- 1
Tomato, chopped- 1
Ginger, chopped- 1 inch slice or 1 tbsp
Garlic, chopped- 1 big clove or 1 tbsp
Whole cardamom- 1
Whole Cloves- 2
Whole cinnamon- 1 inch slice
Fennel seeds- ½ tsp
Poppy seeds- ½ tsp (optional)
Chili powder- 1 tsp
Coriander powder- 2 tsp
Coconut, grated- ½ cup
For making veg stew
Oil- 2 tbsp
Fennel seeds- ½ tsp
Onion, chopped- 1
Tomato, chopped- 1
Mixed veggies, cut small- 1½ cups (carrots, beans, cauliflower, peas, corn)
Mint leaves- 7 leaves, chopped
Curry leaves- 1 sprig
Salt- ½ to ¾ tsp
Water- ¾ cup
Cilantro, chopped- 2 handfuls
Instructions
Roasting and Making the paste
Place a non-stick pan over medium heat, add ½ tbsp oil.
Add onion, tomato, ginger, garlic, whole cardamom, whole cloves, whole cinnamon, fennel seeds, poppy seeds (if using), chili powder and coriander powder. Saute for a few minutes till tomatoes turn soft.
Add coconut, roast till light golden in color.
Remove the pan from the heat, let cool down.
Add the roasted ingredients into a blender and grind along with ¼ cup water to a smooth paste.
Keep aside.
Making the stew
Place a pressure cooker over medium heat, add 2 tbsp oil.
Add fennel seeds, saute for a few seconds.
Add curry leaves and mint leaves, saute for a few seconds.
Add onion, saute till translucent.
Add tomato, cook till soft.
Add the mixed veggies, combine well.
Add the prepared paste and salt, combine well.
Add water, combine well.
Cover the pressure cooker with its lid and place the whistle over it, let cook till 1 whistle.
After the pressure subsides, open the cooker, combine the gravy well.
Add chopped cilantro, taste and add more salt if needed, cook for a minute.
Remove the cooker from the heat.
Serve along with parotta, poori or chapati. Yum!