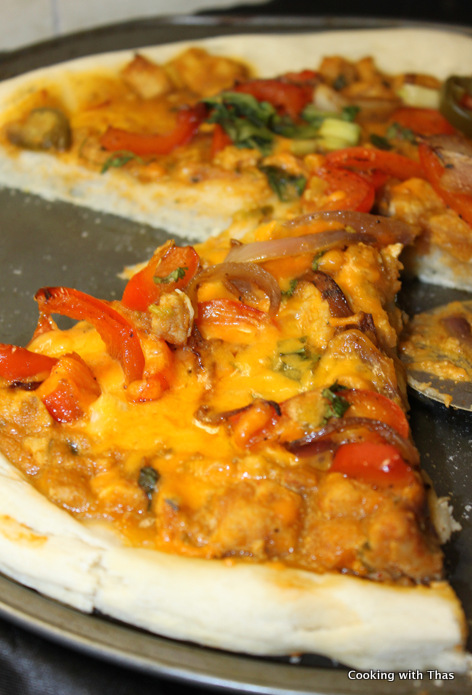 Pizza topped with butter chicken, very flavorful and extremely delicious…
I'd made pizzas with different kinds of toppings, but this one really blew me away. I'd tasted butter chicken pizza from one of the pizza stores in my city, it was absolutely delicious and since then I'd been wanting to try this.
My Man had asked me to make pizza a couple of weeks ago, I kept postponing and it was last weekend I finally made him happy with this butter chicken pizza.
I'd already posted the recipe for making a few kinds of pizzas and for all those I'd used the same recipe for making the pizza dough. That's my absolute favorite recipe and so I followed that even for making this pizza dough. Butter chicken is a popular dish in India, you could find this dish on the menu of almost all Indian restaurants. I'd already posted the recipe for making butter chicken recipe, I used the same recipe for making this butter chicken topping. I made the gravy really thick so that it can be spread on the pizza dough, topped the pizza with red onion, red pepper and cheese.
I cannot get over with the taste of this pizza, it tasted extremely flavorful and delicious. This is definitely one of my favorite pizzas.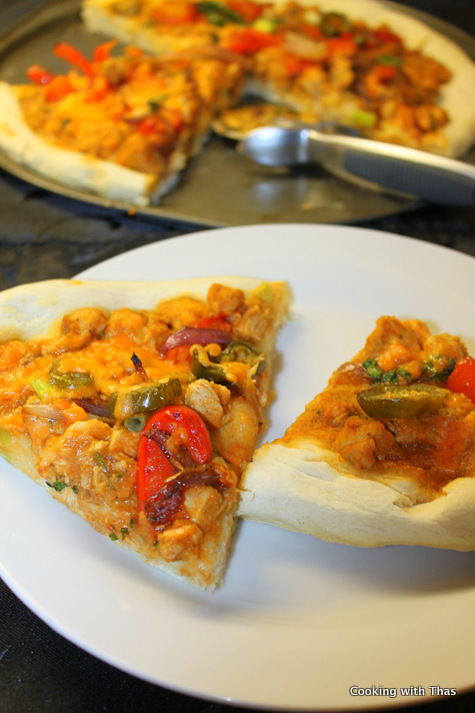 Preparation Pictures
Butter Chicken Pizza - Pizza with Butter Chicken Topping
Ingredients
For making 1 large pizza crust
All purpose flour- 2 cups + ⅙ cup
Dry active yeast- 1⅛ tsp
Brown sugar or white sugar- ¼ tsp
Warm water- ¾ cup
Salt- ½ tsp
Olive oil- 1 tbsp
For cooking chicken
Chicken breasts, cubed- 2 breasts
Ginger-garlic paste- ½ tbsp
Chili powder- ½ tsp
Fennel powder- 1 tsp (optional)
Coriander powder- 1 tsp
Garam masala- ½ tsp
Salt- to taste
For making the butter chicken gravy
Oil- 1 tbsp
Onion, chopped- 1
Tomatoes, chopped-2
Coriander powder- ½ tsp
Ground cumin- ½ tsp
Chili powder- ½ tsp
Salt- to taste
Butter- 3 tbsp
Cilantro, chopped- 2 handfuls
Other Toppings
Red onion, sliced thin and long- ½ onion
Red pepper, diced- ½ pepper
Spring onion, chopped- 1 stalk
Cilantro, chopped- 1 handful
Jalapeño, pickled- 5 to 6 slices (optional)
Grated cheese
Instructions
Making pizza Dough
In a small bowl, combine yeast, warm water and sugar, let stand for 10 minutes.
After 10 minutes, add the salt and oil to the yeast solution.
In a large bowl, pour the yeast solution and slowly add the flour and knead.
Knead the dough well, it should be soft and smooth, don't add too much flour and make it a hard dough.
Place the dough on a bowl greased with oil and cover the dough with a damp towel keep aside for 1 hour.
Do not cover the dough with wet kitchen paper towels, after an hour it will be stuck to the dough and will be very hard to peel it off.
In the meantime you could start making the topping and have everything ready.
After an hour, the dough would have doubled in size.
Combine the dough once again and let it sit for a minute.
For making Butter Chicken
In a saucepan, combine the cubed chicken with the above mentioned ingredients to cook chicken, cover the pan and cook till chicken has cooked well, stir fry till chicken turns light golden brown. Keep aside the cooked chicken.
Place a wide pan over medium heat, add oil.
Add onion, season with salt and saute till translucent.
Add tomatoes and cook for a few minutes till it's slightly cooked.
Remove the pan from the heat and let the mixture cool down a bit.
Add the cooked onion and tomatoes to a blender and puree to a smooth paste by adding little water if needed.
Add 3 tbsp butter to the pan, let it melt.
Add the pureed onion/tomato to the melted butter, saute for a couple of minutes.
Add the cooked chicken into the sauce.
Add coriander powder, ground cumin, chili powder and salt, combine well and cook for a few minutes.
The gravy has to be thick.
For more spice add more chili powder.
Sprinkle cilantro, combine well, remove the pan from the heat and keep it covered.
In an another pan, add ½ tbsp oil, add sliced onions and red pepper, season with salt and a few pinches of ground pepper, stir fry for a couple of minutes. Don't over cook it.
Preheat the oven to 425 F or 220 C
Grease the pizza pan with non-stick cooking spray.
Place the dough over it and using your hands stretch the dough to a round shape.
After flattening it, let stand for 15 minutes on the pan.
Spread the prepared butter chicken evenly over the pizza dough.
Top with red onions and red pepper.
Sprinkle green onions and cilantro over it.
Finally, top with grated cheese.
Bake for 20 minutes, keeping the pan on the lower rack of the oven until the cheese has melted and the curst has cooked well.
Remove from the oven, slice it and indulge in it.
You can top 2 pizzas using this butter chicken recipe. Leftover butter chicken can be served with naan, roti or rice.