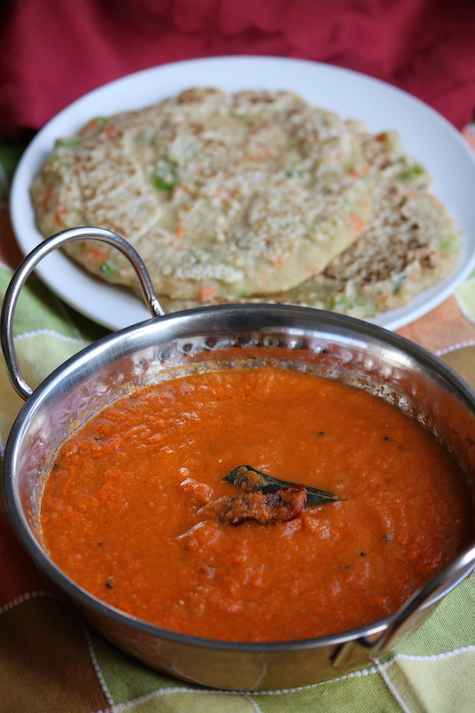 South Indian style chutney made with carrots and tomatoes, perfect for uthappam, dosa, idli or rice…
My most favorite chutney is Tomato chutney, and I need this along with dosa, idli or uthappam. I tweaked tomato chutney recipe and added carrot along with tomatoes. Turned out delicious.
Tomato Chutney Recipe, click here 
Oats Semolina Uthappam Recipe, click here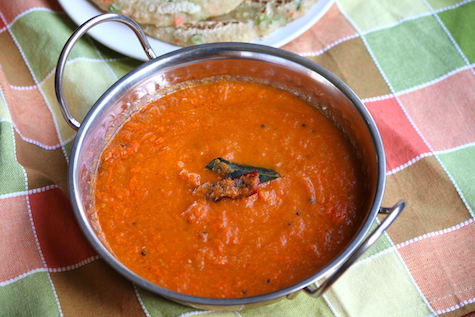 Easy Carrot and Tomato Chutney- South Indian Chutney recipe
Ingredients
Small onion, chopped- 10
Tomatoes, chopped- 4
Carrot, chopped- 2
Garlic, minced- 2 cloves
Cumin seeds- 1 tsp
Chili powder- ¾ tsp to 1 tsp
Salt- ¾ to 1 tsp
Oil- 1 tbsp
Tamarind, fresh- 2-inch slice soaked in ½ cup water
[b]For Tempering/b]
Oil- 1 tbsp
Mustard seeds- 1 tsp
Dried Red whole chili - 2
Curry leaves- 1 sprig
Instructions
Place a saucepan over medium heat.
Add 1 tbsp oil.
To the oil, add small onions; season with ½ tsp salt.
Saute for a minute.
Add chopped garlic, saute for a minute.
Add tomatoes, carrot, cumin seed, and chili powder.
Cook covered for 5 minutes.
Remove the saucepan from the heat, let cool down.
Grind the mixture in a blender along with ½ cup water till smooth.
Place a saucepan over medium heat.
Add 1 tbsp oil, let turn hot.
Add mustard seeds, let splutter.
Add dried red chilies and curry leaves.
Add pureed tomato/carrot mixture. If the mixture is thick, add ½ cup water to thin down.
Add ½ salt or more if required.
Cook covered for 3 minutes.
Remove the pan from the heat.
Pour into a bowl, serve along with dosa, idli, uthappam etc.