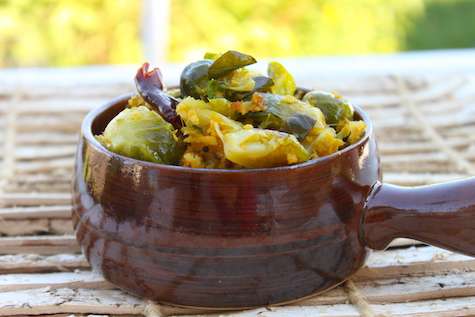 Easy to make Brussel Sprouts stir-fried with coconut…
This is a Kerala style dish, any veggies can be used for making this dish. I had leftover Brussel sprouts, hence used that for making this thoran. Turned out pretty delicious. It can be served along with rice, roti, chapati, etc.
Cooking Video
Easy Brussel Sprouts Thoran- Brussel Sprouts Stir Fried with Coconut
Ingredients
Coconut Oil- 1 tbsp
Mustard seeds- 1 tsp
Cumin seeds- ½ tsp
Dried whole red chilies- 2
Curry leaves- 1 sprig
Shallots, sliced- 3
Brussel Sprouts, quartered- 25
Water- 1 cup
Chili powder- ½ tsp
Turmeric powder- ¼ tsp
Grated coconut- ½ cup
Salt- 1½ tsp
Instructions
Place a sauepan over medium heat.
Add oil, let turn hot.
Add mustard seeds, let splutter.
Add cumin seeds, dried red chilies and curry leaves; saute for a few seconds.
Add shallots, season with ½ tsp salt. Saute till translucent.
Add brussel sprouts, and 1 cup water.
Cook covered for 7 minutes till brussel sprouts turn soft.
Add chili powder, turmeric powder and 1 tsp salt. Combine well.
Add grated coconut, combine well and stir fry for 3 minutes.
Increase the heat to high, stir fry for a few minutes till coconut starts to turn light brown. Tastes better.
Taste and add more salt if required.
Remove the pan from the heat. Keep covered.
Serve this along with rice, roti, chapati etc.