Cucamelon turned into a healthy & tasty Kerala style thoran or stir fry with coconut…
One of the best harvests I had this year was cucamelon. Cucamelons resemble ivy gourd or tindora or kovakka, also looks like a miniature watermelon. However, it's a totally different species. Cucamelon is neither melon nor cucumber & not a hybrid either. It's grown widely in Central America & Mexico. One of my neighbours introduced this cute vegetable to me & I couldn't help growing cucamelon in my vegetable patch. It literally grew like a weed & I had the joy of harvesting cucamelons almost every week.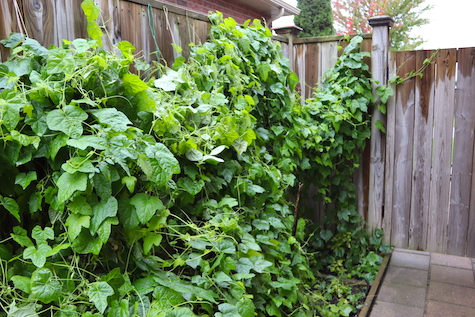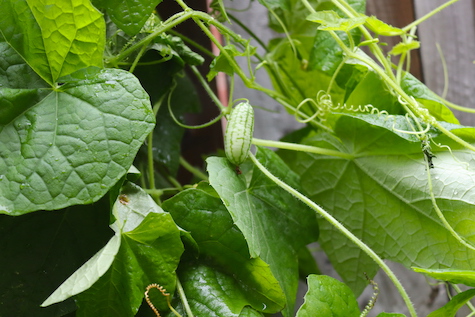 Though looks tiny, it's a very robust vegetable. Cucamelon plant is resistant to pests & droughts. I didn't have to give any special care or attention to this particular plant, it just grew happily & cheerfully.
Cucamelon grows to the size of a grape. It tastes like cucumber with a dash of lime flavour. Excellent for pickling & for making stir-fries. Can also be added to soups, stews & other vegetable curries.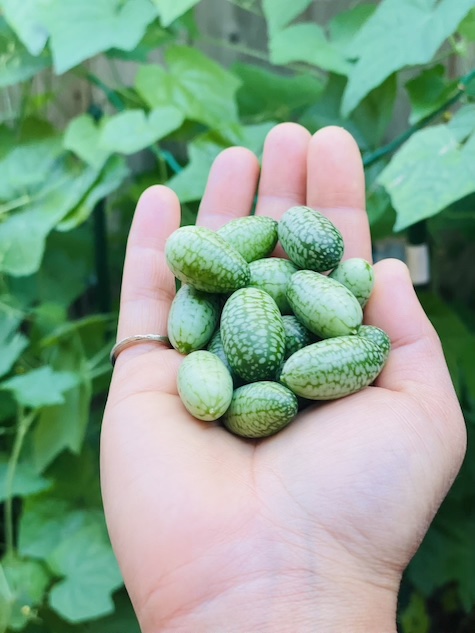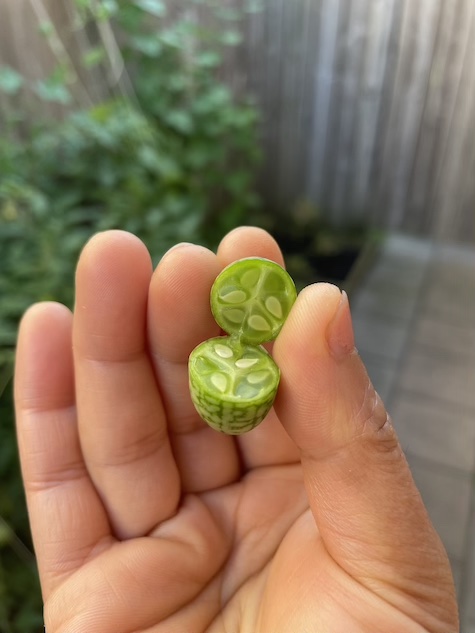 I've made a South Indian style pickle out of cucamelons, tasted so good.
Another dish that I make often with cucamelon is this Kerala style thoran or stir fry with coconut. I serve this as a side dish along with rice & chapatis. Very healthy & tasty cucamelon thoran.
Cucamelon Thoran | Stir Fry with Coconut | Kerala Vegetarian Recipe
Ingredients
Coconut oil- 2 tbsp
Mustard seeds- 1 tsp
Chana dal- ½ tbsp
Urad dal- 1 tsp
Dried red chilies- 2
Curry leaves- 1 sprig
Shallots, sliced- 4 shallots or 6 small/pearl onions
Cucamleon, cut into rounds- 3 cups (can be replaced with ivy gourd or tindora, green beans, okra)
Chili powder- 1 tsp
Turmeric powder- ¼ tsp
Salt- 1½ tsp
Coconut, grated- 1 cup
Instructions
Place a wide saucepan over medium heat.
Add coconut oil, let turn hot.
Add mustard seeds, let splutter.
Add chana dal & urad dal, saute till they turn golden brown in color.
Add dried red chilies & curry leaves, saute for a few seconds.
Add shallots or small onions, season with ½ tsp salt.
Cook till shallots turn light golden in color.
Add the cucamelon, combine well.
Cook covered for 10 minutes till they turn soft.
After 5 minutes of cooking, all the liquid will dry off, add ¼ cup water & continue to cook covered.
Add chili powder, turmeric powder & 1 tsp salt, combine well.
Add grated coconut, combine well.
Increase the heat & stir fry till coconut starts to turn golden brown.
This dish will taste good when the coconut turns golden brown.
Remove the pan from the heat.
This tasty thoran can be served as a side dish along with rice or chapati.
Notes
Cucamelon can be replaced with ivy gourd or tindora or kovakka, green beans, cabbage, okra, etc.