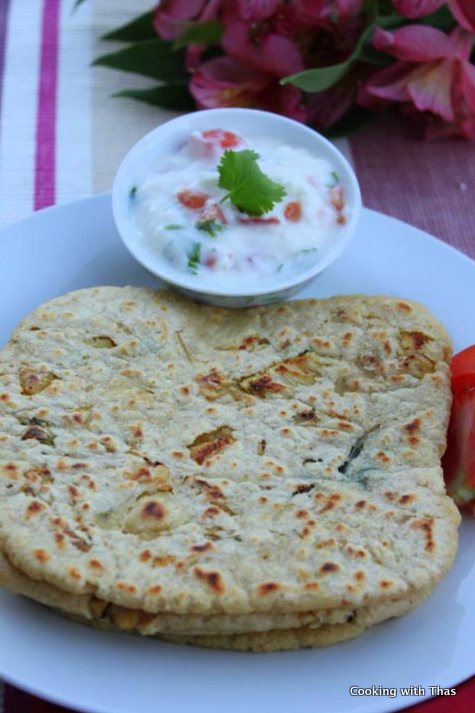 Devour this healthy chicken stuffed flat bread…
This Ramadan I am being health conscious, making light and healthy dishes. If fasting is observed in a healthy way it will help in significant improvement of our overall health. Apparently, most people turn Iftar (breaking the fast) into a grand feast and there will be a lot of greasy and fried dishes. However, my body cannot handle too much fried and greasy food, in fact it's very hard for me to even eat after breaking the fast. So, I decided to pamper my body with healthy dishes this time: fresh juices, fruits, baked dishes etc.
This chicken stuffed flat bread or chapati is in deed a healthy dish. Cooked chicken combined with onion and spices is stuffed into wheat dough, rolled into a flat bread and cooked on a tawa or pan. This is a rather dry flat bread, it can be served with raita (yogurt and veggies) or along with a simple curry.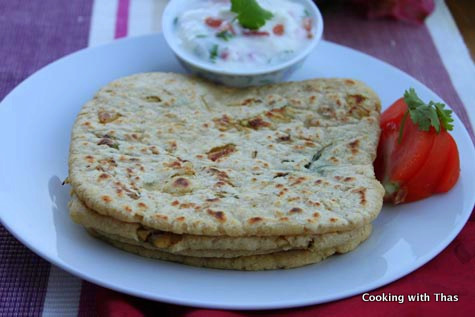 Preparation Pictures
Chicken Masala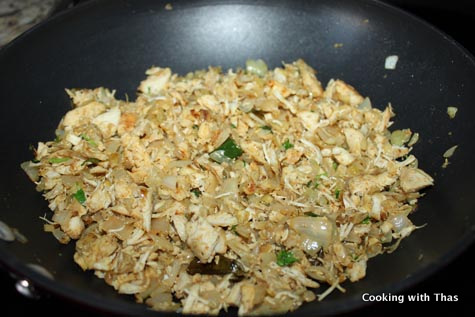 Chicken masala placed on the dough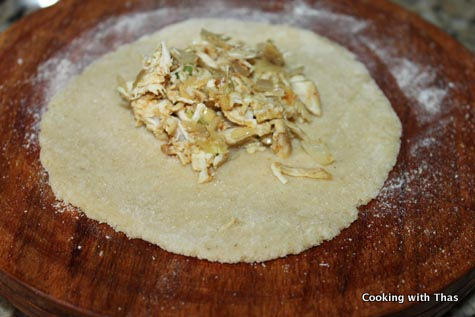 Rolling the dough
Cooking the chicken stuffed chapati
Chicken Stuffed Chapati - Chicken Stuffed Flat Bread
Ingredients
For marinating chicken
Chicken breasts, diced small- 2
Chili powder- ¾ tsp
Turmeric powder- ⅛ tsp
Coriander powder- 1½ tsp
Fennel powder- 1 tsp
Garam masala- ½ tsp
Salt- to taste
For making Chicken Masala
Oil- 1½ tbsp
Onion, chopped small- 2, medium
Curry leaves- 1 sprig (optional)
Ginger chopped- 1 inch
Garlic chopped- 2 cloves
Green chili, chopped- 1
Garam masala- ¼ tsp
Corinader powder- ½ tsp
Chili powder- ½ tsp
Salt- to taste
Cilantro, chopped- 2 handful
For making Chapati dough
Wheat flour or Atta- 3 cups
Water- 2 cups
Salt- a few pinches
Other ingredients
Ghee- to spread on chapati while cooking
Instructions
In a bowl, combine the chicken along with the other ingredients mentioned above "for marinating chicken".
Transfer the marinated chicken to a non-stick cooking pan, cook covered till the chicken has cooked well and the water has dried off.
Shred the chicken using a fork or coarsely grind the cooked chicken in a blender, don't make it into a paste. Keep aside.
Place a large non-stick pan over medium heat, add oil.
Add onion, saute till translucent.
Add chopped ginger, garlic, green chili and curry leaves.
Cook till onion turns light golden in color.
Add the cooked chicken to the onion, combine well.
Add garam masala, coriander powder, chili powder and salt.
Combine and cook for a few minutes.
Add cilantro, cook for a minute, remove the pan from the heat. Keep aside.
Making Chapati Dough
In a saucepan, combine the water and salt, heat the water and let it come to a slight boil.
Remove the pan from the heat, add the flour, combine using a wooden spoon till the flour is combined with water.
Let the dough cool down a bit.
When the dough is still warm, knead the dough till it's soft. If the dough is hard drizzle some water and knead.
Make medium sized balls out of the dough.
On a flat surface or wooden board, place a plastic sheet, grease it with oil.
Place the dough ball, roll it using a rolling pin to a small round shape.
Place 2 tablespoon of cooked chicken on the middle of the rolled dough.
Fold the dough and wrap it well.
Roll the stuffed dough to a round or square shape.
Heat a tawa or non-stick pan.
If you prefer, add ½ tbsp ghee to the pan, swirl the pan and let it spread on the pan.
Place the chicken stuffed dough on the pan.
Cook both sides till golden spots form on it.
You could spread more ghee on the chapati or flat bread if needed.
Serve with raita or any simple curries.