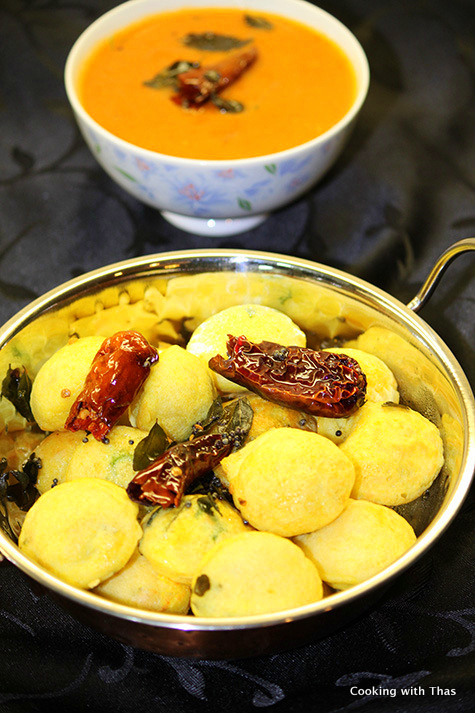 Idlis made in a paniyaram pan, known as Paddus…
I didn't know the correct name of this dish, so I kept calling them mini Idlis. Basically, these are made with Idli batter after adding a few ingredients to the batter. Unlike the authentic idlis made by steaming, these paddus are made in a paniyaram pan or the pan used for making Kerala unniyappam. I'm literally obsessed with the paniyaram pan, so many sweet and savory dishes can be made in that pan. I'm even thinking of making cake pops in that: stay tuned for the recipe.
The other day, I had made mutta surka in the paniyaram pan for the first time. While talking to my mom I told her about my successful mutta surka attempt. She then asked me to make idlis in the pan and a few other sweet dishes as well. I am always up for trying dishes that I've not made before. I was very excited to try paddus.
Soaked the rice and urad dal, ground till smooth and let the batter ferment for 24 hours. During winter, Spring and Fall, I keep the batter inside the oven preheated to the lowest temperature for 3 to 4 minutes. Batter has to ferment well to make soft idlis and beautiful dosas.
Added a few ingredients to the batter, poured the batter into each cavity of the pan and cooked them. Perfectly soft mini round idlis or paddus were ready in no time. I served with my favorite tomato chutney and I ate a lot of them. So, make sure to make a lot and serve with chutney or sambar, truly a South Indian comfort food…
Recipe for making Tomato Chutney: Click here.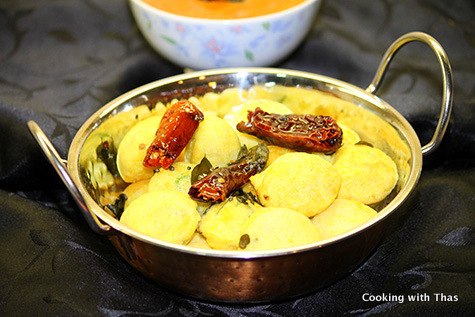 How to cook Paddus: cooking video
Paddus or Mini Idlis made in Paniyaram Pan
Ingredients
Making Idli Batter:
White rice, sona masori or ponni rice or Idli rice- 2 cups
Urad dal- 1 cup
Fenugreek seeds- 1 tbsp
Salt- to taste (add to the batter just before you make idlis)
For making Paddus
Idli batter- 3 cups
Onion, chopped- ¼ cup
Ginger, chopped- ½ tbsp
Green Chili, chopped- 1
Curry leaves- 1 sprig
Salt- ¼ tsp
Turmeric powder- ⅛ tsp
For Tempering
Oil- 1 tbsp
Mustard seeds- 1 tsp
Dry Red chilies- 2
Curry leaves- 1 sprig
Instructions
Making Idli Batter:
Soak rice, urad dal and fenugreek in water overnight or for 5 hours.
Drain the water and grind them in a blender after adding some water to make a thick smooth batter.
Don't add too much water while grinding, the batter should be thick.
Pour the batter into a large bowl as the batter will rise and let ferment for about 15 hours.
The batter should be kept in a warm place for better fermentation: In cold countries, keep the batter inside an oven preheated to 3 to 4 minutes at the lowest temperature and let ferment for 15 hours.
Making Paddus:
After the batter has fermented, take 3 cups of batter in another bowl.
Add all the ingredients mentioned ' for making paddus' and combine well.
Place the paniyaram pan over medium heat. Grease the pan with non-stick cooking spray.
Pour 1 tbsp of batter into each cavity.
Cover with a lid and cook for 3 minutes. Don't allow them to cook till the center has cooked well. The center should be slightly watery, flip it over and cook for 5 more minutes till cooked well.
If the center has cooked well before flipping over, they won't turn into balls, instead the top will be flat.
Transfer to a plate. Keep aside.
Tempering:
Place a small pan over medium heat. Add oil and let it turn hot.
Add mustard seeds, let it splutter.
Add red dry chilies (half them with your fingers) and curry leaves. Stir fry for a few seconds.
Pour the tempering over the paddus and enjoy with chutney or sambar. YUM.