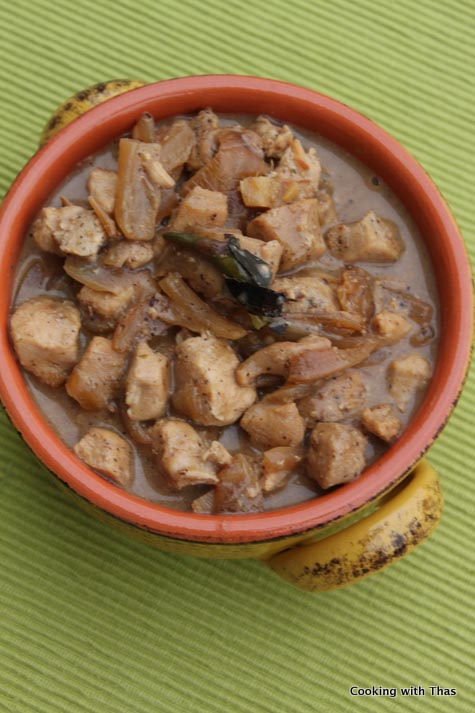 With a very few ingredients, a delicious chicken korma can be prepared…
Wohooo, this is my 600th recipe post! Giving myself a big pat on my shoulder 🙂
Enjoying the long weekend by doing nothing. I mean it, absolutely nothing I am doing and I feel very special. Well, my man has been down with pollen allergy the moment Spring has sprung. When everyone looks at the weather forecast, my man has been looking at the pollencast and it seems that the pollen is at its peak this year. Poor him, have been sneezing and wheezing even after taking the medication. He feels good relief when he sips chukku kappi, I am literally tired of making chukku kappi these days.
I made this chicken korma a couple of days ago, and served it with Appam. This time when I made the chicken korma, I caramelized the onions a lil more and added the other ingredients into it. It turned yummy and had a very different taste.
Recipe for making Appam, click here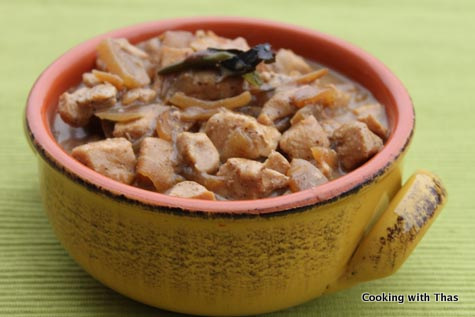 Step by Step Pictures
Cooking onions
After adding chicken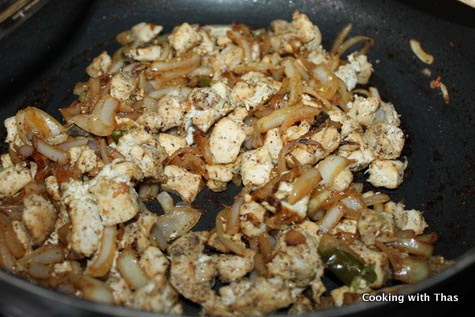 After adding coconut milk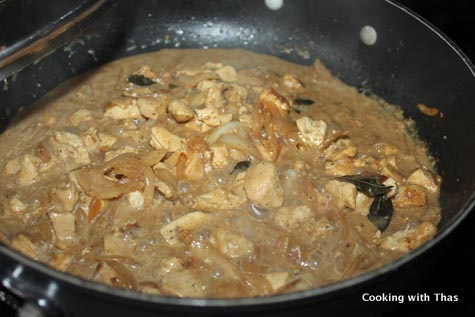 Fennel Ground Pepper Chicken Korma
Ingredients
For cooking chicken
Chicken, diced - 2, chicken breasts or use thighs
Ground black pepper- ½ tsp
Green chilies, halved- 3
Salt- to taste
While cooking
Oil- 2 tbsp
Ginger, chopped- 2 inch
Garlic, chopped- 2 large cloves
Onion, cut thin and long- 1, large
Curry leaves- 1 sprig
Ground pepper- ½ tsp
Fennel powder- 1½ tsp ( grind the roasted fennel seeds into powder)
Coconut milk- 1 can, 400 mL
Salt- to taste
Instructions
In a saucepan, combine the chicken along with ground pepper, green chilies and salt, cook covered. Keep aside the cooked chicken.
In the same pan, add oil, let it turn hot.
Add chopped ginger and garlic, saute till golden in color.
Add onions and curry leaves, saute till onions turn golden brown in color.
Add the cooked chicken to the onions, combine well.
Add ground pepper and fennel powder, combine well.
Add coconut milk, combine well and cook for a few minutes.
Taste and add more salt or ground pepper according to your needs.
Transfer to a bowl and serve with Appam, chapati, rotis etc.