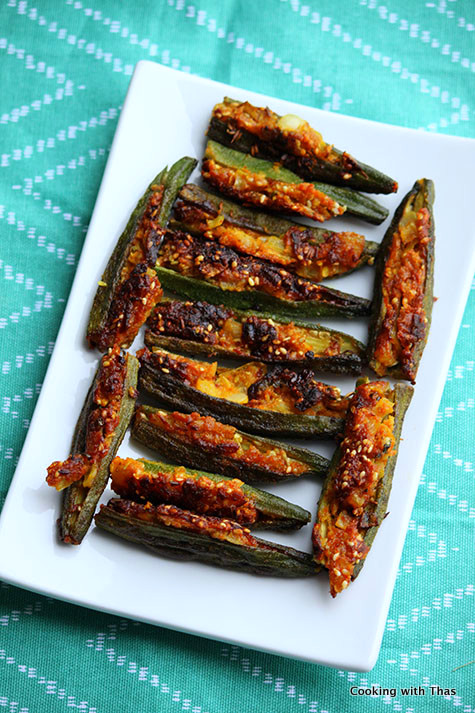 Bharwan Bhindi or Stuffed Okra (lady's finger) is a crunchy and delicious North Indian vegetarian dish…
I adore okra and love it cooked anyway. However, my most favorite used to be fried okra combined with yogurt until I tried this bharwan bhindi (in Hindi, bharwan means stuffed and bhindi means okra). In this dish, onion-besan masala is stuffed into the okra and shallow fried till golden brown. The onion masala and the okra gets crunchy, the stuffing along with the fried okra tastes incredible.
Preparation Pictures
Stuffed Okra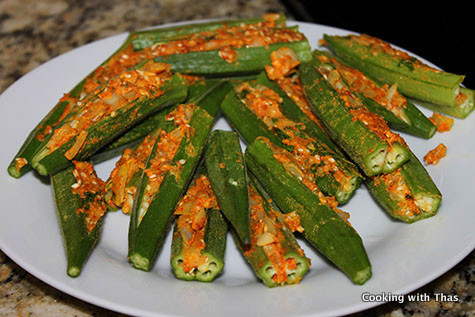 Shallow frying stuffed okra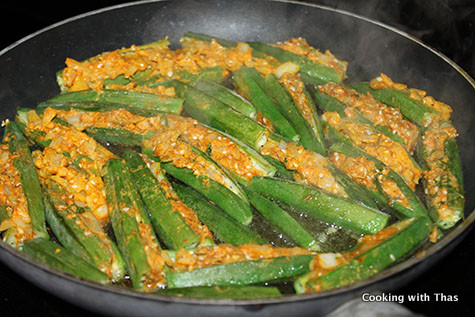 Shallow fried stuffed okra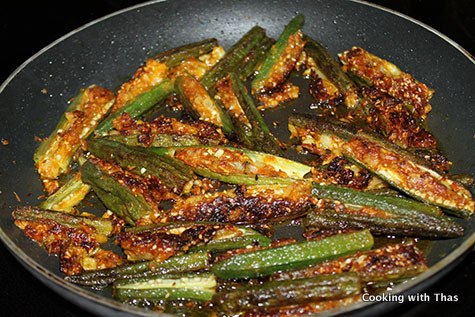 Bharwan Bhindi or Stuffed Okra
Ingredients
Okra or lady's finger- 20
Oil- ½ cup
Cumin seeds- 1½ tsp
Curry leaves- 1 sprig (optional)
For making the stuffing
Onion, minced- 1 (small sized)
Gram flour or Besan- ¼ cup
Ginger, minced- 1 inch slice
Chili powder- 1½ tsp
Turmeric powder- ¼ tsp
Coriander powder- 1 tsp
Cumin powder- ¾ tsp
Fennel powder- 1 tsp (optional)
Lemon juice- 2 tbsp
Salt- to taste
Cilantro, chopped- 2 tbsp
Sesame seeds, crushed- 2 tbsp
Water- 2 tbsp
Instructions
In a bowl, combine all the ingredients for making the stuffing. Add 1 to 2 tbsp of water to make the stuffing stick to the each other, it should be a thick mixture.
Using a sharp knife, make vertical slits on the okra.
Stuff the slit with the onion-besan stuffing.
Place a non-stick pan over medium heat, add oil.
Add cumin seed and curry leaves, saute for a few seconds.
Place the stuffed okra onto the oil and shallow fry it.
After the bottom side has turned light brown, gently flip it over to the other side and shallow fry the other side as well.
Shallow fry till the okra has turned golden brown.
Transfer the stuffed okra to a plate lined with paper towel to absorb excess oil.
Enjoy when the fried stuffed okra is still warm and crunchy.
You could even serve the fried stuffed okra with yogurt, dip them in yogurt and enjoy.