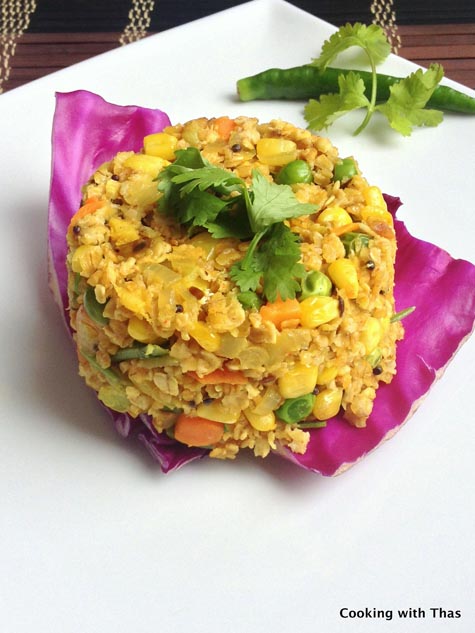 A healthy breakfast or evening snack…
Oats is one of the heart healthiest ingredients that can be used for making so many dishes. I start my day mostly with oats: oats mixed with milk, oats pancake, oats porridge, sometimes I make cookies or granola bars with oats. It's such a versatile ingredient that can be added as whole or ground.
One of the breakfast dishes in South India is Upma, mostly made with semolina or cracked wheat. Recently, I found that oats can be transformed into savory upma. Yesterday, I made this for an evening snack and loved it so much that I ended up making it again this morning for breakfast.
The mixed veggies and the egg, the slight tanginess from the lemon juice, and the spices along with oats make this a healthy and flavorful dish.
For more Oats recipes, click here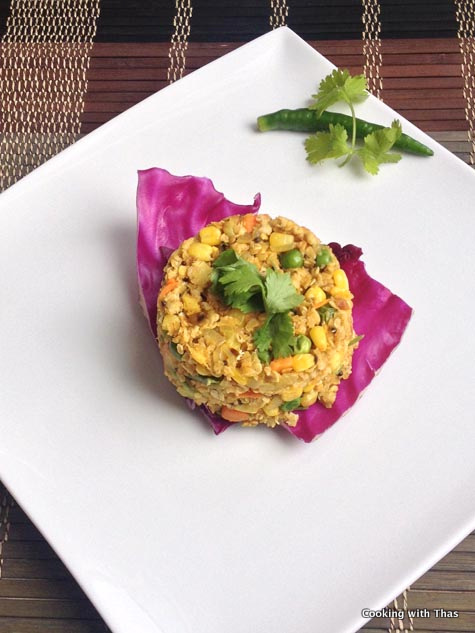 Preparation Pictures
Stir frying the veggies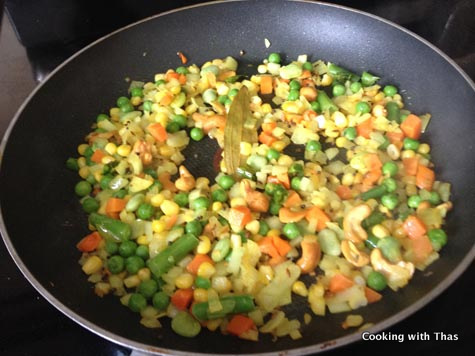 After adding oats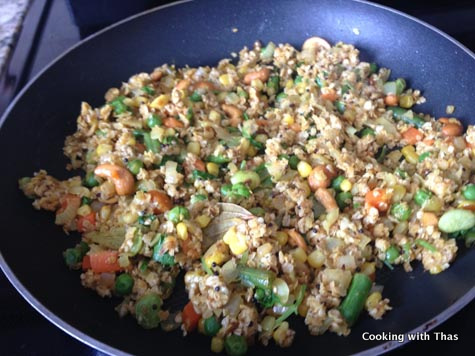 Cooking Video
Oats Upma or Savory Oats and Veggie Stir Fry
Ingredients
Oil- 1½ tbsp
Mustard seeds- 1 tsp
Cumin seeds- ½ tsp
Bay leaf-1
Ginger minced- 1 inch slice
Garlic minced- 1 clove
Green chili, chopped- 1 (optional)
Turmeric powder- ⅛ tsp
Cashew nuts, halved- 3 tbsp
Onion, chopped- 1 small
Mixed veggies, cut small- 1 cup (carrot, beans, corn, peas)
Egg, beaten-1 (optional)
Chili powder- ½ tsp
Coriander powder- 1 tsp
Ground Cumin- ¼ tsp
Lemon juice- 1 tbsp
Instant Oats- 1 cup
Water- ½ cup
Cilantro, chopped- ½ cup
Salt- 1 tsp
Instructions
Place a wok or non-stick pan over medium heat. Add oil let it turn hot.
Add mustard seeds, let it splutter.
Add cumin seeds, saute for a few seconds.
Add bay leaf, minced ginger, garlic and green chilies, saute till golden in color.
Add cashew nuts, saute for a few seconds.
Add turmeric powder, combine well.
Add chopped onions and ½ tsp salt. Saute till onions turn translucent.
Add mixed veggies, stir fry for a couple of minutes till veggies turn tender.
Slide the veggies to the side of the pan.
Add the beaten egg on the other side of the pan and scramble the eggs well.
Add chili powder, coriander powder, ground cumin & ½ tsp salt combine well.
Add instant oats, stir fry for a minute.
Slowly add water and keep stirring. Don't add too much water as the oats will turn mushy.
Add lemon juice and combine well.
Taste and add more salt if required.
Add chopped cilantro, stir fry for a few seconds.
Serve into a bowl and enjoy the oats upma.
Notes
Adding egg is just optional.