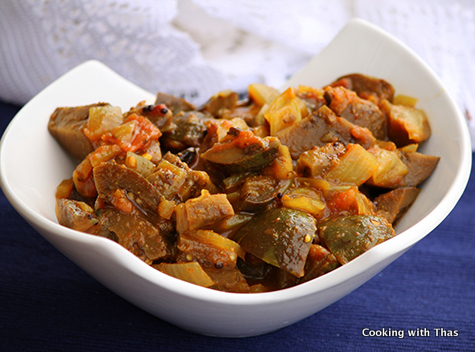 Eggplant or Brinjal cooked in tamarind gravy, one of my favorite veggie side dishes…
In my family, this vegetarian side dish is served along with ghee rice or coconut rice along with chicken or mutton curry. Eggplant cooked with spices and freshly squeezed tamarind. This dish is spicy, tangy and delicious.
This eggplant side dish can be served along with the following dishes:
Recipe for making Chicken Coconut Rice
Recipe for making Coconut rice- Vegetarian Version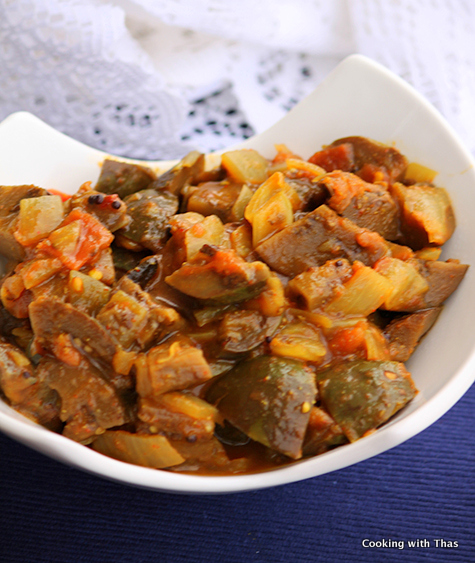 Eggplant in Tamarind Gravy- Kathirika Pulikari
Ingredients
Oil- 1½ tbsp
Mustard seeds- 1 tsp
Whole dry red chili- 2
Curry leaves- 1 sprig
Onion, chopped- 1
Eggplant or Brinjal, diced- 1-medium sized American eggplant or 6-round Indian eggplant or 3-Chinese eggplant
Tomato, chopped- 2
Chili powder- 1½ tsp
Turmeric powder- ⅛ tsp
Cumin powder- ½ tsp
Coriander powder- 1 tsp
Salt- to taste
Tamarind, fresh- 2 inch slice soaked in 3 tbsp warm water
Instructions
You could use any kinds of eggplants. Dice them into chunks and place them in a bowl filled with water so that they won't turn brown.
Soak the fresh tamarind in 3 tbsp warm water for 5 minutes. Using your fingers, squeeze the soaked tamarind in water, drain the juice and discard the skin. Keep aside the juice.
Place a saucepan over medium heat, add oil. Let oil turn hot.
Add mustard seeds, let it splutter.
Add whole dry red chilies and curry leaves, saute for a second.
Add onion, season with salt and cook till translucent.
Add diced eggplant and chopped tomatoes.
Add ¼ cup water and cook covered till eggplants have turned tender.
Add chili powder, turmeric powder, cumin powder, coriander powder and salt. Combine well.
Add freshly squeezed tamarind and cook covered for 5 more minutes.
Don't over cook the eggplant till it's mashed up.
Taste and add salt if needed.
Remove the pan from the heat and keep covered.
Serve this as a side dish along with rice, coconut rice, ghee rice, roti etc.